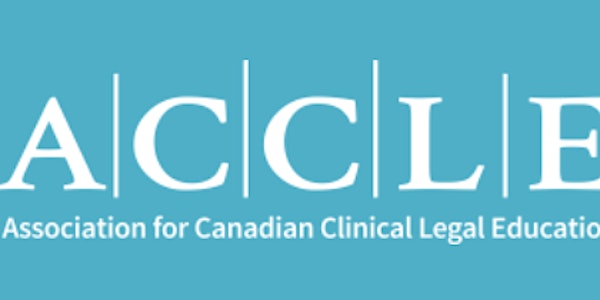 ACCLE Annual Conference: "A" is for Abolition / « A » pour Abolition
Event Information
Refund policy
Contact the organizer to request a refund.
Eventbrite's fee is nonrefundable.
ACCLE Annual Conference - "A" is for Abolition: Critical and Professional Training in Tension / « A » pour Abolition
About this event
The Association for Canadian Clinical Legal Education (ACCLE) is delighted to confirm that we will be hosting our Annual Conference online from June 8-10, 2022. In the years since ACCLE launched at our inaugural conference in 2010, the number and breadth of clinical legal and experiential learning programs has increased dramatically. ACCLE's 2021 conference was held online in collaboration with Global Alliance for Justice Education and the International Journal of Clinical Legal Education. We discussed current challenges facing clinics (particularly arising from the global pandemic) and the extent to which those challenges can be turned into opportunities and practical ways forward.
Over the past several years, communities in Canada and abroad have asked repeated versions of the same question: when is a justice system broken beyond repair? Hopes of Indigenous-settler reconciliation have given way to despair and anger over the discovery mass gravesites at residential schools and repeated violations of Indigenous territorial sovereignty. Persistent anti-black racism and brutality fuel growing calls to defund police. Skyrocketing housing costs and stagnant wages continue to erase what remains of the middle class. And any remaining window to head off the worst effects of a climate catastrophe continues to slide shut.
Meanwhile, ACCLE has engaged the Federation of Law Societies of Canada and the Canadian Association of Law Teachers in a discussion about the future of law school curricula and its relationship to the profession at large. While we agree that the first task of a legal education is to teach students to think critically about the law, client-facing clinics might ask:
(1) just how critically, and (2) is merely 'thinking' enough?
L'Association Canadienne pour l'enseignement clinique du droit (ACECD) a le plaisir de confirmer
la tenue de sa Conférence annuelle qui aura lieu en ligne du 8 au 10 juin 2022.
Depuis la la création de l'ACECD par sa conférence inaugurale de 2010, le nombre et l'étendue des programmes cliniques et expérientielles au Canada ont fortement augmenté. La conférence de l'ACECD de 2021 fut tenue en ligne et en collaboratiin avec la Global Alliance for Justice Education et l'International Journal of Clinical Legal Education. Nous y avons abordé les défis actuels auxquels font face les cliniques (notamment en lien avec la pandémie) et la façon dont ces défis peuvent être transformés en opportunités et en manières concrètes d'aller de l'avant.
Durant les dernières années, des commuanutés au Canada et ailleurs dans le monde ont répété différentes versions de la même question : à partir de quand un système judiciaire est tellement brisé qu'aucune réparation ne semble possible? En effet, les espoirs de réconciliation entre personnes autochtones et colon.e.s ont fait place au désespoir et à la colère après la découverte des fosses communes des pensionnats et suite aux violations répétées de la souveraineté territoriale des communautés autochtones. La persistance du racisme et de la brutalité envers les personnes noires alimente les appels croissants au définancement de la police. La montée en flèche des coûts de logement et la stagnation des salaires continuent de faire disparaître ce qui reste de la classe moyenne. Et les espoirs de trouver des solutions pour éviter les pires effets d'une catastrophe climatique diminuent.
Pendant ce temps, l'ACECD a entamé des discussions avec la Fédération des Ordres professionnelles en tension. Professionnels de Juristes du Canada et l'Association Canadienne des Professeures de Droit sur le futur du curriculum des facultés de droit et leur relation avec la profession. Si nous sommes d'accord que la tâche première de la formation en droit est d'enseigner à nos étudiant.e.s à réfléchir de manière critique, les cliniques en lien direct avec des client.e.s peuvent se poser les questions suivantes : (1) critique à quel point?, et (2) est-ce que 'réfléchir' est suffisant ?

Date and time
Location
Refund policy
Contact the organizer to request a refund.
Eventbrite's fee is nonrefundable.