Accidental Icon : The Real Gidget Story

Saturday, September 13, 2014 from 4:00 PM to 6:00 PM (PDT)
Event Details
TICKETS AVAILABLE AT THE DOOR ....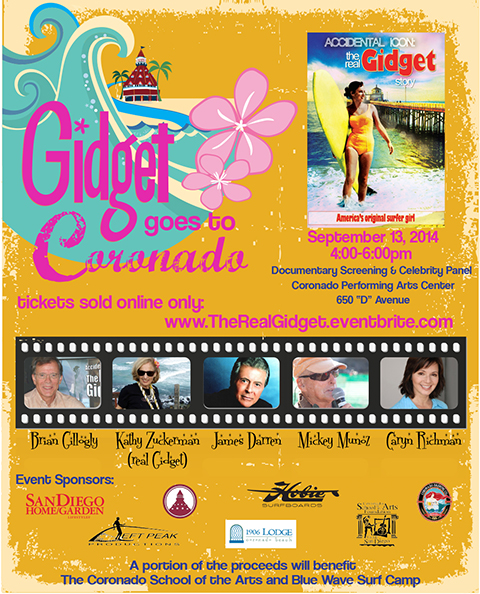 * Special Engagement *
Accidental Icon: The Real Gidget Story   
The 1950's surf culture evokes images of lazy summer days spent in the sun & surf. An era that gave birth to iconic surf legends, music, and movie stars that forever altered the pop culture landscape of surfing. Among those, one small girl determined to join the boys out in the "line-up" spawned generations of young girls who consider it a "badge of honor" to be called "Gidget".
The hour-long documentary was directed by Brian Gillogly and is narrated by Jorja Fox, star of the CBS series "CSI." Many of the actors, writers and directors who brought Gidget to the big and small screens share their behind-the-scenes perspectives, including Sally Field, Cliff Robertson, and James Darren. Surf legends such as Layne Beachly, Mike Doyle and Mickey Munoz, to name a few.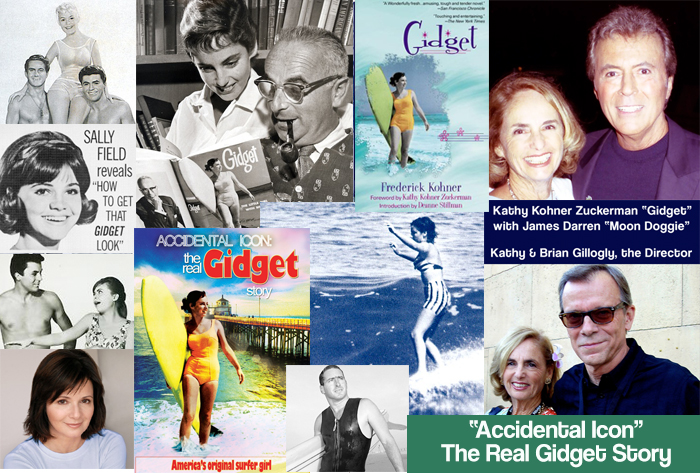 Check out these RAVE REVIEWS from previous audience members: 
"'Accidental Icon' is a truly artistic piece of work documenting Kathy 'Gidget' Kohner's time on the beach at Malibu and the characters and early beach culture of the time.  The fictionalized book and subsequent movie changed surfing as we knew it forever and the documentary captures that time perfectly with film clips and interviews with the characters that inhabited Malibu and the shack.  It was interesting to hear the comments from a successive line of `Gidgets' who followed in Kathy's footsteps, some of whom never knew the true origin of the word Gidget.  All in all a well filmed and documented story of a young girl who could never have imagined her impact on the world of surfing."
 --Mal Sutherland, Chair Surf World Gold Coast Australia 
"'Accidental Icon' is a great film that highlights a moving and unique father-daughter relationship. The historical, emotional, and pop culture phenomenon that was created by the Kohner family endures and is a significant part of California to this day. I found it a moving and original addition to the Newport Beach Film Festival and I hope to have more films from Brian in the future."
--John Jameson
Feature Film Programmer
Newport Beach Film Festival
2004-2010
"Brian created a film that many different generations can and will relate to. I enjoyed it tremendously!"
 --Jane Schmauss Acting Director, California Surf Museum
"An amazing work!"
--Lisa Hunter, PhD, University of Queensland
"I loved it."
--Jeff Sagansky,  TV/Film Producer & Executive   (Sony, CBS, TriStar, NBC)
 "It's a blast from the past!  A story showcasing an eclectic group of surfers, then and now—and Kathy `Gidget' Zuckerman, the surfer who spawned a whole movement of Surfer Girls and liberated a whole generation of young women.  The film has cross-over demographics and charms audiences of all ages."
 -- Lin Bolen Wendkos,  Former NBC VP
"Never a dull moment…it made the audience feel alive. We don't get that anymore in movies and TV."
 -- Gina Calabrase
"A wonderful film.  It really shows what an impact the `Gidget' story has had on surfing in general and the empowerment of women in the second half of the twentieth century.  Incredible!"
 -- Joanne Fish,  TV Producer
"We felt privileged to be allowed a peek into Kathy's young life.  We think everyone on the planet that matters should see this movie."
--Stephen & Sherrill Smith
  * Celebrity Panel *
Q & A Session led by Producer, Brian Gillogly promises to be a lively interaction with our panel and first-hand accounts!
Brian Gillogly, KathyKohner Zuckerman [Gidget], Billy Jensen  [the REAL Moondoggie], Caryn Richman [New Gidget], Mickey Munos [ Sandra Dee's stand-in, The Mongoose/Legendary Surfer]
* Book Signing *
Want to meet Kathy? A limited number of books are available for pre-purchase for Kathy to sign after the event. Only those who have purchased the book will be allowed the chance to have her autograph a copy! A one-of-a-kind keepsake or gift for a budding Gidget! ORDER YOURS TODAY (while supplies last)
**********************
The FUN continues @ the VIP AFTER-PARTY
"Gidget's Ultimate Beach Bash" 
Purchase your Big Kahuna tickets here:  
http://www.vipgidget.eventbrite.com
* Event FAQs *
Is there an age limit to enter the event?
Out of respect for all attendees, only children 8 and up will be admitted. 
We love babies and small kiddies, just not in closed a theater.
What are my transport/parking options getting to the event?
There is no parking lot - only street parking around the theater. Please allow time to park and walk to the theater.
* EVENT SPONSORS * 
THANK YOU TO OUR AMAZING SPONSORS
MEDIA SPONOSR:  San Diego Home & Garden Magazine
HOTEL SPONSOR:  Hotel Del Coronado, 1906 LODGE
HOBIE SURFBOARDS   *  CORONADO BREWING COMPANY  *  COSA FOUNDATION

When & Where

The Coronado Performing Arts Center
650 D Avenue
Coronado, CA 92118


Saturday, September 13, 2014 from 4:00 PM to 6:00 PM (PDT)
Add to my calendar