Accidental Anarchist / Documentary screening / 3rd May at 8:30pm / London
Description
An exclusive screening of a thought-provoking feature documentary Accidental Anarchist + a short doc Small Protests
Small Protests (UK/2010/10min)
Multi-award winning short by Zillah Bowes
With nothing but a toothbrush in his back pocket, 19 year old Rabbit decides to change the world one protest at a time.
followed by
Accidental Anarchist (UK/2017/ 82'min)
Dir: John Archer & Clara Glynn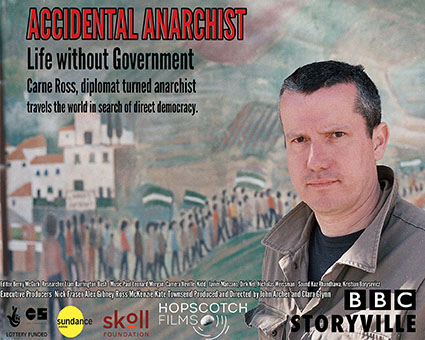 Accidental Anarchist is a feature-length documentary about one man's remarkable journey: from
diplomat to anarchist; insider to outsider. The film follows Carne Ross' rebellion against the
establishment and his discovery of a new form of politics that couldn't be more relevant for these
turbulent times.
Trailer: https://vimeo.com/199834602
More Info:http://www.accidentalanarchist.net/
This screening is part of a four-day temporary autonomous exhibition happening in Londo from 2nd - 6th of May. The screening is free but donations are warmly encouraged and will be directly passed on to the filmmakers.
More details about TAA can be found here http://www.taaexhibitions.org/