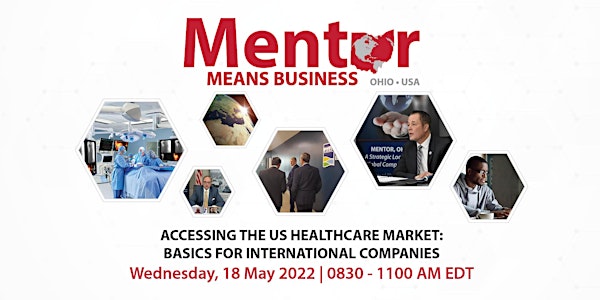 Accessing the US Healthcare Market: Basics for International Companies
The link to access the seminar will be provided in the week prior to the event.
About this event
It can be argued that the United States has the largest healthcare market in the world. As such, there are numerous complexities to accessing the market, knowing the rules and regulations of the health insurance in the United States, and all of the various steps a company needs to consider before setting up a US presence. This virtual transatlantic seminar will engage directly with executives from the US health insurance market, experts in the healthcare ecosystem in Ohio, and provide direct knowledge from a longtime healthcare entrepreneur and expert that actually helped bring a UK company to the US market during the COVID-19 pandemic.
Participants will
• Gain a thorough overview of the particulars of the US health insurance system
• Understand the strategy, tactics, benefits, and pitfalls of establishing a presence in the US healthcare market
• Learn why Northeast Ohio and the City of Mentor provide an outstanding base for a soft-landing to enter the US market
8:30 AM EDT/13.30 BST/14.30 CET Welcome and Presentation
Topic: Ohio and the City of Mentor - Discovering the competitive advantage for international companies, particularly in the biomedical and medtech sector, impacts of COVID-19.
Ken Filipiak, City Manager/CEO, City of Mentor
Ray Kirchner, City of Mentor, City Councilman, Political Liaison for International Trade
Kevin Malecek, City of Mentor, Director of Economic Development and International Trade
9:00 AM EDT/14.00 BST/15.00 CET The US Health Insurance Market
Topic: Observations on the US Health Insurance Market for International Companies
Richard Wallach, Regional Vice President, Medical Mutual of Ohio
9:30 AM EDT/14.30 BST/15.30 CET The US and Ohio Healthcare Ecosystem Presentation
Topic: The Healthcare/BioTech/MedTech Ecosystem in the US/State of Ohio
Tyler Allchin, Managing Director, Healthcare, JobsOhio
10:00 AM EDT/15.00 BST/16.00 CET How Do We Enter the US Market?
Topic: Observations from Bringing an International Medical Company to the US
Jon Snyder, Chief Executive Officer, Realeve; Former General Manager, UVAMED US
10:45 AM EDT/15.45 BST/16.45 CET Conclusions and Invitation to 5th Annual Conference on Innovation and Trade and British-American Business Network Transatlantic Conference
Topic: Making In-Person B2B and Customer Connections in the United States in September 2022
Kevin Malecek, City of Mentor, Director of Economic Development and International Trade
11:00 AM EDT/16.00 BST/17.00 CET Seminar Concludes