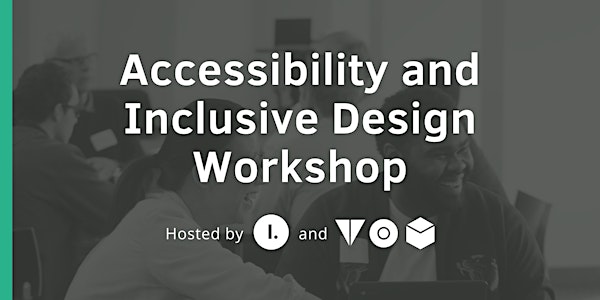 Accessibility and Inclusive Design Workshop
Accessibility and Inclusive Design Workshop
When and where
Location
Marcus Nanotechnology Research Center 345 Ferst Drive Northwest Atlanta, GA 30318
About this event
UPDATE: Due to concerns regarding the coronavirus (COVID-19), we have decided to postpone the Accessibility and Inclusive Design Workshop on Sunday, March 29th, to the fall. While we are sad to postpone the event, we prioritize the health of our speakers, volunteers, and participants, first and foremost.
If you would like to be notified when new event details become available, please sign up for alerts on our website.
Thank you for your patience and understanding,
The Illimitable Team
---
In partnership with Tikkun Olam Makers: Georgia Tech, Illimitable is hosting a free three-hour workshop on advancing accessibility and inclusion in design. The workshop will include a panel with local advocates and a community brainstorming session. Light refreshments will be served. No prior design or technology experience is required to participate.
Event schedule:
1:30 PM Registration and Networking
2:00 PM Panel Discussion / Q&A (meet local accessibility leaders and advocates)
Meredith Boyce, Advisory Committee, CSforALL National Accessibility Initiative
Eren Denburg Niederhoffer, President, Autistic Self-Advocacy Network Atlanta
Trey Quinn, Founding President, ABLE Alliance
Kayla Rodriguez, Vice President and Chief Ambassador, Autistic Self-Advocacy Network Atlanta
Brandon Winfield, Founder and CEO, iAccess Innovations, Inc.
See full bios in the About the Panelists section below.
3:30 PM Community Brainstorming Session (connect and collaborate with other people interested in diversity, equity and inclusion in design)
4:15 PM Organization Fair (learn more about local accessibility groups and resources)
Registration: To register for the event, please select the appropriate ticket type and complete the online form. You may also request a written registration form on our website. Seats are limited so reserve your ticket today!
If you have any questions about the registration process, please contact support@illimitable.org.
About the Panelists
Meredith Boyce
Meredith Boyce (she/her) is a member of the University of Washington's AccessComputing team, where she helps students with disabilities successfully pursue undergraduate and graduate degrees in computing fields and works to increase the capacity of postsecondary institutions and other organizations to fully include students with disabilities in computing courses and programs. She also serves as an adviser on CSforALL's national accessibility project and Illimitable's Hack Equity initiative.
Meredith has held numerous roles related to accessible technology in corporate and academic settings. Previously, she collaborated with Cornell University researcher Dr. Shiri Azenkot to develop a working model that allows people with visual impairments to use virtual reality (VR) technology. In addition, she is a Certified Professional in Accessibility Core Competencies (CPACC) by the International Association of Accessibility Professionals. She has worked with organizations like AudioEye and Converse College to help design more functional, aesthetic, and accessibility websites and apps.
Meredith has earned numerous accolades for her work as an accessible technology advocate, program designer, and innovator. She is a 2019 UN Women #SheInnovates honoree through the United Nations' Global Innovation Coalition for Change. In 2015, she also earned the White House's Champion of Change Award and the National Center for Women in Technology Aspirations Award. In her free time, she likes to play goalball, a paralympic sport for the blind, with the Atlanta Force goalball team.
Eren Denburg Niederhoffer
Eren Denburg Niederhoffer (he/him) is a data analyst and social media specialist at a financial planning company in Atlanta. For the past two years, Eren has also served as the President of the Atlanta Chapter for the Autistic Self-Advocacy Network (ASAN), where his work includes autism empowerment, activist training and mentoring, motivational and public speaking, and organizational structure building. In this role, he strives to cultivate mutually supportive collaborations between businesses and the disability community.
Eren strongly believes that, in addition to community support and engagement, stepping outside of one's comfort zone is an important step that can give individuals with autism spectrum disorder (ASD) a future. Outside of his work with ASAN, he built (and currently manages) a meetup group of over 210 members that hosts lunch and dinner socials for people on the spectrum. He also assisted in the development of Mentra, a hiring platform for neurodiverse individuals, and is a co-collaborator for the 1st and 2nd All-Women's Autism Panels of Georgia. Previously, Eren has written articles for Birthright Israel Foundation and has served on panels at the Centers for Disease Control and Prevention and numerous universities. He earned a Bachelor's in Business Administration, with a concentration in finance, at Marshall University.
Trey Quinn
Trey Quinn (he/him) is a second year Computer Science major at Georgia Tech. He also currently serves as the Youth Advocate on the board of Tools for Life, the State of Georgia's Assistive Technology Act Program. Trey has worked with the Center for Inclusive Design and Innovation (formerly AMAC Accessibility) on a broad range of assistive technology projects on and off since age six and has presented on his and his colleagues' work at numerous state conferences. He also interned this past summer at Georgia Tech's Wireless Rehabilitation Engineering Research Center, working on multiple engineering research projects related to accessibility and health informatics. Trey is currently an undergraduate research assistant in the lab of Biomedical Engineering professor and US Paralympian Dr. Cassie Mitchell, working to apply machine learning and data analytics techniques to better the understanding of the pathology behind Alzheimer's disease.
Aside from his professional career, Trey is the founding President of the ABLE Alliance, a student organization that works strategically with multiple campus entities to promote ADA compliance and disability inclusion at Georgia Tech. Trey hopes to attend graduate school in order to prepare for a research career that focuses on the intersection of computer science, disability, and public policy with the goal of making the world a more inclusive place for people of all abilities. In his free time, Trey enjoys hanging out with friends, performing stand-up comedy (sitting down), and keeping his staff of personal caregiving assistants on their toes.
Kayla Rodriguez
Kayla Maria Rodriguez (she/her) is a Bobby Dodd Institute Ambassador, a fellow in the Georgia LEND program at the Center for Leadership in Disability, and the Vice President and Chief Ambassador of Autistic Self-Advocacy Atlanta (an affiliate group of the Autistic Self-Advocacy Network). Previously, she completed the My Voice, My Participation, My Board program at Georgia State University, as well as a public policy and communications internship at the Georgia Council on Developmental Disabilities.
Kayla has championed numerous efforts on neurodiversity and inclusion in the workplace. In 2018, she spoke at the DevOps Days Atlanta and Women Who Code's We RISE Tech conferences on the importance of autism awareness and acceptance in the workforce. For the past two years, she has served as a coordinator for Powerhouse Strong's "Rise Up, Speak Up, Power Up" Annual Autistic Women's Panel. Alongside Kim Crayton, she also co-founded The Spectrum Codes, an initiative that helps people on the autism spectrum pursue careers in technology. Kayla strives to use her personal experiences to educate and motivate people, and she's earned the Golden Goal Goldie Award for Best Young Community Advocate and the Bobby Dodd Institute Empowers Luminaries Award for her extensive advocacy work.
Brandon Winfield
In 2008, Brandon Winfield (he/him) was injured in a motocross accident that left him with a thoracic spinal cord injury (paralyzed from the waist down). Only 14 years old at the time, he was faced with the decision to either let this dramatic event stop him from truly living the life he wanted or to turn it into an opportunity to triumph in the face of tragedy - Brandon chose the latter. He continued his love for racing in the form of four wheels, entered sprint kart racing, and won numerous events across the country. As he traveled, he realized that although some places he visited were compliant according to the Americans with Disabilities Act (ADA), many areas were grandfathered in and never forced to retrofit to accommodate the mobility impaired.
These experiences sparked the idea for iAccess, a mobile app that would allow people with disabilities to rate and review the accessibility of venues such as restaurants, lounges, clubs, and bars. Through his start-up, Brandon, and his co-founder Sayeed Mehrejerdian, aims to empower users to "know before they go" and feel confident making plans with their friends, colleagues, and loved ones.
Since the app's launch on iOS and Android platforms in April 2019, they have amassed over 3000 unique locations rated in over 45 states and 25 countries. Their work has been featured in numerous media outlets, including CNN, CBS, Hypepotamus, AccessibleGO, SpinalCord.com, the Andrew Deitsch Podcast, VoyageATL, Atlanta Tech Edge, and Abilities.com. In addition to being an SXSW Social and Culture Alternate Pitch Finalist, the team has participated in the Ascend Atlanta program and NPR's How I Built This Fellowship. In February 2020, they were selected to join the incoming class of Atlanta Tech Village's accelerator program for minority entrepreneurs.
Outside of this work, Brandon has served on numerous panels highlighting the importance of accessibility. Most recently, he partnered with various Atlanta organizations to help launch Operation Bus Stop Census for Transit Equity Day, an initiative championing safe and reliable public transit for everyone.
About the Moderator
Ginia Taylor
Ginia Taylor, MA (she/her) is a disability advocate, digital marketer, and theology lover. She is currently the Project Lead for the Makers Museum, a digital storytelling and community platform empowering disabled makers, designers, scientists, and entrepreneurs. The project is expected to launch in late Summer 2020.
Ginia has extensive knowledge of assistive technology and accessibility, which she has gained from the classroom and from personal experience. Previously, she volunteered with the Center for the Visually Impaired, an organization that provides rehabilitation services to individuals of all ages and stages of vision loss. She also served as a guide for universal design exhibits with Habitat for Humanity.
Outside of this work, Ginia is the former Communications Coordinator for the Task Force for Global Health. In her time at the Task Force, she served the Public Health Informatics Institute, the Center for Vaccine Equity and the Office of the President. She holds a certificate in user experience design from General Assembly, a master's degree in theology from Catholic Distance University, and a bachelor's degree in psychology from nationally-ranked Agnes Scott College.
About the Organizers
Illimitable
Illimitable is a growing network of creative leaders dedicated to designing a more accessible and equitable future for all. The organization's unique, data-driven approach mobilizes changemakers to challenge inequities in technology and design by diversifying representation, catalyzing inclusion, and building community. Learn more about Illimitable's current projects and how you can get involved on their website.
Connect: Follow Illimitable on Twitter, Instagram, and LinkedIn.
Tikkun Olam Makers
Tikkun Olam Makers (TOM) is a global movement of communities that creates and disseminates products that address neglected challenges experienced by people living with disabilities, the elderly, and the poor. Since its launch in 2014, the organization has over 4,500 members and 67 communities across the globe. TOM's vision is a world in which technology and innovation allow every person access to affordable solutions for their needs.
Connect: Follow Tikkum Olam Makers on Twitter and Instagram.
Directions
From MARTA Midtown Transit Station
Google Maps provides directions from Midtown Station to Georgia Tech's Nanotechnology Building. The Google Maps website also has instructions for viewing wheelchair accessible routes on their transit navigation mobile application.
Parking
Attendees should park in the Area 4 Visitor's Parking Lot, which is located at the intersection of Ferst and State Streets. When exiting the parking lot, you should Head northeast toward Ferst Drive. Then, turn right onto Ferst Drive, and the Marcus Nanotechnology Building will be on your left.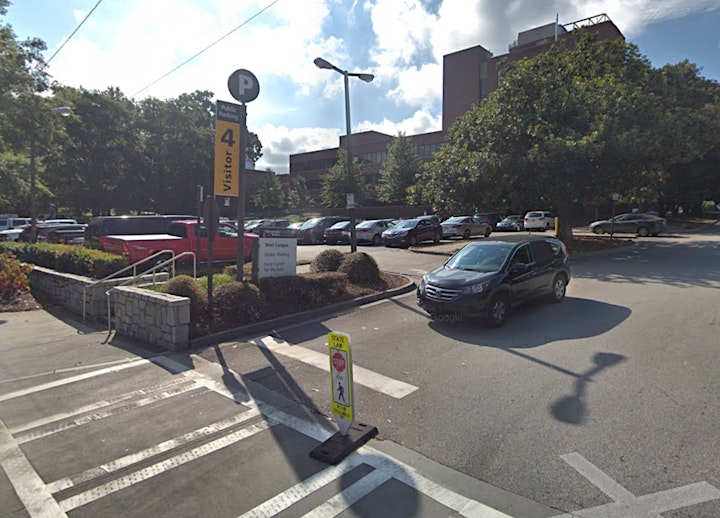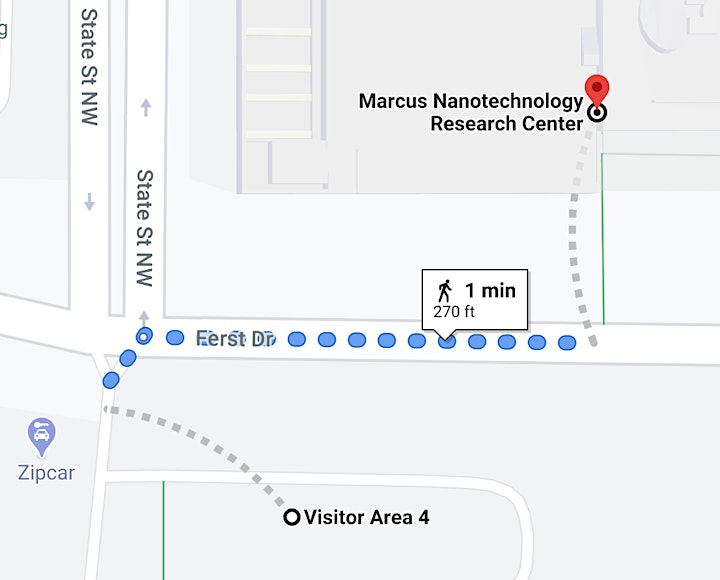 Accessibility
Onsite Accommodations
Our aim is to create a great event experience for all attendees. We will have a number of onsite accommodations, including:
Real-time captioning for the panel
Sensory break room
Gender-neutral restroom
Volunteer guides available to assist and answer questions
You will receive a full list of onsite accommodations in the registration confirmation email. If you have accommodation requests, please see the details in the following section.
Accommodation Requests
You may indicate any accommodation requests on the Eventbrite registration form. If you'd like to contact the organizer directly, please email accessibility@illimitable.org or call 470-344-6325. Please note that we are not always able to offer same day accommodation requests for events, and it is preferable to submit any requests at least 10 days in advance of the event.