This is Your Special Invitation to Meet the Design Experts! Thursday, May 13 from 4 -6 pm & Friday, May 14 from 10 am to Noon
About this event
Join Diane Cowen, Houston Chronicle architecture and home design writer, for ACCESS/DESIGN where you'll get INSPIRED by some of the city's top AWARD-WINNING interior designers, and ENJOY warm hospitality at the participating showrooms.
PLEASE NOTE THAT ALL COVID PROTOCOLS WILL BE IN PLACE. MASKS REQUIRED.
Thursday, May 13 4 to 6 pm
Featuring Design Presentations By:
4 p.m.: Nikole Starr of Nikole Starr Interiors
"Five ways to add wow factor to your home"
5 p.m.: Victoria Sheffield of Victoria Sheffield Interior + Exterior Design
"Your Baggage is Welcome! Getting More Smiles from Inherited Styles"
Hosted by Design House Showroom 115
Friday, May 14 - 10 am to Noon
Featuring Design Presentations By:
10 a.m.: Courtney Blair and Lindsay C. Robinson of Tokerud+Co
"Essentials for Creating Modern Interiors"
11 a.m.: Cathy Hutton of Renovate
"The Fifth Wall: Ceilings!"
Hosted by Design House Showroom 115
$10 per day includes panel discussions and refreshments.
For more information call 713-864-2660
The Houston Design Center
7026 Old Katy Road, just inside Loop 610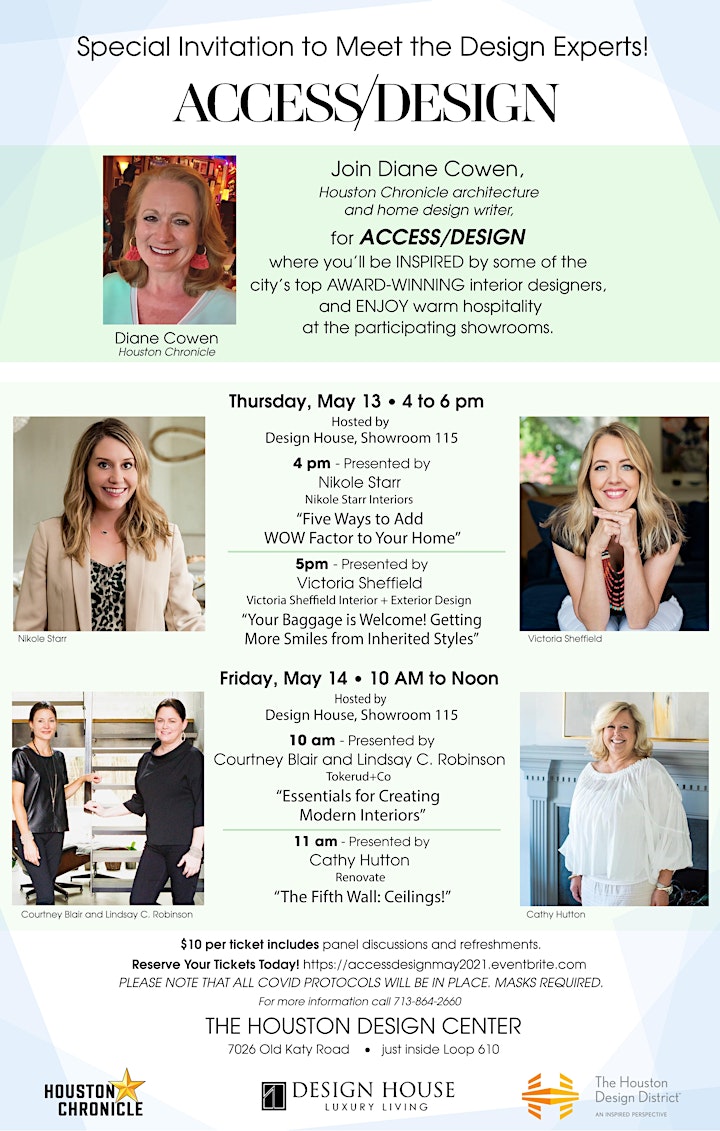 Organizer of ACCESS/DESIGN - Meet the Design Experts!
Houston Design Events is a marketing and special events company that specializes in the residential and commercial design industries.  Located at 7026 Old Katy Road inside the Houston Design District, Houston Design Events has a 20 year history of marketing and event programming for The Houston Design Center, Showrooms, Design Studios, Affinity Partner, Sponsors and Media Partners..