Description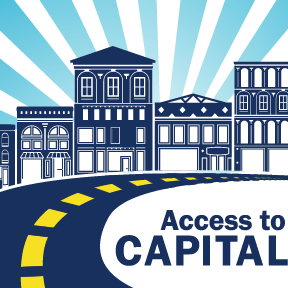 Dun & Bradstreet Credibility invites you to
The event that is all about ACCESS:
Access to LENDERS
Access to EXPERTS
Access to RESOURCES
Access to CAPITAL
Don't miss Access to Capital: Money to Mainstreet
The Westin Bonaventure
Thursday, October 18, 2012
8:00 AM – 5:30 PM
5 Incredible panels with topics ranging from traditional and alternative lending options, crowdfunding and more
1 Marketplace where businesses can meet 1:1 with lenders, startup experts and explore business resources

This must-attend event is designed for small and micro business owners who are looking to gain insight on the best funding options for their business right now.
Empowering small business owners with tools and knowledge necessary to get funding in today's tough economic environment.
Space is limited – register now!
Panels (see full schedule here):
Straight Talk: Getting Traditional Loans in Today's Economy
Off the Beaten Path: Is Alternative Funding the Route for You?
Crowdfunding: Should You Be In with The "In Crowd"?
Startups Start Here: Strategies from LA Entrepreneurs
Accessing Capital for Women and Minority-Owned Businesses
Special Guest, Antonio Villaraigosa, Mayor of the City of Los Angeles
Speakers will include experts from:
...and more! Visit Access to Capital to see a full list of speakers and panels.

You'll also be part of a dynamic community atmosphere of 400+ local businesses and experts who are all working toward the same goal: the success of main street small businesses.
If interested, small business owners can request time to speak directly to a lender at the event (this can be requested during the registration process). Limited spaces available.
Continental breakfast and lunch are included with registration.
For more information, contact Lauren Simpson at lsimpson@dandb.com or 310-919-2230
If you are interested in sponsoring the event, please contact Liz Gengl.
Sponsored by:
Supported by:
Organizer of Access to Capital: Money to Mainstreet
Dun & Bradstreet is the leading provider of credit building and credibility solutions for emerging businesses. While our ideas are novel and our company is innovative, our roots are steeped in tradition, woven into the fiber of corporate America and a credit reporting industry dating back to 1837.
Dun & Bradstreet provides the only real business credit monitoring solution available to companies looking to monitor and impact their own business credit profile. Our leading credit monitoring products are used by hundreds of thousands of companies interested in helping protect their business reputation. Dun & Bradstreet additionally offers solutions that help businesses gauge their potential business risk by tracking the credit and creditworthiness of the companies with which they do business.
Our business credit products feature the Dun & Bradstreet D-U-N-S® Number, a unique nine-digit identification sequence used by the world's most influential standards-setting organizations and recognized, recommended and often required by global corporations, governments, industry and trade associations. Many of our products include Dun & Bradstreet's proprietary set of key ratings including the PAYDEX® Score, a predictive indicator for paying bills on time; the Financial Stress Score, an indicator of financial stress in the next 12 months; and the Credit Limit Recommendation, which provides guidelines for extending business credit and an overall Dun & Bradstreet Rating which addresses the overall assessment of a business.