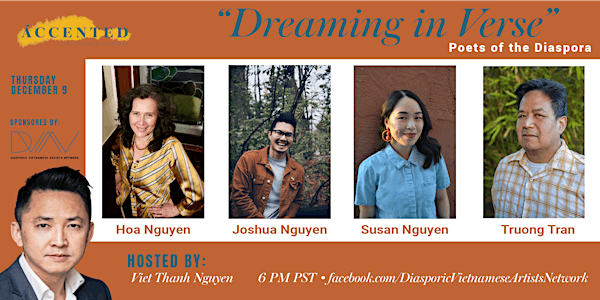 ÁCCENTED: Dreaming in Verse: Poets of the Diaspora
Hoa Nguyen, Joshua Nguyen, Susan Nguyen, and Truong Tran in conversation with Viet Thanh Nguyen on diasporic Vietnamese poetry.
By The Diasporic Vietnamese Artists Network (DVAN)
When and where
Date and time
Thursday, December 9, 2021 · 6 - 8pm PST
Refund Policy
Contact the organizer to request a refund.
Eventbrite's fee is nonrefundable.
About this event
Welcome everyone to the third show of the Fall 2021 season of ÁCCENTED: Dialogues in Diaspora, presented by the Diasporic Vietnamese Artists Network (DVAN). This season, we will welcome a distinguished lineup of authors, artists, poets, cultural producers, and community organizers across the Southeast Asian diaspora.
On Thursday, December 9th, 2021, ÁCCENTED will be joined by poets Hoa Nguyen, Joshua Nguyen, Susan Nguyen, and Truong Tran in conversation with Pulitzer-prize winning author Viet Thanh Nguyen on diasporic Vietnamese poetry. They'll be discussing their new books, careers, and share insights and wisdom into how we can continue to amplify diasporic narratives in the literary industry.
ABOUT THE GUESTS:
JOSHUA NGUYEN is a Vietnamese-American writer, a collegiate national poetry slam champion (CUPSI), and a native Houstonian. He is the author of the chapbook, "American Lục Bát for My Mother" (Bull City Press, 2021) and has received fellowships from Kundiman, Tin House, Sundress Academy For The Arts, and the Vermont Studio Center. He has been published in The Offing, Wildness, American Poetry Review, The Texas Review, Auburn Avenue, Crab Orchard Review, and Gulf Coast Mag. He has also been featured on both the "VS" podcast and "The Slowdown". He is a bubble tea connoisseur and works in a kitchen. His debut poetry collection, "Come Clean" (University of Wisconsin Press), was the winner of the 2021 Felix Pollak Prize in Poetry. He is a PhD student at The University of Mississippi, where he also received his MFA.
HOA NGUYEN is the author of several books including Red Juice: Poems 1998 - 2008 and the Griffin Prize nominated Violet Energy Ingots. Her latest collection of poems, A Thousand Times You Lose Your Treasure, published by Wave Books in 2021, is the winner of the Canada Book Award and nominated for a National Book Award and the General Governor's Literary Award for Poetry. In 2019, her body of work was nominated for a Neustadt Prize for Literature, a prestigious international literary award often compared with the Nobel Prize in Literature. Born in the Mekong Delta and raised and educated in the United States, Hoa lives in Tkaronto with her family.
SUSAN NGUYEN hails from Virginia but currently lives and writes in Arizona. She earned her MFA in Poetry from Arizona State University, where she won the Aleida Rodriguez Memorial Prize and fellowships from the Virginia G. Piper Center for Creative Writing. In 2018, PBS NewsHour named her one of "three women poets to watch." Her work appears in diagram, Tin House, and elsewhere. She writes a lot about identity, the body, and the Vietnamese diaspora and also likes to make zines. Her debut collection, Dear Diaspora, won the 2020 Prairie Schooner Book Prize in Poetry and was published by the University of Nebraska Press in September 2021.
TRUONG TRAN was born in Saigon, Vietnam, in 1969. He is the author of six previous collections of poetry, The Book of Perceptions, Placing the Accents, Dust and Conscience, Within the Margins, Four Letter Words and 100 words (coauthored with Damon Potter). He also authored the children's book Going Home Coming Home, and an artist monograph, I Meant to Say Please Pass the Sugar. He is the recipient of the Poetry Center Prize, the Fund for Poetry Grant, the California Arts Council Grant and numerous San Francisco Arts Commission Grants. Tran lives in San Francisco where he teaches art and poetry.
ABOUT THE HOST:
VIET THANH NGUYEN is the author of The Sympathizer, Nothing Ever Dies: Vietnam and the Memory of War, The Refugees, Race and Resistance: Literature, Politics and Asian America, and Chicken of the Sea, written with his son Ellison. His most recent book is The Committed, the sequel to The Sympathizer.
ABOUT THE MODERATOR:
PHILIP NGUYEN is the emcee for ÁCCENTED: Dialogues in Diaspora presented by the Diasporic Vietnamese Artists Network (DVAN). He teaches Asian American Studies in the College of Ethnic Studies at San Francisco State University and is the Executive Director for the Vietnamese American Roundtable, a 501(c)(3) nonprofit organization based in San Jose, California. Philip serves as the President of the Union of North American Vietnamese Student Associations (UNAVSA) and as the Co-Chair of the Young Vietnamese Americans (YVA) Committee for PIVOT - The Progressive Vietnamese American Organization.
About the organizer
The Diasporic Vietnamese Artists Network (DVAN)'s primary mission is to promote voices and stories of the Vietnamese diaspora through nurturing writers, poets and artists, and connecting their work to readers, audience, and diasporic communities all over the globe. We envision a world in which the diversity, complexities, and nuance of Vietnamese diasporic experience and imagination are understood, integrated and supported across national boundaries. We envision a world where our divides are healed, and individuals and communities are empowered and connected. Through nurturing Vietnamese diasporic writers, artists, and readers, DVAN will reshape how Vietnamese people are perceived and build an international, diasporic community of artists in conversation with Vietnamese in Vietnam and with other diasporic communities at large. Diasporic Vietnamese Artists Network (DVAN) is part of the incubator program at Intersection For The Arts, a not-for-profit 501(c)(3) organization.  
Now is a crucial time to make space for and amplify underrepresented voices of the diaspora. We need your help to keep our work going. We invite you to take a minute to view our DVAN 2018 Fundraiser video and make a tax-deductible donation via GoFundMe.