Accent Reduction Seminar 10 hrs-4 sessions, Starts wk of Oct 13, 2017, 6:30-9:00pm

Friday, October 13, 2017 at 6:30 PM

-

Thursday, November 2, 2017 at 9:00 PM (EDT)
Event Details
Sometimes the simplest communication ("I'd like water.") is misunderstood if others are unfamiliar with your accent. Pronouncing clearly is especially important while communicating important workplace information.
This course for non-native speakers of English helps take the mystery out of miscommunication caused by accent. We examine why Americans might mis-hear what you say. You will learn to hear and correct accented speech sounds that contribute to misunderstood speech.
After reviewing why certain sounds are so troublesome, we will practice universally difficult sounds, using a technique that builds new habits of speech. Participants maintain a pronunciation journal in which personalized words and phrases are recorded for brief daily practice. As quickly as possible we move to using new speech patterns during interactive discussion.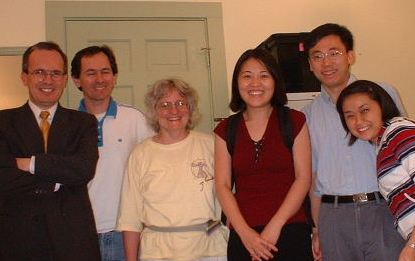 Participants must commit to carving out daily practice time and to consciously incorporating new patterns into daily conversations. Bring a recording device to class, as listening throughout the week will speed progress.
Section 1: Accent Reduction Seminar focuses on correctly pronouncing the individual sounds of American English.
Section 2: Intonation Pattern Training focuses on word and sentence stress, intonation and the speech rhythms of American English.
Section 3: Advanced Accent Reduction Seminar focuses on applying new speech patterns to the participants' professional communication, using professional readings, engaging discussion topics, and participant presentations.
10 HOUR Accent Seminar: 4 Sessions - 2.5hr. each

DISCOUNTS: Recent Cambridge Adult Ed enrollees are eligible for a $10.00 discount. When registering, click the "enter discount code" link and enter the provided discount code BEFORE proceeding to "REGISTER." But hurry! The discount expires at midnight one week before the start date.
MATERIALS: Enrollees who don't already have the pronouncit Vowels book and CDs will purchase them the first day. Cost: $35.00
When & Where

Arlington (exact address supplied upon registering)

Arlington, MA 02474


Friday, October 13, 2017 at 6:30 PM

-

Thursday, November 2, 2017 at 9:00 PM (EDT)
Add to my calendar
Organizer
Communication Exchange provides personalized communication training to professionals and companies in the Boston, MA area. Ask too about online training, whether you are across town, across the country, or located internationally.
- register(at)communication-exchange