Refund policy
Contact the organiser to request a refund.
Eventbrite's fee is nonrefundable.
Do you want to achieve more and be more successful? This 3 hour interactive workshop shows how to build a creative mindset for more impact.
About this event
Do you want to become more effective in achieving your work and life goals? Join us for an immersive 3 hour 'DesignSprintz' workshop brought to you by Proactive By Design, an international UK-based organisation that has worked with global businesses and leading brands. Learn from best-selling authors, industry experts and like-minded creative and business professionals. There will be a 20 minute break half way through and a Q & A session after the 3 hour workshop with workshop speakers.
Focus your attention. Overcome barriers in your creativity. Make more of an impact.
What to expect: 
• Expert speakers who share their journeys to success in both a business and creative context. Learn how to apply creative thinking to any field and grow your mind at this inspiring workshop featuring Rod Judkins, bestselling author of "The Art of Creative Thinking".
• Who are you? What do you or your business do to stand out from others? Learn the importance of an effective Value Proposition.
• Learn how to stand out, build your creative confidence and creative identity. Build resources to successfully navigate change.
• Learn how to effectively develop an idea from concept to completion.
• Learn the importance of creativity in our transformation as individuals, in business and in society. Learn how to use human-focused approaches to thrive.
• Develop capabilities in organisation, communication and creative thinking for success.
• Gain a better understanding of your internal and external environments to improve your decision making.
• Develop valuable skillsets and resources to be more productive and make more of an impact. 
• Question and Answer sessions with creative and business experts. Fantastic networking opportunity.
Expert Speakers: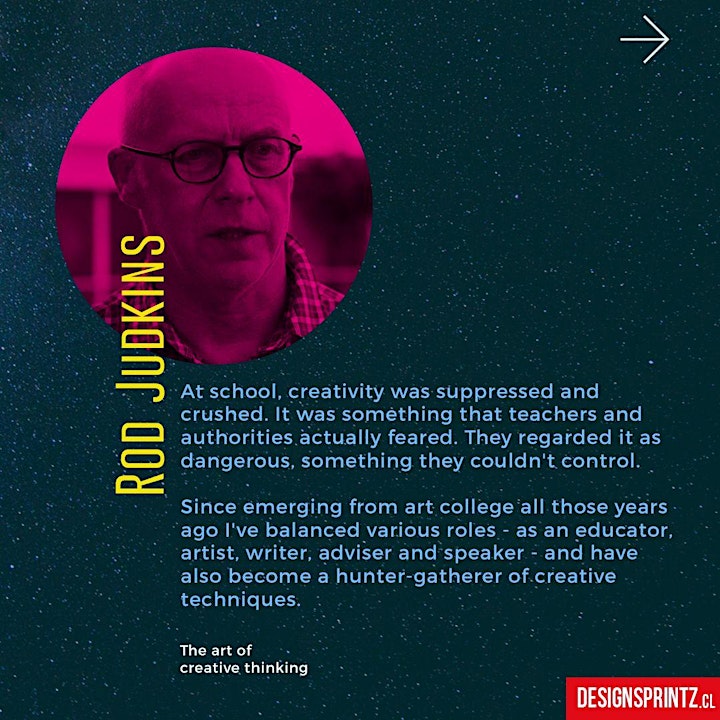 Rod Judkins is an accomplished artist and bestselling author who lectures at Central St Martin's in London. He trained at The Royal College of Art and has exhibited at the Tate Britain, National Portrait Gallery and The Royal Academy. His bestselling books include The Art of Creative Thinking and Change Your Mind: 57 Ways to Unlock Your Creative Self. He has lectured on the subject of creativity to universities and businesses around the world and works as a creative consultant for numerous private companies and global brands including Apple, Google, Bombay Sapphire and Samsung. He has also recently delivered training workshops for The Guardian masterclass series and Dubai Television.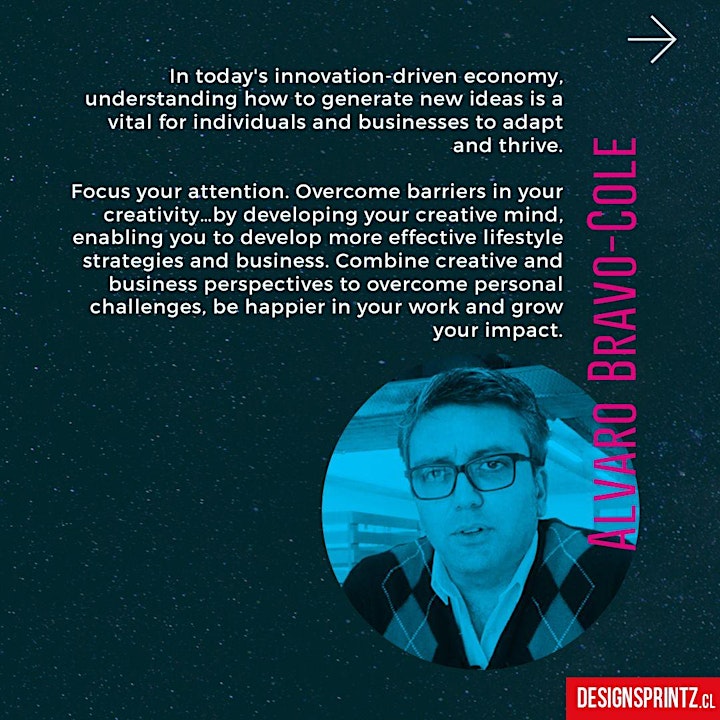 Alvaro Bravo-Cole is a leading creative professional specialising in sustainable and innovative design in the context of well-being and social enterprise. He lectures and works in the UK, Canada, America, Spain, Mexico, Brazil and his native country of Chile where he has trained individuals and businesses and worked with communities to overcome internal and external challenges and improve operational practices. His work spans from helping aboriginal communities in South America to coaching and mentoring youth classes here in the UK to foster creativity in young people. He was recently awarded a place on the Central Saint Martin's/Birkbeck (University of London) MBA which is the first MBA globally to combine Design and Business thinking as tools to address global challenges. He holds an MA from the world class design school at Central Saint Martin's and is a lecturer in creativity, sustainability and entrepreneurship.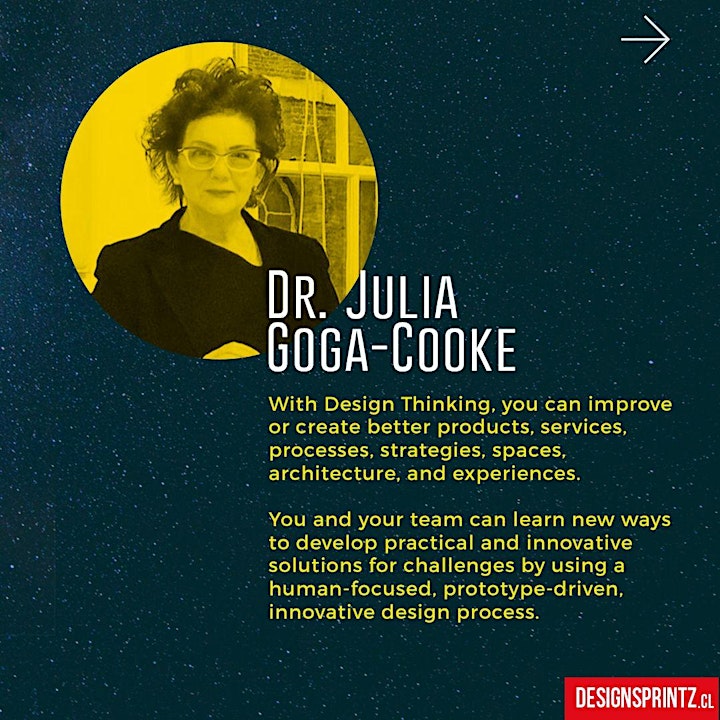 Julia Goga-Cooke is an academic, journalist, design thinker and international entrepreneur. She leads the Academy of Design Thinking, helping organisations create innovation skills and capabilities, and adopt a design led culture.
Her career started in academia, with a Ph.D in Linguistics. She then began working for the BBC for 16 years as a broadcaster, producer, editor and senior leader. After a gap year of study in Design Thinking Innovation and Entrepreneurship, she co-founded and managed the Future of Work Research Consortium, and founded the Academy of Design Thinking. On top of this Julia teaches Design Thinking and Foresight & Strategy at Loughborough University London and Design Thinking Accelerator at Central Saint Martins, University of Arts.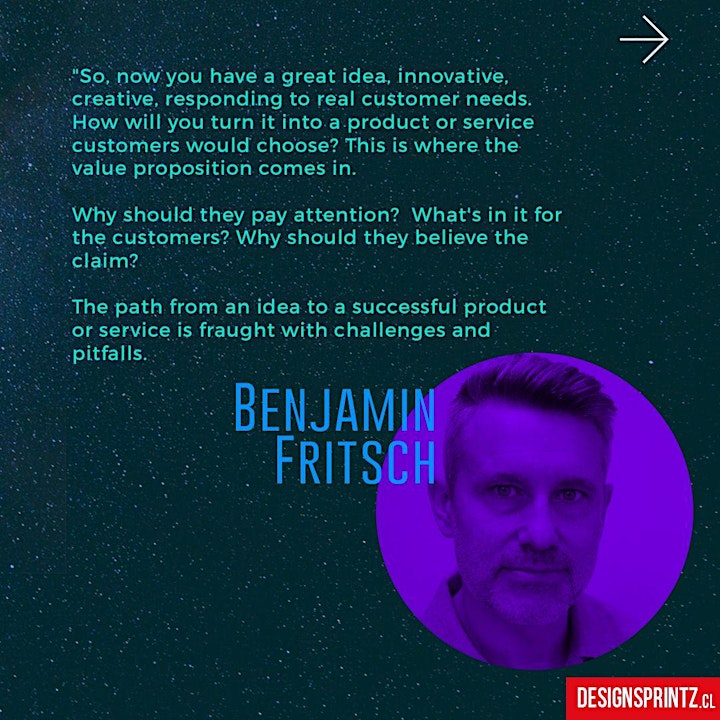 Benjamin Fritsch is a Product Marketing and Innovation Director with a record of customer growth in a range of Consumer (D2C and Retail) and SME industries.
His experience blends digital and physical product and service development with a focus on customer insight, value proposition, brand, online and offline customer experience. Ben has helped brands such as Eurostar, Avis, Zipcar, Homeserve, EE and Carphone Warehouse to respond to the new customer demands from merging digital and physical customer experience and evolve how they package products, service and subscription portfolios to drive customer acquisition, satisfaction, trade up and loyalty.