Description
Accelerators, incubators, virtual programs - the resources available to entrepreneurs have grown dramatically in New York - but how should an entrepreneur decide which accelerator or program is the best fit for their startup? How can they up their chances of making it through.
For this panel discussion we have invited three top leaders from the new York ecosystem to share some stories, successful and not so successful - of how to make it into an accelerator.
By attending you will learn:
How to pick the best accelerator for you

What is involved in a good accelerator program

What questions to ask before applying to an accelerator program
Since many StartOut members have been through programs, come network and see what people have to say about their own experiences.


Agenda:
6:00 pm - 7:00 pm: Registration* and networking with drinks
7:00 pm - 8:00 pm: Panel discussion and questions
8:00 pm - 9:00 pm: Networking and event wrapup
*Photo ID required for building security
A special thank you to Orrick for hosting this event and their continued support of StartOut.
Meet Your Panel
Moderator: Oytun Tez, Co-founder &CTO of MotaWord
Oytun is the co-founder and CTO of MotaWord, a collaborative translation platform in 90 languages. In the last six years, he's been leading the intensive automation of translation with data at MotaWord. Still a part of the social transformation non-profit he helped found in his hometown, he recently published a poetry book among other appearances, as well as virtual reality art shows in Miami and Istanbul.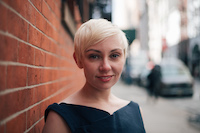 Panelist: Frances Simowitz, CEO and Managing Director at NUMA New York
Frances is a Launch expert in the New York City startup scene. She has helped establish and grow operations in multiple cities like Boston, Chicago, DC, and New York for startups like Sittercity, Startup Institute, and now NUMA New York. She has worked with hundreds of entrepreneurs and has established one of the largest entrepreneurial communities in New York City through HackerNest. Her key strengths are in Operations, Business Development, Community Building, Negotiations, and many levels of sales from small tickets to enterprise.

Panelist: Eduardo Sánchez-Iriarte R, Director Of Operations of Caper AI
Eduardo is the Director Of Operations and part of the early-stage team of Caper, a retail-tech startup developing disruptive technologies for supermarkets. His preferred fields are technology and e-commerce, and he likes to share these adventures in his contributions to Entrepreneur Magazine.
Panelist: Peter Fusco, Partner Corporate, Technology Companies Group
Peter Fusco is a partner in Orrick's Technology Companies Group and leads the firm's New York Tech Companies practice. He represents venture funds and tech companies throughout all stages of their life cycle, from pre-incorporation planning to angel, seed and growth rounds to exit in M&A. Pete serves as senior outside legal advisor to many startups, growth stage companies and venture funds. Pete also works closely with NYU/Poly's Future Lab's incubator ecosystem and its related programs (such as Future Labs AI accelerators), Bunker Labs (Veterans in Tech) and BMW/Mini Urban-X accelerators.
-----
By taking part in this event you grant StartOut and its affiliated StartOut Chapters full rights to use the images resulting from the photography/video filming, and any reproductions or adaptations of the images for fundraising, publicity or other purposes to help achieve the group's aims. This might include (but is not limited to), the right to use them in their printed and online publicity, social media, press releases and funding applications.