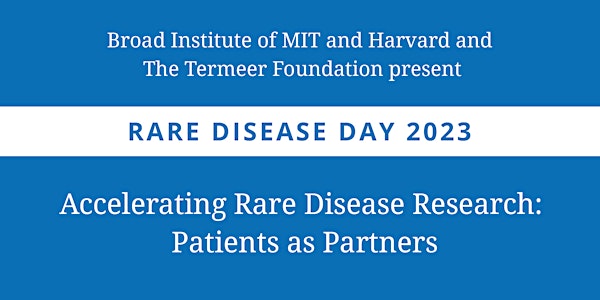 Accelerating Rare Disease Research: Patients as Partners
Rare Disease Day is an international event held in late February to raise awareness about the impact on patients and need for research.
When and where
Location
Broad Institute of MIT and Harvard 415 Main Street Cambridge, MA 02142
About this event
"Rare" genetic diseases are not collectively rare: they affect 1 in 10 people globally. The growing list of causal genes currently stands at 10,867, but less than 500 genetic diseases have an available treatment. The mismatch in these numbers underscores the urgent need to disrupt the status quo and develop new approaches to deliver precision cures at scale.
This year, Broad Institute of MIT and Harvard in collaboration with The Termeer Foundation are hosting "Accelerating Rare Disease Research: Patients as Partners", featuring a program that highlights both the patient and research perspectives, including remarks from Anna Greka, Belinda Termeer, Vamsi Mootha, Yael Weiss, Daniel Fischer, Tania Simoncelli, Eric Pierce, and a panel discussion focused on partnering with patients to empower progress featuring Samantha Baxter, Charlene Son Rigby, Karmen Trzupek, Daniel Fischer, Yael Weiss, Vamsi Mootha, and Tania Simoncelli.
The event will take place on Monday, February 27, 2023 from 1:30 - 5:30pm ET in the auditorium of the Merkin Building at the Broad Institute of MIT and Harvard (415 Main Street, Cambridge, MA 02142) and streamed online from 2:00 - 5:00pm ET.
Broad Institute is committed to uncovering the genetic roots of rare diseases and to using those insights to develop new treatments. With projects spanning multiple disease areas, Broad scientists are using genetics, functional genomics, computational biology, and chemical biology to better understand and ultimately seek effective treatments for rare diseases.
Building on the bold legacy of Henri Termeer, who pioneered groundbreaking treatments for rare diseases, The Termeer Foundation is a nonprofit organization working to connect the world of healthcare innovators until every patient has a cure.
Broad is a fully vaccinated workplace. All guests coming to Broad must be fully vaccinated. Boosters are strongly recommended, if you're able to receive one.
If you have any questions regarding the event, please reach out to Katie Liguori at kliguori@broadinstitute.org.