Accelerating Managed Services Sales

Tuesday, July 10, 2012 from 3:00 PM to 4:00 PM (EDT)
Event Details
Accelerating Managed Services Sales

You and I both Know, Managed Services Sales are esential for building financial stability - more monthly recurring revenue is needed!

This is the third time I have run this session - in fact I just got off the phone with a guy in my coaching program who told me, "I've just returned from the best sales meeting I've ever had in 20 years of reselling technology!" He went on to share how he had applied the concepts I am going to be sharing in this session, and how it led to meeting with the CFO, COO, and CEO of a midsized firm in his city.  This is my hope for everyone who attends these sessions.  I believe there is a better way to sell technology.  My goal is to give you a vision - to inspire you with the ideas that have earned me meetings in board rooms and have allowed me to travel around the world to meet with business leaders. 
If you sell to small or medium businesses, and you are working to build annuity sales through managed services, this session is critical - don't miss it. 

Join me on April 3rd at 3:00 PM EST for a repeat of this critical update from my latest book, From Vendor to Adviser! - and I will explain exactly how to reposition your firm at the "Asset Owner" level in every account you call on! 

Past sessions have filled up quickly, so sign up right away.  You should receive a confirmation, however if you don't, please contact us at sarah@stelzl.us and we'll get you set up with login access to this important event. 

Find out how to grow this part of your business. The fact is, every deal should eventually drive new managed services revenue - your clients need the service, and you need the stability...

In this session I will be covering strategies for...
Avoiding the fatal mistake most sales people make while trying to close a managed services contract


How to move every project sale into a managed contract

How to find brand new clients even when business owners and executives have stopped taking calls

NOTE: If you find that you cannot make this event, please contact us.  We always have a waiting list, so be considerate and give your seat to someone else.
The first half of the year is over - how do your sales look? Are you on track?  Have you been putting off coaching and training opportunities thinking you would just make it on your own...people who dedicate time to learning and coaching out perform those who don't.



Here's what people are saying about Dave Stelzl _____________________________________________________________________________________
Doug Baker President, ICE  "Your stuff works Dave, Thanks for the advice! I like to deal with CEO's only, in the SMB space, because they have the checkbook; they are the asset owners. Talking to them about technology is really tough. But when talking about Operational Efficiencies, Data Risk, or obtaining those efficiencies and Costs reductions, I can tell you my margins have doubled, sales are taken to a higher level, and the CIO/IT guy and the CFO are now only supporters or influencers, not decision makers. This has opened up a whole new sales discussion and approach." Top qualities: Doubled margins, Dealing with Business Owners, Advice
_____________________________________________________________________________________ 
Manuel Navarro Sales Rep, Praxis"I highly recommend David. While working at Praxis Computing, Inc, David was hired as my sales coach and business planning mentor. He played a significant role in our success selling IT security equipment and services. The "Cloud and House" presentation that he devised was implemented throughout our process from seminars and events to board room presentations and deal negotiations. Furthermore David is extremely efficient and helped me to successfully leverage my calendar utilizing time and work flow management to increase performance. In conclusion, David Stelzl's advice is extremely valuable." Top qualities: Great Results, Expert, Creative
_____________________________________________________________________________________
Nate Freeman President, Network People We recently held an educational event with David Stelzl as our keynote speaker to explain the 7 Essential Mindsets of securing critical data. The event was held at the right time, with the right people, and at the right place and was a great success! We had 74 people in attendance which represented 31 actual companies. Of those, 65% signed up for a Risk Assessment that night and an additional 5 companies wanted project work done. Since then, we've had two of 31 companies actually call us for help with security issues. Both have engaged for project work. They definitely would not have called without us doing the event. Judging the success of the educational event alone, I would be thrilled. But something very powerful happened afterwards that I did not expect. A "Security" specialty opens doors even when my competitors are standing in them. In two meetings last week, I was discussing critical data with business owners as a follow-up to the event. Those owners gave me access to the entire network, passwords, interviews with staff, and most importantly TIME with themselves. I never could have had quality appointments like that without first delivering quality and value to those owners through the educational event with David Stelzl. When time is money and every second counts, the meetings I choose to attend must be valuable. The security specialty and Stelzl's message has given me an open door to pinpoint the holes in security that businesses have and allows me a quality conversation to remedy those holes. The specialty eliminates the typical roadblocks from internal/external IT people protecting their domains—even at the risk of the business being insecure. The result: meetings that get to the REAL problem, proposals with a higher close rate, solutions that are custom designed and valuable to the owner. Now that is a win-win.
_____________________________________________________________________________________
Carlo Minassian CEO, Earthwave I wanted to sincerely thank you for the impact you have had on my business (earthwave) all the way out here in Sydney - Australia. I haven't had the pleasure of attending any of your courses however by simply following (memorizing) "Making Money with Security" business practices and adopting the House & the Cloud sales strategies I have been able to completely re-engineer my go to market approach that is actually ideal to be applied to any MSSP, as it brings home the importance of Detection & Response. Furthermore, I have pushed these strategies to my channel partners as part of our channel program, and helped them align their go to market to ours. So by simply extending your Educational Marketing message, now I have more committed partners who are actively taking us in front of their customers knowing well the powerful messaging we are going to deliver. I have now witnessed average sales reps from my channel partners take the time and apply them selves to your model and have literally transformed themselves into great security sales people that are now highly sought after. In my opinion, any sales person could do the same if they just took the time to read and apply them selves. Regards, Carlo
_____________________________________________________________________________________
Norm Sklar Partner/Owner, Sklar Technology Partners Dear Dave, Sometime you forget just how valuable someone is. I just want to let you know how we feel about our working relationship. Working with Stelzl Visionary Learning Concepts over the past five years has been the best investment Sklar Technology Partners could have made. Our investment with you has been paid back many many times over. My son Randy learned more about running our business than he would have by getting a masters degree in college. I honestly believe that with your help our company not only survived the recent recession but actually thrived and grew over the past two years. And did I mention what a pleasure it is to work with you? You have become a very important part of the Sklar Technology Partners' management team and we thank you. Sincerely, Norman J. Sklar Sklar Technology Partners _____________________________________________________________________________________
David Prince President, Data Branch ... Your keynote message was outstanding; thought-provoking, very informative, entertaining - you delivered exactly what we were hoping for and more. The feedback from all attendees was excellent - you were a definite hit.
_____________________________________________________________________________________   
DJ Valerie Sales, ePlus Technologies "...I learned more in 2 days at the Mastering Boardroom Presentations workshop than I have in 10 years of sales and sales training...I've recommended that my managers continue to invest in your training programs, they obviously work!"
_____________________________________________________________________________________
John Stengel President, JStengel Consulting "...You did a fantastic job presenting material I can use today! Well worth the money..."
_____________________________________________________________________________________
Jade Witte Senior Account Manager, Nexus IS ... Your training workshop ROCKED!
_____________________________________________________________________________________ 
Organizer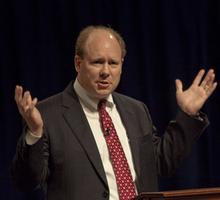 Keynote speaker and technology sales trainer, David Stelzl is an innovator in sales & marketing - He brings a fresh perspective on the high-tech consulting business - He believes the sales business should be exciting, helpful to clients, and highly successful. He believes there is a better way, as sales & marketing professionals embrace his vision and passion for helping solve today's complex business problems rather than vending point products.
Described as a visionary thinker and entrepreneur, David teaches his clients to function more like high-priced consultants and less like "sales" people. With a vision to bring back the concept of "Trusted Adviser", David is leading a movement where sales people embrace integrity, deliver value, and learn how to truly advise at the executive management level.