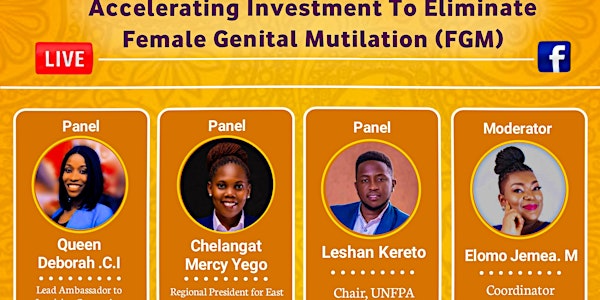 Accelerating Investment to Eliminate FGM Virtual Conference
An educational and sensitization virtual conference on Female Genital Mutilation practices in Africa and globally.
About this event
Accelerating Investment to Eliminate Female Genital Mutilation (FGM) virtual conference is organised by FabAfriq Magazine. This conference aims at amplifying and shedding more lights on FabAfriq latest Edition, which addresses issues related to FGM. This conference will bring A-list speakers from partner organisations such as UNFPA, DefendDefenders, Spotlight Initiative and other related agencies. It will be an opportunity to hear some of the great initiatives that are being done by these organsiation to put an end to FGM.
More information will be provided on the challenges, plans and what you can do to help meet the UN target of completely eliminating FGM by 2030.