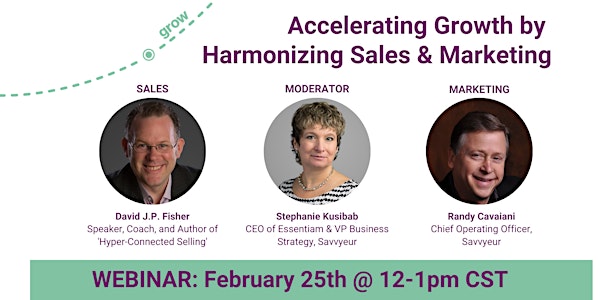 Accelerating Growth by Harmonizing Sales & Marketing
We'll help you break down the sales / marketing barrier and identify key areas of cooperation that will grow your business. No more silos!
About this event
• Are you a one-person sales and marketing team in a growing operation, working to sort out your priorities?
• Is there a disconnect between the sales and marketing teams in your company?
• Are you challenged by a lack of understanding (or appreciation) for the work done by your colleagues across the aisle?
Join us to learn some of the typical friction points between sales and marketing and how to focus on customer needs together to achieve greater results, faster!
Truth is that sales and marketing are both focused on the same end goal --> revenue generation. Both disciplines are needed to acquire, nurture, and convert customers, but too often silos form and communication between the teams breaks down.
Walk with us on a customer journey that melds the Sales Matrix(TM) with the Marketing Funnel to highlight key tasks and areas of cooperation between sales and marketing that will increase sales and customer satisfaction.
Download the worksheet to note the areas where you might get the biggest bang for the buck by grabbing a coffee with your partner in the 'other' organization.