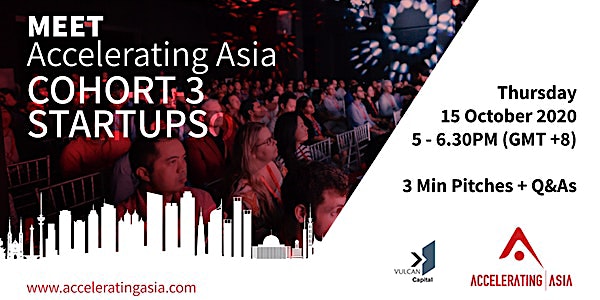 Accelerating Asia X Vulcan Capital
Join Accelerating Asia and the Vulcan Capital team to see our Cohort 3 startups pitch.
About this event
This week, the team at Vulcan Capital will lead the Q&A with Accelerating Asia Cohort 3 startups after the 3-minute pitches
Startups are at the mid-way point of the 100-day accelerator program with us. And they've been hard at work so far doing office hours with VCs, participating in sessions on growth with our Entrepreneur in Residence and mentors plus continuing to grow their startup.
Next, they will be prepping for our invite-only event Demo Day and international immersion sessions with investors and specialists from Silicon Valley.
The details....
5PM Event kick-off
5PM - 6PM Startup pitches & Q&A (these will be quick and to the point)
6PM Done and dusted
Slots will go fast for this one. And even though it's virtual, we do have a cap on the number of people, so that it's a worthwhile experience. So register now!
Joining us from Vulcan Capital will be:
Tommy Teo
Tommy Teo serves on the Venture Capital team at Vulcan Capital and leads the Southeast Asia investment team based in Singapore.
Prior to joining Vulcan, Tommy was an Executive Director with the Northstar Group, a Singapore headquartered private equity firm where he focused on growth and technology opportunities in Southeast Asia. Previously, Tommy was an investment banker with Citigroup in Singapore, and with Perella Weinberg Partners and Bear, Stearns & Co. Inc. in New York. Tommy was also an analyst at hedge fund sponsor Capital Z Asset Management. He currently serves on the board of SGX listed company, Nera Telecommunications Limited.
MJ Yu
MJ Yu serves on the Venture Capital team at Vulcan Capital and is part of the Southeast Asia team based in Singapore.
Prior to joining Vulcan, MJ was a Partner at Ethos Partners, a Singapore headquartered venture capital firm, where he focused on early-stage technology and growth opportunities in Asia. Previously, MJ spent five years at Dymon Asia Private Equity investing in growth opportunities in Southeast Asia. Before moving back to Singapore, MJ worked at private equity fund Primus Capital and was an M&A investment banker at Morgan Stanley in Hong Kong. MJ was also a director at Hi-P International Limited, spearheading their M&A and business development initiatives.
Startups pitching at this event include:
AskDr is a consumer-facing health information platform aiming to make reliable health information more accessible to the public by connecting them to verified doctors.
Energy Lite is a virtual project development platform that enables energy investors to finance aggregated small, medium solar projects.
KaryaKarsa helps online creators display and paywall their creative works and services to their fan communities, through its direct to the fans monetisation platform.
Kinexcs supports faster recovery and delivers personalised health and fitness. The data-driven startup connects clinicians to patients, enabling evidence based recovery and quality care for musculoskeletal patients.
MyBrand is a food social marketplace that provides an integrated app-based platform for home-based culinary businesses and cloud kitchen brands reach out to a wider mass, beyond what social media and messaging apps could conventionally do.
ProjectPro is a work automation platform that helps data scientists get their projects done faster.
Shuttle is a mass-transit startup based in Bangladesh that provides safe transportation at an affordable fare by moving more people with fewer vehicles and caters to both B2B and B2C customers.
FAQs
How long will the session run for?
We should have you up and out of the event by 6.30pm Singapore time at the latest but we'll try to keep it to 1 hour, it depends on how many questions you have for our startups!
Will there be the opportunity to ask questions?
Yep, after each pitch we will facilitate a Q&A. You can add your questions to the Zoom chat and our host will answer them for you.
How do I access the event?
This event will be held via Zoom and we will send you all the links direct to your inbox closer to the date of the event. It will also be available on the Eventbrite Online Event Page.
Do I need to have my camera on?
We always like to see your faces so feel free to turn your camera on but keep your microphone off.