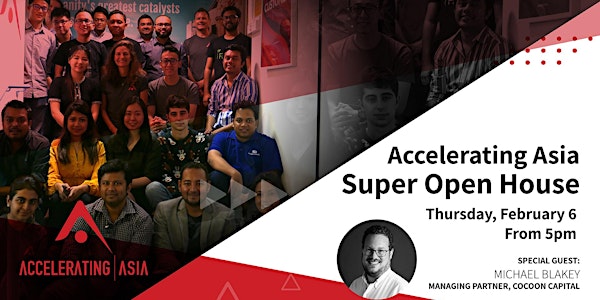 Accelerating Asia SUPER Open House February Edition
Super Open House is back for February with all 10 startups pitching live with special guests from Cocoon Capital.
When and where
Location
Accelerating Asia 25 Church Street #02-02 Singapore, N/A 049482 Singapore
About this event
Join us for Accelerating Asia's February edition of Super Open House as the 10 startups pitch to a live audience with special guest Michael Blakey from venture capital firm Cocoon Capital.
The new startups in the portfolio were kept busy in the first month of our accelerator program with masterclasses on fundraising, financial management and growth as well as Entrepreneur in Residence.
At this event, founders will deliver 3 minute pitches, followed by a Q&A. You will have the opportunity to ask founders the hard questions and see their progress after the first month of the program.
The details...
5PM Arrival
5PM - 6PM Founders pitch their startup, share tips, Q & A
6PM - 7PM Networking
7PM Home sweet home
Pitching on the night will be Accelerating Asia's latest round of investments announced in January, hailing from 6 countries with 40 percent female co-founded ventures.
Moovby is a car rental marketplace or the Airbnb for Cars, where travellers can rent any car they want, whenever they want it, from a vibrant community of local owners.
Romoni is a one stop destination of beauty and lifestyle needs of women and a credit facilitation platform for micro and women entrepreneurs in Bangladesh.
RecyGlo is a waste management platform that provides circular economy, zero waste management, traceability, monitoring and analytics and recycling solutions in ASEAN.
Nitex connects businesses to streamlined overseas production and standardised apparel sourcing for remote buyers by providing transparency and process optimisation.
NumuWorld is an app that enables brands to reward customers who promote their business on social media. Numu offers brands flexible promotional opportunities tailored to social media activity as well as visibility over who and when someone posts.
Joni.ai is an AI-powered adaptive assessment platform that personalises education and helps students to make sense of their learning data.
IZY.ai uses the latest mobile and machine learning technology to deliver concierge services that customises guest experience to elevate hotel stays, digitises hotel services and improves internal hotel productivity.
Priyoshop is an e-commerce platform enabling small town micro-entrepreneurs to sell a wide selection of authentic products to customers without having to invest in working capital stock and get access to affordable financing.
iFarmer delivers innovative financing for agriculture and farming by enabling secure investing for individuals and institutions and ensures a return on investment by providing market access and support services for partner farmers
Hellotask is an app-based platform that upskills domestic workers and connects them to employment opportunities as on-demand, verified maid services to households.
About Michael Blakey
Michael's entrepreneurial journey started when he was young. He supported his way through college in the US by running some of the best music events in the city. Michael loves building things – including companies.
Since becoming an angel investor in 2000 through Avonmore Developments which he co-founded with his brother, Michael has invested in over 25 companies in the UK and achieved 7 successful exits. He's also invested in 8 start-ups in Southeast Asia including Anchanto, PlusMargin and Nugit under the name of Cub Capital since 2013. Most recently, Michael has co-founded Cocoon Capital, an early stage fund, which is looking to invest in companies throughout SE Asia. As is his want the structure of Cocoon is very different than your typical fund, as his entrepreneurial spirit always wants him to challenge the status quo.
During Michael's career he's been named 'UK Angel Investor of the Year 2015' by the UK Business Angel Association, selected as one of the 'Maserati 100' and voted by AngelsNews into the list of 'Business Angels You Should Know'. These accolades were not attributed to Michael only in recognition of his successful investments, but for the relentless support he gives to the founding and management teams of the companies he invests in as well as his generous contributions over the years towards building the startup and investor ecosystem in the UK.
FAQs
Does it cost anything to attend?
Nope. This event is free for the Accelerating Asia community of investors, mentors, entrepreneurs and ecosystem partners. We also welcome people who are interested in our startups or the work we're doing to come and join us. Simply reserve a spot via eventbrite and present a ticket on the day of the event.
How do I get there?
Our Open House will be hosted at 25 Church Street, Capital Square Three on the 2nd floor (please use Lift Lobby B1 to get to our office entrance). We encourage all of our guests to take public transportation wherever possible (nearest MRT station: Telok Ayer; also accessible via Raffles Place MRT and Chinatown MRT).
Important Notes
Accelerating Asia reserves rights to refuse entry or ask guests who don't meet our standards and/or our vision for the startup ecosystem to leave our venue. This event will end strictly at 8PM. Please contact the Accelerating Asia team for all enquiries regarding this event.
Disclaimer
By registering for this event, you've agreed to receive newsletter updates from Accelerating Asia, including our latest news and upcoming events. You can always edit your preferences and/or unsubscribe from our newsletter in the future. A copy of our privacy policy is available on the website here. You further consent to having your photograph taken at events and Accelerating Asia also reserves the right to use photos and videos from this event for marketing purposes.