Accelerated Implant Loading & Current Digital Technologies
Description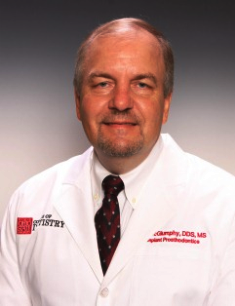 Dr. McGlumphy graduated from The Ohio State College of Dentistry and completed a general practice residency at the University of Texas-San Antonio. He returned to Ohio State for prosthodontic training and received a master's degree in 1988. Since that time, he has been a full time prosthodontic faculty member at The Ohio State University and was responsible for all aspects of predoctoral and postdoctoral implant education as director of the implant prosthodontic clinic. He is currently a full professor and has served as principal investigator for multiple studies on implant component physical properties and prospective implant clinical trials. This work has led to over eighty-five publications and $5.5 million in extramural funding. He has been a reviewer for the Journal of Prosthetic Dentistry and the Journal of Oral and Maxillofacial Implants. He has a private practice limited to prosthodontics and lectures internationally in the fields of implant dentistry and prosthodontics.
"Accelerated implant loading protocols and the practical use of current digital technologies"
The implant dentist and patient still want the same things: restorations that look good, done as quickly and affordably as possible and remaining trouble free over the long term. This program will address the treatment plans that have allowed these positive outcomes over the last 25 years and contrast them with those that have had less optimum outcomes. Particular emphasis will be given to practical applications of digital technology to make procedures quicker and easier, without adding overly burdensome expense. Clinically relevant research conclusions on early and immediate loading will be highlighted. Guidelines regarding minimizing implant numbers will be addressed. Current controversies on the graftless approach to the edentulous maxilla, tilted implant protocols, conversion prostheses, complete arch zirconia restorations and digital work-flows will be emphasized. Potential biomechanical and esthetic problem areas will be illustrated with clinical examples. Multiple solutions will be offered to help the experienced, and the non-experienced, dentist avoid esthetic or biomechanical failure after initial implant success.
OBJECTIVES
At the completion of this course, the participant will be able to:
1. Describe the current controversies in implant dentistry and understand the published literature that addresses these controversies.
2. Understand the pros and cons of incorporating digital technology for both implant surgery and implant restorations.
3. Implement clinical strategies to help avoid biomechanical overload of implant restorations.
4. Implement practical methods to assure safe, consistent and affordable implant restorations, even with accelerated loading protocols.
GENERAL INFORMATION
Registration will close 2 days prior to ALL course dates. Registration will not be processed until payment is received by Eventbrite. After the registration deadline, please contact the CE office to see if space is available (402-472-2611).
We reserve the right to limit the number of participants and to cancel any course. Confirmation letters are generally sent two weeks prior to the course. If registration and payment were sent at least two weeks prior to the course and no confirmation letter is received, please contact Abbey Beardsley at 402-472-2611 to verify that your registration.
CANCELLATIONS:
Participants cancelling their registrations will receive a refund minus a $25 processing fee. Notice of cancellation must be made prior to the course.
NO REFUNDS WILL BE MADE AFTER THE COURSE BEGINS.
LOCATIONS:
The College of Dentistry located at 4000 East Campus Loop South, Lincoln
PARKING:
Parking is only complimentary for courses held on East Campus.
QUESTIONS:
UNMC College of Dentistry Continuing Education Phone: 402-472-2611 E-mail: codce@unmc.edu Contact: Abbey Beardsley. For additional information on courses and speakers please visit www.unmc.edu/dentistry.
RECOGNITION:
The University of Nebraska Medical Center College of Dentistry Office of Continuing Education is an ADA CERP Recognized Provider.
ADA CERP is a service of the American Dental Association to assist dental professionals in identifying quality providers of continuing dental education. ADA CERP does not approve or endorse individual courses or instructors, nor does it imply acceptance of credit hours by boards of dentistry.
Concerns or complaints about a CE provider may be directed to the provider or to the Commission for Continuing Education Provider Recognition at ADA.org/CERP.
The College is a member of the American Dental Education Association and the Association for Continuing Dental Education.
The University of Nebraska Medical Center College of Dentistry Office of Continuing Education designates this activity for 3 continuing education credits.