Sales Have Ended
Registrations are closed
The registration for this event is closed. If you are still interested, send an e-mail to rkattri@speedtoproficiency.com for an overbooking request (not guaranteed).
Sales Have Ended
Registrations are closed
The registration for this event is closed. If you are still interested, send an e-mail to rkattri@speedtoproficiency.com for an overbooking request (not guaranteed).
Description
WHY THIS WORKSHOP
Are you a corporate manager who feels stuck in a position level for long?
Are you facing challenges to establish yourself as a next-in-line guy?
Do you feel amidst fierce competition with your peers to pitch for that promotion you have been expecting for years?
Are you actively thinking of getting out of the loop and create an extra edge to your profile?
Are you striving to establish yourself as an authority in your area of expertise?
Are you looking to attain in-depth specialization or conduct more profound research in some specific area of interest?

You are not alone. The business world is the middle of revolutionary times in history. With cut-throat competition, organizations look for individuals who are the best-in-class, highly credible specialists and those seen or deemed as go-to-authorities when hiring for critical senior management and executive positions. Amongst this changing landscape, you are forced to compete with your peers to make your mark. You are likely to feel the constant struggle to maintain your visibility, establish your credibility and maintain a competitive edge over others. Ironically, people surrounding you are equally skilled and equally well-educated as you. Among those variables, as a seasoned manager or senior manager in the corporation or organization, you might find it increasingly hard to accelerate your career up in the organizational pyramid. At the same time, you might feel the need to take your education to a level where you stand out.
If you are at a turning-point stage in your corporate management career, where you are actively thinking of attaining the highest level of educational degree to create that extra edge in your career, then this is the workshop for you.
Taking up a doctorate sets you apart from the rest just by mentioning it, establishes you as an authority or specialist on specific expertise, makes you seen as knowledgeable and go-to-person. Having a prestigious doctorate degree on your profile makes you more available to the market and present a key differentiator.
Register today and set yourself a strategic path to becoming an authority in your area.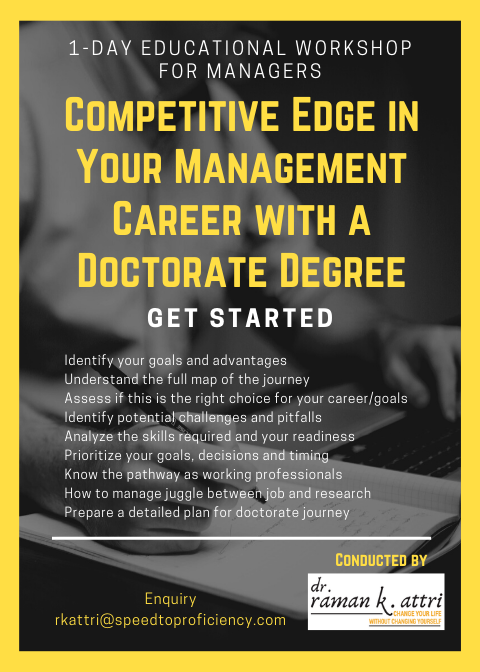 WHAT WILL YOU GET OUT OF THIS WORKSHOP
In this introductory workshop, the trainer will share his personal experience and research on how to make the right decisions. Through several reflective sessions, you will assess if taking up a doctorate degree path is the right approach for you. Personally having completed two doctorates in a very short period, the trainer will guide you through how to plan for this daunting path. The most important take-away from the workshop will be identifying the skills, competencies, and expertise required to complete successful doctorate research. You will be coached to assess your readiness. The workshop is designed to answer you the mysteries and behind-the-scenes truth of attaining a doctorate degree with reasonably less-taxing efforts. The workshop is delivered in managerial and practice-oriented language, keeping the academic jargon out away. The workshop will help you to identify how you can leverage your current and previous practice-based experience and translate that into doctorate research to take your specialization to a pinnacle.
OBJECTIVES
At the end of this workshop, you should be able to:
Understand and identify your drives and career goals
Understand the full picture of a typical doctorate journey
Assess how doctorate degree is the right choice for your career
Identify the potential challenges and pitfalls
Analysis of skills required to complete a doctorate degree
Self-assessment of your readiness for a successful doctorate degree
Decision matrix to help you prioritize your goals, decisions, and timing
Choose the least effortful pathway as working professionals
How you can do doctorate successfully part-time alongside your day job
Prepare a plan for doctorate journey
AUDIENCE
This workshop is specifically designed for corporate practitioners and managers who are interested in taking up a PhD or DBA or equivalent doctorate degree in management, business or similar allied disciplines alongside their mainstream day job.
The workshop will be delivered in a practice-oriented language. Ideally, the managers with 5 to 10 years of managerial experience would be able to benefit the most from this workshop.
This workshop is not meant for non-managers, individual contributors, technical and scientific professionals. This workshop is also not meant for someone looking to change careers and go into academics with a PhD.
VALUE ADD BONUS
Printed handy manual for reference

30 minutes coaching session free with the trainer at any stage to help in decision-making or other challenges related to doctorate pathway
OTHER DETAILS


The workshop will not advertise any specific university, educational institute or degree.
The workshop will not sale any idea, tools or techniques to conduct and complete the doctorate degree.
At the end of the workshop, participants may opt for an optional complimentary orientation on admission to a doctorate degree supported by a sponsorer if the workshop is conducted at a sponsored venue.
Venue: TBD
Duration: 1 day
Others: Light refreshments will be provided, no lunch included
Max number of participants: 20
SkillFuture or any other Govt. subsidies are not applicable for this workshop
FAQs
How can I contact the organizer with any questions?
Send an e-mail to rkattri@speedtoproficiency.com
What's the refund policy?
Due to the specific niche of this workshop, there is no cancellation option. However, if for any reason, the organizer cancels the workshop, the ticket price will be refunded in full.
Is my registration fee or ticket transferrable?
No, because the workshop will be catered to specific experience, background, and goals of the participants which will be surveyed beforehand. The ticket cannot be transferred once you have filled the survey.