Accelerate your Career by Marketing Yourself

Wednesday, October 15, 2014 from 5:30 PM to 8:15 PM (EDT)
Event Details

The Society of Women Engineers (SWE) Boston Professional Section presents:
Accelerate your Career by Marketing Yourself
Sponsored by Saint-Gobain

Presented by Rita Balian Allen

Date: October 15, 2014
RSVP: October 8, 2014
Meeting Location
Saint Gobain
Northboro R&D Center
9 Goddard Road
Northboro, MA USA 01532-1545
Event overview
When we use the term "marketing", most people think of products, services and commodities.  How about ourselves – marketing our talents, accomplishments and value – inside our organizations and outside within our profession, industry and community.  Are you or your staff members comfortable talking about yourselves in this way?  More importantly, are you prepared to talk about yourselves in this way – packaging your talents and accomplishments – showcasing them, leveraging them and presenting your value internally within your organization and externally within your chosen fields & communities?  Identifying, creating and articulating one's "personal brand" empowers talent to 'own their career', and seize opportunities you aspire to achieve. Personal branding and the ability to market ourselves is an essential ingredient for successful career management.  Learn how to create a framework to embrace and develop this core competency.
Agenda
5:30-6:15              Dinner
6:15-6:30              Saint-Gobain and SWE Introduction
6:30-7:30              Program Begins
7:30-7:50              Q&A with Rita
7:50-8:00               Wrap Up
Dinner will be provided. Vegetarian Option available.
Meeting Link:     
All attendees must register by the RSVP date. Late Registration or attendance will not be permitted. Attendees must supply name, including middle name, employer name (e.g., for government personnel, their jurisdictions and agencies) and title/occupation. All attendees should be ready to present a form of ID. All attendees will be required to sign a photo release form.
About the Speaker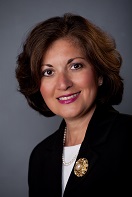 Rita Balian Allen is the president of Rita B. Allen Associates, a career management firm specializing in executive coaching, leadership development, management training and career development. She is a lecturer at Boston-area universities, a sought-after speaker and presenter, the author of numerous articles, blogs and the newly released book, "Personal Branding and Marketing Yourself: The Three P's Marketing Technique as a Guide to Career Empowerment". Rita was voted one of the top ten executive coaches by the Boston Women's Business Journal .
Rita brings many years of human resources experience to her practice and has worked with leaders across all industries and professions. Previously, she held roles as Vice President of Marketing and Search Services with Gatti & Associates, and human resource positions with C.R. Bard, Inc., BTU International, and Unitrode Corporation. She holds an MS in Leadership and a BS in Business Administration from Northeastern University and is certified in several assessments tools. Rita currently serves on the board of directors of More Than Words and is a former board member of The Boston Club and the Association of Career Professionals International - New England. She is also an active member of other professional associations and organizations.
About Saint-Gobain
Saint-Gobain, the world leader in the habitat and construction markets, designs, manufactures and distributes building materials, providing innovative solutions to meet growing demand in emerging economies, for energy efficiency and for environmental protection. Saint-Gobain is a welcoming, solid, open-minded company that offers long-term career opportunities. With 2013 sales of €42 billion, Saint-Gobain operates in 64 countries and has nearly 190,000 employees.
The Northborough R&D Center focusing on materials research has been in operation since 1985. We have an outstanding record of achievement, and are committed to growth through the development of proprietary products based on novel materials and process technologies. The 186,000-square-foot R&D Center is home to an on-site gym, cafeteria, library, and world class research technology systems and laboratories. It is based in three buildings on a 26-acre site Northborough and has approximately 330 employees from 27 different countries.  The proximity to I-290 makes for an easy commute from any direction.
Directions To:
Northboro R&D Center
9 Goddard Road
Northboro, MA USA 01532-1545 
Phone: 508-351-7600
http://www.mapquest.com/maps?address=Northboro+R&city=Northborough&state=MA&redirect=true
Driving from I-495 North or South
1.      Take exit 25B to merge onto I-290 W toward Worcester                2.5  mi
2.      Take exit 25A toward Hudson St/Northboro                                    0.3 mi
3.      Merge onto Solomon Pond Rd                                                        0.3 mi
4.      Turn left onto Goddard Rd. Destination will be on the left               0.2 mi
Parking: Please drive in through the first entrance and then enter the lot just left of the visitor parking. 
"Tickets are non-refundable.  However, if a request is made at least 72 hours before the scheduled event, the amount paid can be used as credit towards a future event.  Please note that this credit expires within 60 days of the request being approved."
When & Where

Saint-Gobain
9 Goddard Road
Northboro, MA 01532-1545


Wednesday, October 15, 2014 from 5:30 PM to 8:15 PM (EDT)
Add to my calendar
Organizer
The Society of Women Engineers (SWE) (swe.org) is a nonprofit educational and service organization that empowers women to succeed and advance in the field of engineering and to be recognized for their life-changing contributions as engineers and leaders.

SWE Boston (sweboston.org) is one of the original four sections of the Society of Women Engineers. We are currently one of the largest sections of SWE.