Multiple Dates
~ACCELERATE~ Solar Eclipse Individual Sound Bath Healing Sessions
Sales Have Ended
Ticket sales have ended
Thank you for booking your nurturing sound bath private session - see you soon!
Sales Have Ended
Ticket sales have ended
Thank you for booking your nurturing sound bath private session - see you soon!
Description
**More Daytime Timeslots & Days Available** Daytime hours are available and special discounts, please email melissa@innersoundsmeditation directly.
This Tuesday, July 2nd 2019 Solar eclipse is a fantastic one for creating new, good karma and healing relationships. The eclipse takes place in the loving, nurturing zone of Cancer, which means ancestral and family healing is on the table, along with your own rituals and techniques of self care.
This Solar Eclipse calls us inward to cultivate a deeper understanding of our emotional intelligence, needs, and nourishment requirements. It is a high octane, lunar reset button.
Take full advantage of the energies present, gain a deeper understanding of your nourishment needs, heal an old would, or accelerate a change than with a custom private sound session.
A little more about ECLIPSES:
This is the first full solar eclipse since the A solar eclipse is a turbocharged New Moon. New Moons are a perfect time for planting new seeds and starting afresh in the rich, fertile new moon soil. But with an Eclipse, the Moon comes between the Sun and the Earth. Therefore the lunar interrupts the flow of energy and causes disruption. It breaks our habitual behaviour and gives us a kind of cosmic reboot.
The Moon blots out masculine/left brain energy for a while, so the feminine/right brain is flooded with instinctual and intuitive energy. During an eclipse, this energy is magnified, we get that same sudden feeling of hyperawareness. We feel unstoppable!! Eclipses are accelerators which means they also create sudden, jarring shifts and speed up the inevitable. Their energy lasts for weeks before and after.
About the Experience:
Imagine being immersed in a serenade of healing frequencies during a customized Sound Bath curated to suit your exact spiritual, energetic, or wellness desires.
Welcome the sound chamber, an intimate sound healing room for one-on-one healing, complete with integrated wellenss tools, like:
Amethyst Crystal Bio-Mat - Relax on 15lbs of heated amethyst crystals. Amethyst known to assist with cellular regeneration, sleep support, mood regulation, inflammation, and increased circulation.
Tibetan Singing Bowls designed specifically for use on the body offer soft cellular attunement, energetic recharge, and kinesthetic toning.

Planetary Tuning Forks used on specific acupressure points to reharmonize the body, energy points, and subtle systems.

Weighted Herbal Sandbags- Herbal flax neck pillows, weighted wrist bands, traditional sand bags, lavender eye pillows, and other restorative tools for support and grounding.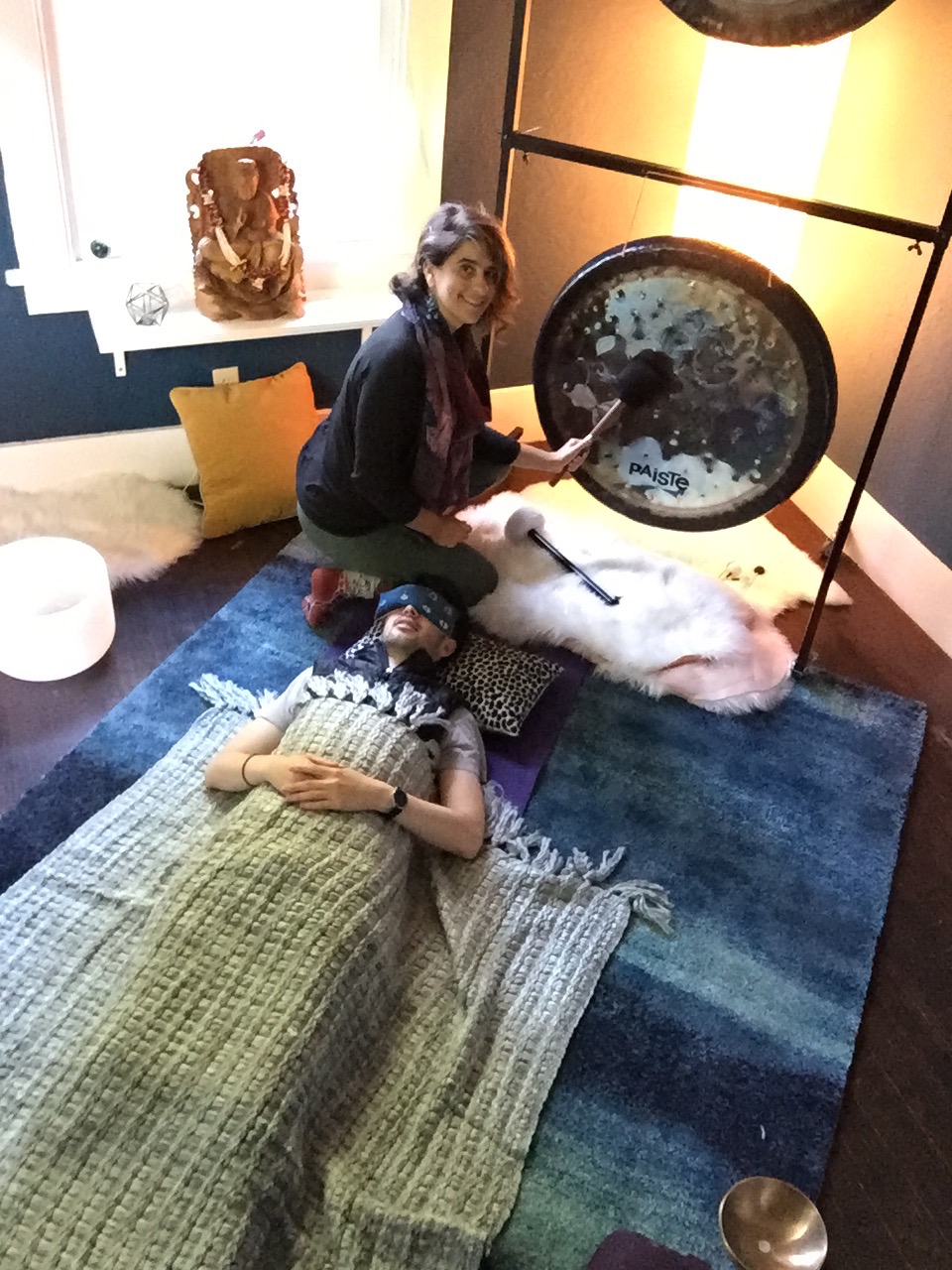 For the past few years, we've all been doing some heavy duty spiritual lifting as well as being exposed to collective trauma, and, more than ever, we all *just* need to relax and rejuevenate our spiritual wells, energetic fields, and overall well-being.
Each session is unique and intuitively guided. Some sessions are relaxing, while others are more stimulating, Melissa has ten years of experience as a sound practitioner and has developed an intuitive sound technique. She will provide sonic insight, messages, or visions received special to you at the end of the session.
Sessions are confirmed through email or phone call to be sure this is a good fit. All sessions are clothed and there is no massage. Refunds are not available but sessions can be transferred up to 1 week prior.
Testimonials:
"I had the good fortune of working with Melissa as a gift from my sister in law. I am so lucky to have had the opportunity to work with her in her gorgeous new studio space. She is clearly an intuitive, knowledgeable and safe guide to journey through our inner landscape using sound. She is able to hold the space for deep (often difficult) releasing emotions, which is important for me as I am grieving a loss. I have done a lot of healing work in my life, and Melissa is right up there with some of the best practitioners I have gone to. Her talent and her humility are immense and her spirit is welcoming and calming. I highly recommend! - Jennifer Schober, NY Literary Coach
"I have attended many of Melissa sound baths over the years and have always been deeply moved by the experience. I recently made the decision to come to her lovely little studio in Berkeley for a private session. I can not speak highly enough of the experience. Melissa took the time to consult and understand any issues or intentions that should be focused on (or released) through the journey, even selecting the bowls, gongs, and other instruments to assist with these intentions. Melissa showed immense sensitivity and support throughout the session. She has created such a safe, intimate, unique, and welcoming environment - I look forward to scheduling my next one!"
SH, Recruiter, Berkeley
Other Benefits of Sound Healing:
Experience a deep inner calm through a quiet mind
Release muscular tension
Explore a path of self-discovery and enhance your intuition
Metabolize and release your emotions without effort
Restore your nervous system by nourishing the rest and digest and decreasing fight or flight
Enter meditative states with ease
Feel an elevated mood through boosting of natural opiates
Deeply rest in the Delta brainwave state and receive an equivalent to a good night's sleep
Journey inward with colorful visuals and dreamlike states.
Feel a sense of harmony and wholeness
No yoga is practiced, simply lie down (or sit) comfortably and listen to live sounds.
Open to all ages 18 and up.
Sound therapy is highly effective at providing relief for chronic pain, digestive issues, insomnia, fibromyalgia, autoimmune disorders, heart's disease, trauma, depression, fertility issues, anxiety and cancer treatment therapies.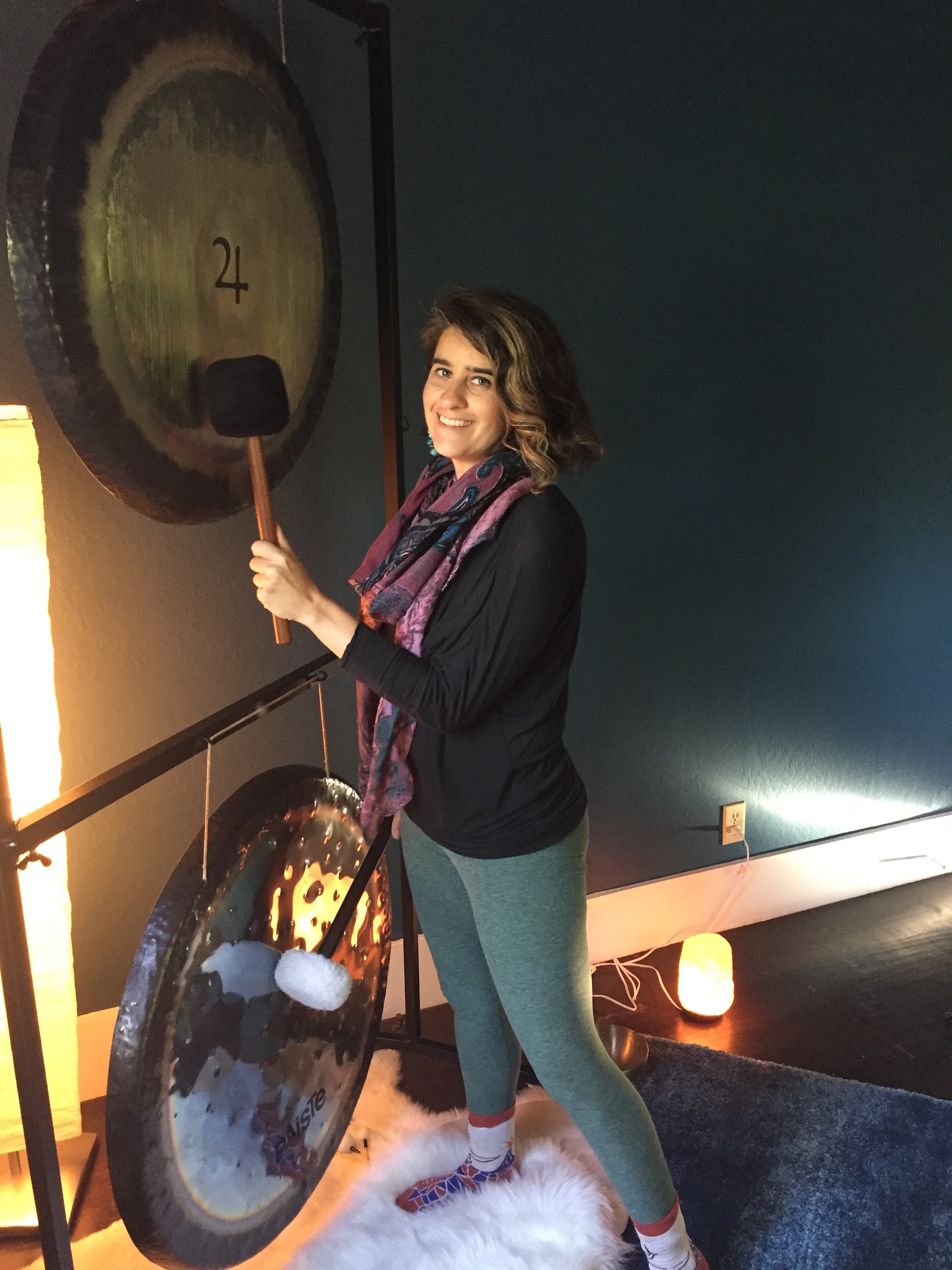 My Story
I used sound as therapy to eradicate a vicious cycle of anxiety and depression I experienced after my father fell severely mentally ill. Through utilizing sound as therapy, I was able to retrain my body and mind to rest and create new space to metabolize the traumatic experience of losing my father. Learn more about my story here.
What happens at a sound meditation? Learn more here
A sound meditation "bath" is an immersive live sound experience with specially tuned high-quality instruments that can lead to deeply meditative, difficult to reach Theta brainwave states, typically reserved for students with ten years of meditation practice. During the theta brainwave state, expect to feel a spacious and calm mind, relaxed body, and an ability to enter an innerscape that can lead to heightened intuition, insight, self-discovery, emotional release, and a distinct sense of wholeness.
​​Participants have often reported experiencing colorful visuals, emotional release, muscular tension relief, mood elevation, and a deep inner calm. Many enter meditative states and receive transformative insight.
Learn more about other offerings and benefits here