Are you on track to meet your goals? If not, we'll share strategies and help develop a playbook to align your team and stay on track.
About this event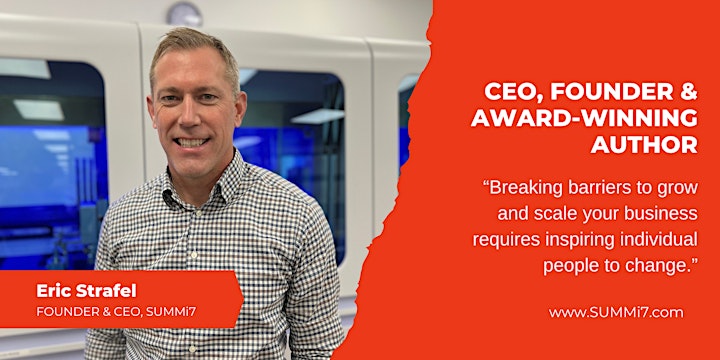 Has your business reached a plateau and your are seeking ways to achieve sustainable growth for your business? Your company's most important growth strategy starts here with SUMMi7. As a business strategy company, we focus on diverse purpose-driven businesses in the "Mighty Middle" ($5-50M) that have hit a plateau in their growth journey. The modern C-suite faces many challenges, from competition to economic instability. But one thing that never changes is the need for an intelligent strategy that can adapt and thrive in any environment. We provide a tailored approach to building, implementing, and executing business scaling plans that provide stability and a clear path to growth through uncertain times.
One of our Business Scaling Method™ Solutions is our 12-week cohort program, which comprises 10 business leaders working through a proprietary field-developed and field-tested system for scaling businesses on a weekly basis with an Expert Coach and Trail Guide. Through weekly virtual live sessions and open office hours, you'll learn how to envision success for your company, address each barrier to scaling your business, and bring your team along with you on your growth journey.
The webinar will be lead by SUMMi7 Founder and CEO Eric Strafel. With more than 25 years experience, Eric is a CEO, former Fortune 50 executive, and award-winning author for his first book The Frontline CEO.
https://summi7.wistia.com/medias/om31rstm7a
TESTIMONIALS
"SUMMi7's model clearly spells out the why, who, what and how for successful implementation. It starts with gaining buy-in from the team and identifying how to maximize the potential in meeting those goals. The team made it very easy to follow with step-by-step directions that are needed." — Kim Anderson, Cardinal Strategies
"I love the idea of coming up with the structure around team building and leading an organization. You basically have turned it from an art into a science. " — Indu Sanka, FSGS – Your Trusted Sign Partner
"I couldn't be more appreciative. The expertise, the connection to talent, your experience, drive, energy and intent to do well with this group–it's just amazing. " — Bruce Whitlock, Whitlock Building Services