Description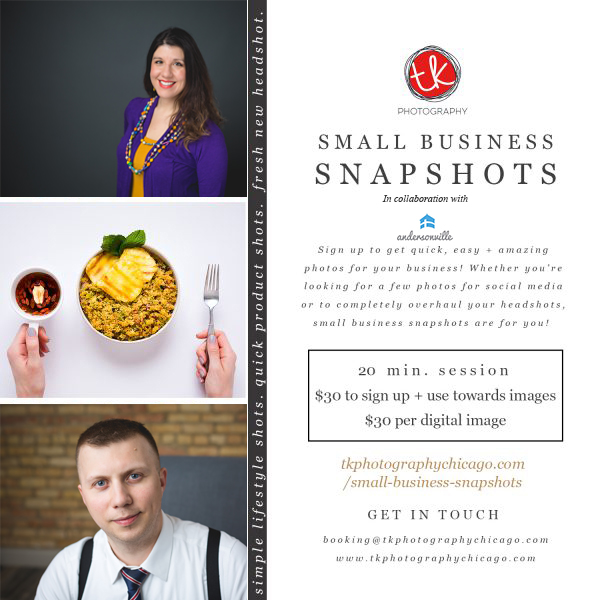 March Small Business Snapshots are in Collaboration with The Andersonville Chamber of Commerce.
We are so excited to introduce Small Business Snapshots. TK has been brainstorming ways to bring fresh new photos to Small businesses and Entrepreneurs in a way that helps them grow while being able to keep up with today's social media platforms and quick pace of viewers.
Business Owners, Entrepreneurs and Idea Havers can come into the studio the Third Thursday of every month for a 20 min session with the images available a la cart. The cost to sign up is a non-refundable $30 but that will go towards your image purchase. Images will be $30 per image download.
This is great for simple
Product shots

Service Shots

Headshots

Lifestyle shots

Provide your own models to give variety to your images. (1-2 people per timeslot)

Build your own Library of custom images to use through the life of your business.

Partner with other complementary businesses to create cross promote-able looks.
Book your slot now!
***Snapshots will take place at our Edgewater Studio, 6241 N Clark. These snapshots do not include family photos. Sitting fee is non-refundable.***