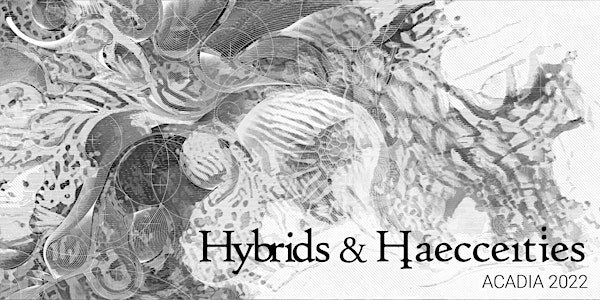 ACADIA 2022 Conference
ACADIA 2022 celebrates the best in computer-aided design in architecture at the University of Pennsylvania Weitzman School of Design
When and where
Location
University of Pennsylvania Annenberg Center for the Performing Arts 3680 Walnut St Philadelphia, PA 19104
Refund Policy
Refunds up to 7 days before event
About this event
ACADIA 2022 _ HYBRIDS & HAECCEITIES University of Pennsylvania  \\ Philadelphia, PA \\ October 27-29, 2022
Hybrids & Haecceities asks how technology enables, reflects, and challenges established disciplinary boundaries and design practices. Haecceities describe the discrete qualities or properties of objects that define them as unique, while Hybrids are entities with characteristics enhanced by the process of combining two or more elements with different properties. Hybrids & Haecceities aligns with a fundamental shift away from abstract generalized models of design and production towards custom or bespoke design now possible at an unprecedented scale due to Industry 4.0. This mode of working enables more diverse, and considered forms of embodied, situated means of engagement with the world. Concurrently, the fourth industrial revolution risks unparalleled levels of consumption that will produce profound global effects with significant social, political and economic and environmental impact.
ACADIA 2022 is hosted by the University of Pennsylvania, Stuart Weitzman School of Design
Plenary Sessions will take place at the Annenberg Center for the Performing Arts, 3680 Walnut St., Philadelphia, PA, 19104
Conference Website & Schedule:  https://2022.acadia.org
Workshop Info: https://www.eventbrite.com/e/acadia-2022-workshops-tickets-387333975347
Full Conference Registration Includes:
1. ACADIA 2022 Membership and exclusive website access
2. Admittance to all Plenary Sessions, Keynote Lectures, Exhibition Opening, Final Banquet
3. Digital Copy of Conference Proceedings (Print on demand will also be available)
4. Printed Copy of Projects Catalog
5. Meals and Coffee Breaks at the Conference site (see website for schedule)
Contact E-mail: 2022@acadia.org
Social Media: #acadia2022 #acadiaorg #acadiaconf #hybridsandhaecceities
Facebook: http://www.facebook.com/ACADIAconference
Instagram: @acadiaorg 
Twitter: @acadiaorg 
*** Important Note: Refund requests will only be honored if they are received seven days before the start of the event (no later than Oct 18 at 11:59pm EDT). Thank you and we look forward to seeing you at ACADIA!