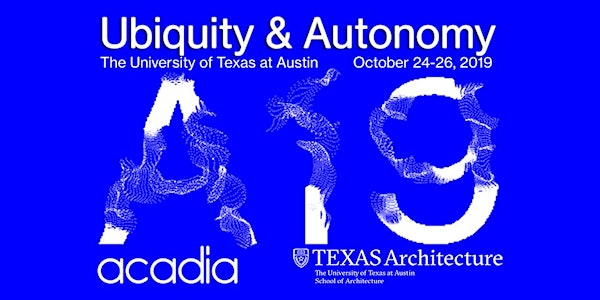 When and where
Location
University of Texas at Austin Etter-Harbin Alumni Center 2110 San Jacinto Blvd Austin, TX 78712
Refund Policy
Refunds up to 7 days before event
Description
ACADIA 2019 _ UBIQUITY and AUTONOMY
University of Texas at Austin \\ Austin, TX \\ October 24 - 26, 2019
We find ourselves at a moment where there is no longer a divide between analog and digital processes; the digital world is as ubiquitous and inescapable as the material. On the other hand, the discourse of architecture has been drifting toward theories and practices of a more autonomous nature. Such practices leverage access to digital tools and techniques to develop approaches which often favor articulation and separation. Furthermore, these issues have taken root in our renewed interest in aesthetics, representation, fabrication, theory, and as a pedagogical approach to design. In the process, the very nature of how technology is being used has been called into question. For ACADIA 2019 Austin we hope to debate the merits of these varied approaches.
ACADIA 2019 is hosted by the University of Texas at Austin School of Architecture
Plenary Sessions will take place at the Etter-Harbin Alumni Center, 2110 San Jacinto Blvd., Austin, TX 78712
Conference Website & Schedule: http://2019.acadia.org/
Workshop Info: https://www.eventbrite.com/e/acadia-2019-workshops-tickets-62786927390

Full Conference Registration Includes:
1. ACADIA 2020 Membership and exclusive website access
2. Admittance to all Plenary Sessions, Keynote Lectures, Exhibition Opening, Final Banquet
3. USB Digital Copy of Conference Proceedings (Print on demand will also be available)
4. Printed Copy of Projects Catalog
5. Meals and Coffee Breaks at the Conference site (see website for schedule)

Contact E-mail: 2019@acadia.org

Social Media: #acadia2019 #acadiaorg
Facebook: http://www.facebook.com/ACADIAconference
Instagram: @acadiaorg Twitter: @acadiaorg
*** Important Note: We will only honor refund requests if they are received one week before the start of the event (so no later than Oct 17 at 11:59pm CDT). Thanks - we look forward to seeing you at ACADIA!