Academy Artists Present - Academy Faculty Showcase Series: "Mad, Bad Sheep: Six Composers on an Adventure"

Tuesday, November 16, 2010 at 7:30 PM (PST)
Event Details
Academy Artists Present 
Academy Faculty Showcase Series:
"Mad, Bad Sheep: Six Composers on an Adventure"
Tuesday, November 16th, 2010
Good Shepherd Chapel,
Wallingford, Seattle, at 7:30 p.m.

Join us for a 90-minute program designed for 3rd-graders and up, plus their families,
with entertaining talk and music.

"La Folia" means, the madness, and it was one of the most popular tunes in Europe for centuries.  The composers from Germany on our program, stretching 200 years of musical history, all have an element of either fable or sickness, or both, which relate to their pieces.  Frederic Rzewski's piece is inspired by an ancient French fable from the writer Rabelais; it features maximum chaos within a musical framework; and the well-known excerpt from George Frederic Handel's Messiah is being presented in a modern arrangement that highlights its stylistic adventurousness. 

Vivaldi: La Folia for treble instruments and bass continuo
Mozart: Duo in G for violin and viola
Schumann: Fairy and Fantasy movements for viola and piano
Schönberg: Trio for Strings, selections
Rzewski: Les Moutons de Panurge
Handel (arr. Creswell): "All We Like Sheep" from Messiah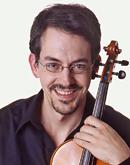 Hosted by Stephen Creswell, violin
Also featuring guest artist Brian Chin, trumpet and Academy faculty artists Harumi Flesher, piano, Josiah Boothby, french horn, Jason Sah, viola, and Nathan Whittaker, cello.
Tickets at the door:
$20 adult
$10/student/senior
This event is presented by:
Academy Of Music Northwest http://www.amnw.org
AMNW Contact Information:
info@amnw.org
(425) 778-7711
Musicians Biographies

Guest Artist:

Brian Chin, Trumpet

Brian Chin is the Principal Trumpet of the Tacoma Symphony Orchestra and an Assistant Professor of Music at Seattle Pacific University. He performs and records frequently with many orchestras in the Northwest including the Seattle Symphony, Seattle Opera and the Pacific Northwest Ballet and has appeared as a soloist and guest clinician both domestically and abroad.  Most recently, Brian is returning to the United States after working as Principal Trumpet for Teatro Munincipal in Santiago, Chile. He has earned a Doctorate of Musical Arts in Trumpet from the University of Washington and holds a Masters Degree in Orchestral Trumpet from the Mason Gross School of the Arts at Rutgers University.
Mr. Chin has appeared as a soloist throughout Asia, Europe and the United States.  In addition to an active orchestral and solo trumpet career, Brian is a founding member of the Seattle Trumpet Consort (period instruments) and has initiated the composition of many new works for trumpet.

 
Academy Faculty:
Stephen Creswell, violin

Stephen Creswell is a Seattle-based violist and violinist of eclectic breadth.  He performs regularly with chamber groups including Seattle Baroque, Concerto Baroque, and Scrape! a jazz-oriented string orchestra.  He has collaborated with Persian classical musicians, African singers, and was once carried across the stage, while playing the viola, for the modern dance troupe Convergence, of Philadelphia.  At the Academy of Music, Mr. Creswell coaches chamber music and contributes his knowledge of baroque performance, most recently serving as concertmaster for last April's Academy Artists' concert featuring soloists Paul Coletti and Justin Almazan.  He is a full-time member of our local Northwest Sinfonietta, and also of the Pacific Baroque Orchestra, in Vancouver, Canada.  Stephen has recorded and toured internationally with Tafelmusik of Toronto, and REBEL from New York State.  Earlier in November 2010, he launched a new classical string ensemble, the Kügeln Trio, with colleagues Nathan Whittaker and Laurel Wells.

Harumi Flesher, piano

A native of Fukuoka, Japan, pianist Harumi Flesher received her degrees in piano performance from the New England Conservatory in Boston (M.M. and G.D.) and from the Elizabeth University of Music in Hiroshima (B.M. and M.M.).

An avid performer of contemporary music, she has studied with Futaba Inoue, Kyoko Sato, and Veronica Jochum, and is currently a candidate for the doctoral Doctor of Musical Arts degree in piano performance at the University of Washington, where she studies with Craig Sheppard. 

Her participation at international festivals includes the Northwest German Academy of Music Summer Festival in Detmold, as well as the Adriatic Chamber Music Festival in Bonefro, Italy, and has appeared at many major international venues, such as Benaroya Hall, Boston's Jordan Hall and the Tokyo Bunkakaikan.

She has performed with international ensembles such as the Krakow Chamber Music Orchestra and the Razumovsky Quartett Wien. She has additionally collaborated with violinist Ulrike Danhofer, with concerts in 2008 in Vienna, Austria and Kitakyushu, Japan. In 2009, August, she performed Mozart's Piano Concerto No. 23 with the Kitakyushu Music Festival Orchestra.

Harumi Flesher currently lives in Seattle, and leads an active professional life as a concert pianist, adjudicator, and collaborative artist.

Bradley Hawkins, cello

Bradely Hawkins performs widely as cellist and composer, having had premieres of his works across North America, as well as in Germany, Romania, and Japan. He has been a featured performer on KEXP, KBOO (Portland) KBCS, and Performance Today (NPR). After representing Indiana University as student performer in a tour of contemporary music, Brad moved to Seattle in 1999 and formed the Seattle New Music Ensemble. Since that time, he has lectured on contemporary electronic string techniques at the Freiburg Hohschule Für Musik, written two film scores, numerous pieces for chamber groups and choral ensembles, works for theater, ballet, and jazz groups. Brad has also toured in support of a recent CD of experimental improvisational music and performed at the National Oldtime Fiddler Championships in Weiser, Idaho (not the same tour nor the same music).

Jason Sah, viola

Jason Sah, a native of New York, leads an international music career focusing on both music education and performance.
His performing career has taken him to US, Mexico, Malaysia, and Europe, and he has appeared with the acclaimed ensembles Salzburg Camerata, Salzburg Kammerphilarmonie, and the Eastman Broadband. He was violist with Seattle Choral Arts' world premiere of William Hawley's "O Remember" for choir, flute, viola, and harp, which will be released on the Gothic label in 2011. In 2009, he was chosen as the only US violist to participate with the Festival Orchestra in Kuala Lumpur, Malaysia. Here in Seattle, he is Principal Viola of the Federal Way and Thalia Symphonies and violist of the Starry Night Chamber Players. He plays regularly with the Seattle Choral Society, SeattleMusic Recording Orchestra, and as soloist with the Plymouth Congregational and Central Lutheran Church Choirs.

Dr. Sah has taught at Seattle's pre-college Academy of Music Northwest since 2008, and is now Chamber Music Faculty and Co-Director of the Sonata Literature Performance Class. He is Instructor of violin at Edmonds Community College and was formerly Instructor of Viola at the University of Rochester and Viola Faculty at summer festivals in Vermont, New York, Washington, and Colorado.
Dr. Sah also works extensively in Seattle public schools. He is Director of the Ballard High School Chamber Orchestra and a string specialist for the Seattle Youth Symphony school programs. He does yearly educational outreach work through the Seattle Chamber Music Society, and is a highly sought adjudicator in Washington State. He maintains a private violin/viola studio at his home.

Dr. Sah's other musical interests include organizing concerts to promote classical music. In 2006, he co-founded the Rochester concert series Music on my Mind, a unique partnership between amateur musician/doctors of the University of Rochester Medical Center and Eastman graduate students. This highly successful series gives doctors who are amateur musicians the opportunity to showcase their talents with Eastman graduate students in a stress-free environment. Dr. Sah continues his promotional efforts in 2010-11 as Director of the concert series Academy Artist's Presents.

Dr. Sah has performance degrees on the violin and viola from the Eastman School of Music and the University of Southern California, and counts as his most influential teachers Catherine Tait, George Taylor, Zvi Zeitlin, Donald McInnes, and Tomas Riebl. He plays a 2009 Gregg Alf viola.
Dr. Sah's next project will be his invitation to give a recital and masterclass at Universidad EAFIT in Medillin, Colombia in the Spring 2011.

Nathan Whittaker, cello

Nathan Whittaker, cello, has been described as "a soloist that was not merely good but rather extraordinary", with "musicianship of the highest order." (SSJT) As a member of Plaine & Easie, he won the Grand "Unicorn" Prize in the 2009 EMA Medieval and Renaissance Competition.  Mr. Whittaker has served on the faculty at the Indiana University String academy, the principle cellist of the Columbus Indiana Philharmonic and associate principle cellist with the Terre Haute Symphony Orchestra and has performed in early music festivals in Bloomington and Vancouver, as well as the American Institute of Musical Studies in Graz, Austria.  Currently, Mr. Whittaker is a member of the Seattle Baroque Orchestra and Pacific Baroque Orchestra, and teaches at Cornish College of the Arts and the Academy of Music Northwest.  He can be heard on CBC broadcasts, and has recorded with the NPR and ATMA Classique labels.  Having graduating Cum Laude from Indiana University with a Bachelor and Masters of Music Degree in Cello Performance, Mr. Whittaker is currently a DMA candidate in cello performance with Toby Saks at the University of Washington.  His private instructors have included Helga Winold, Tsuyoshi Tsutsumi, Stanley Ritchie, and Peter Wiley.
When & Where

Good Shepherd Chapel
4649 Sunnyside Avenue N.
Seattle, WA


Tuesday, November 16, 2010 at 7:30 PM (PST)
Add to my calendar
Organizer
Academy Of Music Northwest
The Academy of Music Northwest has been a leading music school in the Pacific Northwest since 1997, providing music education and performance opportunities for the most gifted young artists between the ages of 4 - 18 for all instrumentalists, singers, composers and conductors. The academy presents recitals, chamber music performances, masterclasses, workshops and orchestra concerts in Bellevue, Seattle and Mercer Island every year.
Academy Artists Present - Academy Faculty Showcase Series: "Mad, Bad Sheep: Six Composers on an Adventure"