Academy Artists Present: A Benefit Concert Featuring World-Renowned Violist PAUL COLETTI

Wednesday, April 14, 2010 from 7:30 PM to 9:30 PM (PDT)
Event Details
Academy Artists Present:

A Benefit Concert Featuring World-Renowned Violist
PAUL COLETTI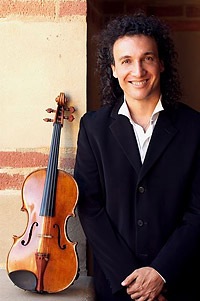 Program
Suite for Strings in Olden Style from Holberg's Time, Op. 40  by Edvard Grieg (1843‐1907)

IV. Air
V. Rigaudon
Sinfonia IX in C minor by Felix Mendelssohn (1809‐1847)
IV. Allegro Vivace

Interlake High School Chamber Orchestra
Shira Katsman, Director

Suite for Viola & Piano by Ernest Bloch (1880‐1959)
I. Lento--Allegro--Moderato
II. Allegro ironico
III. Lento
IV. Molto vivo

Paul Coletti, viola
Sachi Hirakouji, piano

Intermission

Concerto in G Major for Two Violas, Strings, Continuo by Georg Philipp Telemann (1681‐1767)
I. Largo
II. Allegro
III. Largo
IV. Presto

Paul Coletti & Justin Almazan, viola
Jim Paul, harpsichord
Academy String Orchestra

Viola Concerto in D Major for Viola, Strings, Continuo by J. S. Bach (1685– 1750)
I.    Allegro
II. Siciliano
III. Allegro
Paul Coletti, viola
Jim Paul, harpsichord
Academy String Orchestra
Freewill donations at the door will help support the Interlake High School Chamber Orchestra's concert and educational tour to New York.
Bach, From Manuscript to Music: On the Trail of a Lost Viola Concerto
Did Bach write a concerto for viola? World-renowned violist and music educator Paul Coletti thinks the answer is yes. This performance will be the premiere of a reconstruction of what he believes is Bach's lost viola concerto with students from the Academy of Music Northwest and Interlake High School in Bellevue. Over the course of three rehearsals and a concert, students will learn the recreated work. According to James Paul, Academy of Music Northwest co-founder and President: "In addition to giving our students the opportunity to work with a world-class musician like Coletti, we wanted them to be exposed to the scholarship involved in performing such music."

For help in recreating the piece, Mr. Coletti turned to Brianna Atwell, Seattle violist and music editor/copyist. Together, they set out on the trail of the lost concerto–first stop Harpsichord concerto Number 2 in E major (BWV 1053), believed by many to have been based on the original lost work. Thanks to Bach's habit of recycling his best tunes, additional versions of the melodies from the lost concerto were found in two overtures and an alto aria from cantatas BWV 169 and BWV 49.

Studying the original Bach versions of the concerto melodies, Coletti identified where sources differed, then chose the material best suited to the timbre and range of the viola. In some cases he had to look farther afield for solutions. In the case of the second movement, the source materials from the harpsichord concerto and alto aria didn't work well on the viola. So Coletti turned to one of Bach's most famous works for a solution, an obbligato violin solo from an aria in the St. Matthew Passion. According to Coletti: "This piece is similar in character and provides us with an idea of how Bach would treat the vocal material were he to write it for a string instrument."

The last step in creating a full score that could be used in both the premiere as well as in future performances was to create a full harpsichord part. In Bach's day, the harpsichord part would consist of a bass line with numbers written below indicating the harmonic structure of the piece. Keyboardists would then improvise a full harpsichord part from this "figured bass". Coletti wanted a keyboard part created for harpsichordists not up to the task of baroque-style improvisation. For this job, he approached James Paul, the director of Academy of Music Northwest, who has a background in continuo and baroque performance practice.

Finally, wanting to share the work with the next generation, Coletti, Atwell and Paul decided to present the piece in an educational setting with a combination of student and professional musicians. With their newly printed scores in hand, they approached Dr. Shira Katsman at the Interlake High School in Bellevue, marking a special collaboration between the Academy Of Music Northwest and the Award-Winning Interlake High School Orchestra. Baroque specialist, violinist Steve Creswell will lead the ensemble.
Another notable composition on the program is the Ernest Bloch's Suite for Viola and Piano. Academy Piano faculty, Sachi Hirakouji will join Coletti in this performance.
Written in 1919. The music has programmatic titles though he removed them from the published edition, preferring to leave the music up to the imagination of the listener. In any case these were his original titles:
1. In the Jungle; 2. Grotesque; 3. Nocturne; 4. The Land of the Sun.

Bloch's own imagination saw the 1st movement as the creation of life in the primitive world, the 2nd as the Simian stage of life of primates and apes, the 3rd as a Miasmic nocturne with noxious swamps and disease, and the last movement depicting the worlds first great human civilization of China.

Despite all of these amazingly descriptive titles Bloch himself said " one may perceive a certain Jewish inspiration. "  In truth most of Ernest Bloch's music contains Jewish themes and biblical stories from
the Old Testament; " the complex, glowing, agitated soul that I feel vibrating through the Bible...... All this is in me and it is the better part of me.''

Born in Switzerland and educated in Europe, Bloch lived most of his life in the USA. Between 1920-1930 he held positions as Director of the Institute of Music in Cleveland, and the Conservatory of Music in
San Francisco. The 1919 suite for viola was crucial in him becoming a composer of international renown. It is also arranged for viola and orchestra, and lasts approximately 30 minutes.
Musician Biographies:
Paul Coletti, Born in 1959 in Scotland to an Italian family; began viola lessons at 8, at 18 studied with Alberto Lysy and Yehudi Menuhin in Switzerland. Teachers have been Sandor Vegh, Felix Galimir, William Lincer, Johaness Eskaer, Jimmy Durrant, Victor Liebermann, Felix Andriewsky, Mauricio Fuks, Raphael Hillyer, Lillian Fuchs, Robert Masters, Dorothy Delay, Don McInnes, Ana Chumachenco and Zoltan Szekely.
Made his New York, San Francisco and Edinburgh Festival debuts at 23. At age 24 at Menuhin's urging he became the pro- fessor of viola and chamber music at the International Menuhin Music Academy in Gstaad. At 25 he became Head of Strings at the Univ. of Washington; moved to New York at 27 while teaching at the Peabody Conservatory of Johns Hopkins University.

Paul Coletti has made over 30 award-winning CDs; performed as soloist in every major European capital, at over 50 interna- tional music festivals, with orchestras including the Los Angeles Philharmonic, The London Soloists, The Berlin and Han- nover Radio symphonies, with personalities Andre Previn, Gerard Schwarz, Jean-Pierre Rampal, Claude Bolling, Menachem Pressler, Leonard Nimoy, and supreme court judge Sandra Day O'Conner.
Mr. Coletti has performed at the Sydney Opera House, Kennedy Center, Disney Hall, Suntory Hall, at historic sites such as the 4th century San Miniato al Monte in Florence. Coletti also has been a soloist at 5 International Viola Congresses. His world-wide career includes over 1500 solo and chamber music concerts. Mr. Coletti has also conducted orchestras such as the New Japan Philharmonic Orchestra in Tokyo. In 2002 Paul Coletti moved to LA as Head of Chamber Music at UCLA and taught concurrently as the viola professor at the Colburn Conservatory of Music. Now he teaches exclusively at Colburn where he has a wonderful class of successful, prize-winning students and competition winning chamber music groups.

Justin Almazan, viola, 19, started viola at eleven in the Bellevue Public School's music program under Dr. Shira Katsman. Began studies with violinist/violist Dr. Cynthia Morrow at 14, and also briefly with Scott Ligocki. Now a college freshman, Justin is a full scholarship student of violist Philip Ying (the Ying Quartet) at the Eastman School of Music in Rochester, NY; is an alumnus of the Interlake & Academy Orchestras. Justin was principal viola with Bellevue Youth Symphony, Seattle Youth Symphony, 2009 MENC All-Northwest Orchestra, Marrowstone Festival Orchestra and now with Eastman School Symphony Orchestra. Justin placed 2nd in 2008 and 1st in 2009 at the WMEA State Solo competition. He was one of 9 vio- lists nationally to be accepted in 2008 into the National Symphony Orchestra Summer Institute in Washington DC. He has also played alongside members of the Seattle Symphony and the National Symphony Orchestra, & subbed for Bellevue Ballet and Bellevue Opera Orchestras. Other awards include winning 1st place in the Max Aronoff scholarship competition, run- ner-up of the Eastside Symphony Concerto competition, and received a beautiful Fairfax viola in a generous donation from the Kirkland Woman's Club.

Shira Katsman, Ed.D. IHS Conductor - BM degree in violin performance from Philadelphia College of Performing Arts, University of the Arts; master's & doctoral degrees in music education from Teachers College, Columbia University; studied violin with Dr. Chin Kim, William de Pasquale, and Jascha Brodsky. Dr. Katsman has been teaching professionally for 15 years, privately and in the public school system. She began her musical studies on the piano at 5 & violin at 7.

Sachi Hirakouji, DMA, UW Accompanist/Collaborator, Academy Performance Class Accompanist 2009. DMA in piano performance, University of Washington; M.M. in piano performance, University of Hawaii; B.M. in piano perform- ance, Kunitachi College of Music in Tokyo, Japan. Currently faculty at the Chopin Academy of Music.; has an extensive career as a solo pianist, chamber musician, and accompanist, including many outreach performance programs.

James Paul, DMA, Co-founder and President of the Academy of Music NW, faculty member, composer, keyboardist (piano, harpsichord, organ), former tenor and Music Director of his touring Early Music Ensemble, & Professor of Music at colleges in California before returning to the PNW. His graduate studies were at UW, Stanford Univ., & Royal School of Church Music, England. The Academy, est. 1997, works with ages 4-18. Complete information is at www.amnw.org
When & Where

Interlake Performing Arts Center, Interlake High School
16245 NE 24th Street
Bellevue, WA 98008


Wednesday, April 14, 2010 from 7:30 PM to 9:30 PM (PDT)
Add to my calendar
Organizer
Academy Of Music Northwest
The Academy of Music Northwest has been a leading music school in the Pacific Northwest since 1997, providing music education and performance opportunities for the most gifted young artists between the ages of 4 - 18 for all instrumentalists, singers, composers and conductors. The academy presents recitals, chamber music performances, masterclasses, workshops and orchestra concerts in Bellevue, Seattle and Mercer Island every year.
Academy Artists Present: A Benefit Concert Featuring World-Renowned Violist PAUL COLETTI