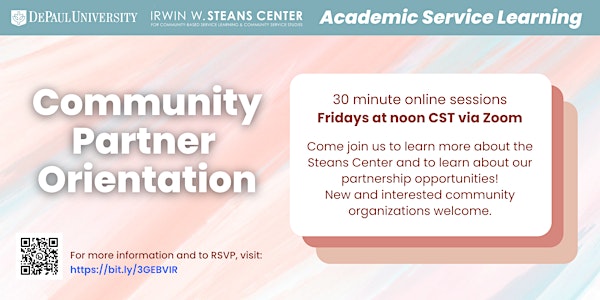 Academic Service Learning - Community Partner Orientation
DePaul's Steans center has an array of partnership opportunities and we are excited to share them with you!
About this event
Please sign up to learn more about the Steans Center's partnership opportunities. The presentation will take no more than 30 minutes and there will be time for Q & A. New and interested community organizations welcome. These weekly presentations will conclude on August 12th. Note: All presentations will cover the same information so please feel free to sign up for one event that works best for your schedule. Attendance for the series is optional.
We will cover:
Introduction to the Steans Center in context of DePaul University
Types of Service Learning Partnerships: Direct Service (hour commitment), Project-based, Advocacy, Solidarity, and Hybrid-mixed Model
Internship opportunities for student-partner collaborations
Community Partner requirements, expectations and onboarding
Steans Center commitment to mutually beneficial partnerships: Asset Based Community Development (ABCD) approach
Looking forward to seeing you!