ACA Halloween Festival & Fashion Show Fundraiser 2019
Description
WHEN: Saturday, October 26, 2019
TIME: 10:00am - 12:00pm
FASHION SHOW: 11:00am
WHO: This fundraising event is open to the public for all families.

---
EVENT DETAILS:
TICKETS:
Required for children 18 months and up to participate in event activities.



ADULTS:
We encourage each adult to donate $10 for entry.



FREE ADMISSION:
Only children 17 months and younger are free.



DAY OF THE EVENT:
Tickets prices will increase.


OPEN TO THE PUBLIC:
Invite your friends, neighbors, co-workers and your entire family to have fun with your children and to support the Make-A-Wish Foundation of Central & South Texas!



FUNDRAISER:
We appreciate your contributions. All ticket sales, sponsorships, donations and food & beverage sales will benefit the Make-A-Wish Foundation of Central and South Texas. (Food, refreshments and drinks will be sold separately.)



CHECK PRESENTION:
Our ACA students will be presenting the donation check to the Make-A-Wish Foundation on November 27th during our Annual Thanksgiving Family Potluck Luncheon. This is a great opportunity to teach our wonderful students about the significance of giving back to our local community.


---
WHAT TO EXPECT:
Carnival Games & Activities

Live DJ & Family Entertainment

Bounce Houses & Obstacle Courses

Face Painting & Balloon Artists

Halloween Costume Fashion Show

Food & Refreshments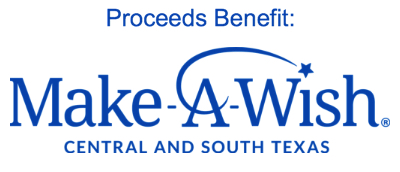 The mission of the Make-A-Wish Foundation is to create life-changing wishes for children with critical illnesses. The children we serve are fighting for their lives, and their families are doing everything that they can to help them in their battles.
We believe that these children and their families deserve the chance to enjoy once-in-a-lifetime experiences that relieve them of the immense stress that accompanies the treatment of a life-threatening medical condition, and produce positive, hopeful mindsets that outlast the illness.
The Make-A-Wish Foundation's wish-granting activities accomplish this by augmenting traditional medicine, impacting each child's emotional state and the family unit – the child's primary support structure. By granting the child's one heartfelt wish, and involving the entire immediate family in the process, we re-empower the child to fight his/her illness and energize the family – and the community – to support the child.