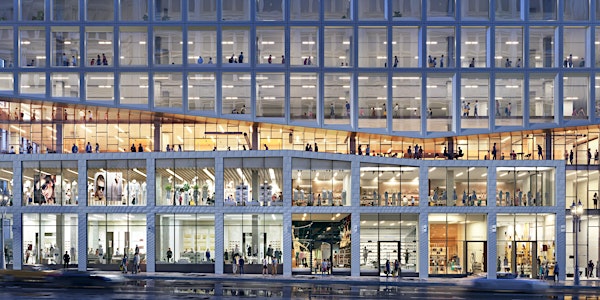 A+C Festival '22 | Renovation and Retrofit of 100 Stockton Street
Join us for a tour of this recently completed project of the former Macy's Men's Store, located steps from San Francisco's Union Square.
When and where
Location
Meeting point will be sent via email to all paid registrants at least 3-5 business days prior to day of event 100 Stockton Street San Francisco, CA 94108
About this event
TOUR | Renovation and Retrofit of 100 Stockton Street: Transforming an Introvert into an Extrovert
* This tour is currently sold out and Wait List tickets have already been released.
** Time of the tour has been extended and will end at 1:30 PM (original time was 11:30 AM - 1:00 PM)
NOTE: Meeting point will be sent via email to all paid registrants at least 3-5 business days prior to day of event; online ticket sales end 2 hours prior to start of program — additional meeting instructions will be sent to tickets sold up to close of sale; no on-site ticket sales.
Visit archandcity.org to view a full calendar of Festival events!
The recently completed project is a transformative repositioning of the former Macy's Men's Store, located steps from Union Square in San Francisco. The existing seven-story building was originally designed for a single retail tenant in the early 1970s. With a Brutalist aesthetic and an aging facade, it lacked connectivity with the pedestrian-oriented neighborhood. The new design strives to enhance the neighborhood's vitality and creates a new paradigm for modern building repositioning through the introduction of a mixed-use program that includes multi-tenant retail, workplace, and rooftop hospitality. Drawing from its historical context, the use of traditional proportions, and materiality results in a timeless design that will become an icon for the city.
Gensler led the design efforts and collaborated with KPFF to explore multiple options to create the complex structural systems required to breathe new life into this existing urban structure. The tour will cover a myriad architectural improvements, most notably the terra cotta curtain wall that blends with the historic district and the structural engineering that helped make the vision a reality.
Image credit: Gensler

PRESENTERS
Barry Bourbon is the Northwest Retail Practice Area Leader and one of Gensler's senior leaders in retail design. A Principal with over 25 years of experience at Gensler, he has worked on numerous high-profile retail center projects, flagships, prototypes and multi-location programs with some of the world's leading retail companies. He is passionate about working with clients to navigate the dynamic retail landscape and bring relevant consumer experiences to life. A Registered Architect, he earned a Bachelor of Architecture from California Polytechnic State University San Luis Obispo.
Bob Perry is a Design Director in the San Francisco office of the global architecture firm Gensler. His design leadership spans multiple program typologies including mixed-use, office, lab, and amenity buildings. With an emphasis on sustainability and contextual design solutions he guides a holistic design process with his clients to achieve best outcomes. In addition to a global portfolio of work, his local design projects include 100 Stockton, 633 Folsom, and Burlingame point.
David Rossi is a principal in KPFF's San Francisco office. With over 30 years of experience, Dave has worked on several challenging projects in his career, which commenced with the analysis and seismic retrofit of the freeway overpasses damaged in the Loma Prieta Earthquake. He works with clients across all market segments, including retail, office, education and housing, and he enjoys developing solutions to challenging problems. Dave was the structural project manager, and he was involved with the project from the beginning.
Nicholas Miley is a licensed structural engineer and associate at KPFF San Francisco. Nicholas enjoys tackling some of KPFF's most complicated projects, including 100 Stockton where he acted as the technical design lead. His experience includes a wide range of project types, from evaluating and retrofitting existing structures to designing new mixed-use, lab, and civic buildings. He is passionate about sustainable design and has been a contributing author on a low carbon concrete research paper, mass timber design guide, and given sustainable design talks and webinars through his leadership as co-chair of the SEAONC Sustainable Design Committee.