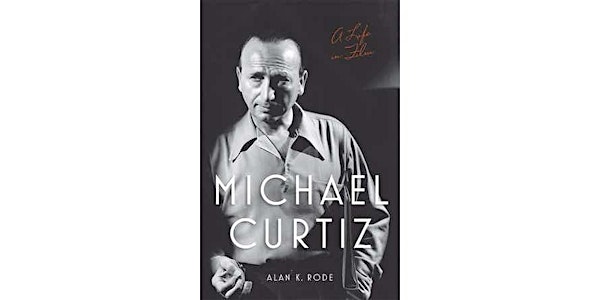 AC Book Club: Online Michael Curtiz Presentation by Author Alan K. Rode
Free Online Zoom Presentation on Michael Curtiz Book with Author Alan K. Rode
About this event
Academy Award-winning director Michael Curtiz (1886--1962) - whose best-known films include CASABLANCA (1942), YANKEE DOODLE DANDY (1942), MILDRED PIERCE(1945) and WHITE CHRISTMAS (1954) - was in many ways the anti-auteur. During his unprecedented 27-year tenure at Warner Bros., he directed swashbuckling adventures, westerns, musicals, war epics, romances, historical dramas, horror films, tearjerkers, melodramas, comedies and film noir masterpieces. The director's staggering output of 180 films surpasses that of the legendary John Ford and exceeds the combined total of films directed by George Cukor, Victor Fleming, and Howard Hawks.
In the first biography of this colorful, instinctual artist, Alan K. Rode illuminates the life and work of one of the film industry's most complex figures. A native of Hungary, Curtiz immigrated to the United States in 1926. In Hollywood, Curtiz earned a reputation for his explosive tantrums, but few directors elicited more memorable portrayals from their casts. In addition to his study of the director's remarkable legacy, Rode investigates Curtiz's dramatic personal life, discussing his enduring creative partnership with his wife, screenwriter Bess Meredyth. This meticulously researched biography provides a nuanced understanding of one of the most talented filmmakers of Hollywood's golden age.
Online discussion with author Alan K. Rode at 5:00 PM PDT on Sunday, August 2nd. RSVP here to receive a link to the Zoom discussion. Your link will be sent earlier on the day of the discussion.