Description
Now in its 10th year, AIASF and the Center for Architecture + Design celebrate the GOOD Design legacy with a design charrette examining the role of design in shaping San Francisco as a sanctuary city. Political instability, climate change, famine, failing infrastructure, water shortages, and lack of affordable housing and other essential resources threaten the world's most vulnerable. These conditions send millions of refugees fleeing their homelands for a better life anywhere else. San Francisco, along with many other cities, has declared itself a sanctuary city: a refuge and a home for people who do not have a place elsewhere. Yet we are not immune to these conditions. While our city is secure—while we are in fact secure enough to offer refuge—we are a coastal city with aging infrastructure and a cracked sea wall, whose food comes from the Central Valley, in a region awaiting "the big one." We may become refugees in our own city. While we grasp the severity of these apocalyptic predictions/scenarios, they remain abstract in a far-off future. Good Design 2017 will ask to imagine that future. What shape will the city become? Where will we find refuge, and what will we surrender? What will San Francisco become?
THE CHALLENGE: What does the Future Sanctuary City look like?
---





2017 Architecture and the City Festival Poster

Add to your cart when checking out and receive a $5 refund on your ticket purchase!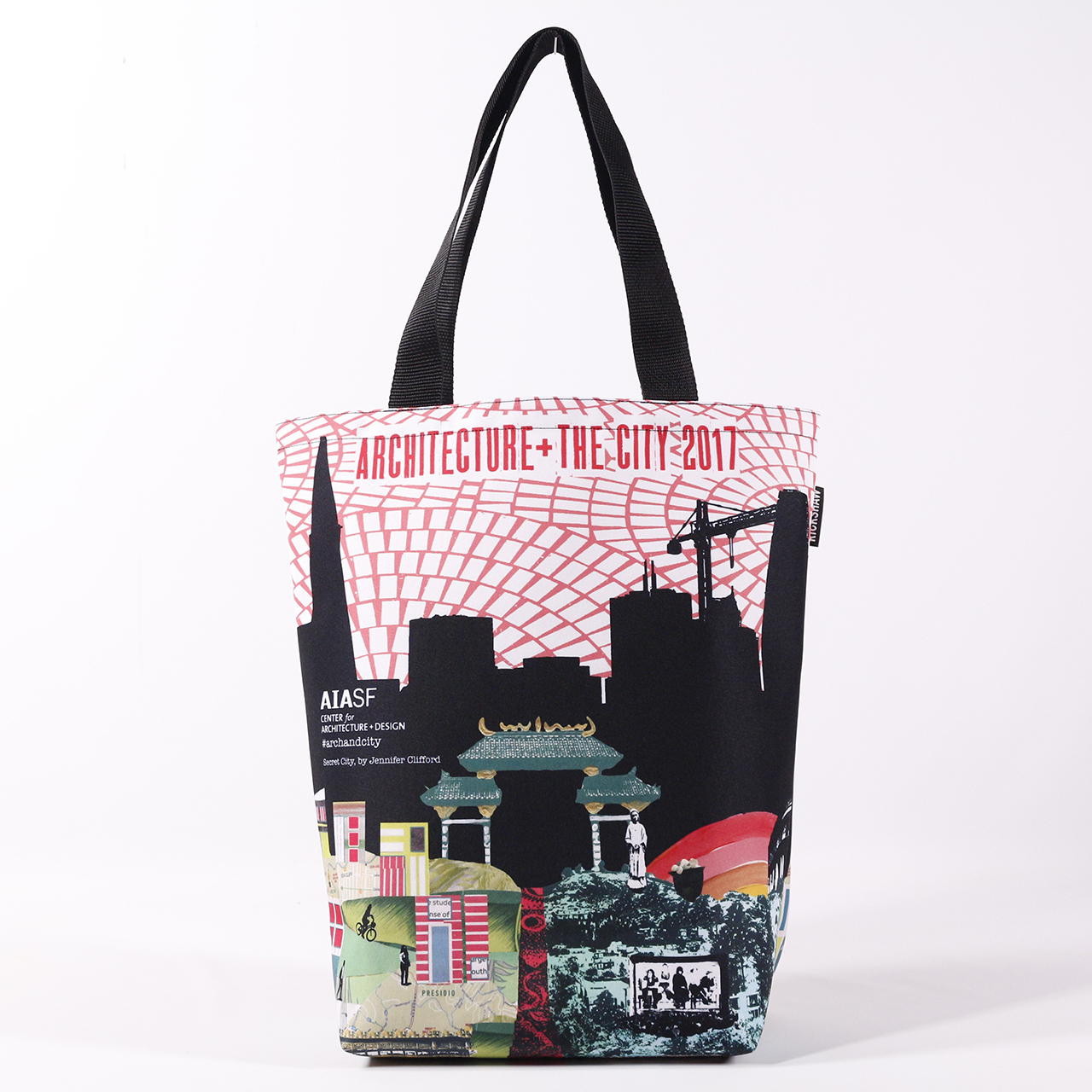 2017 Architecture and the City Festival Tote Bag

Add to your cart when checking out and receive a $5 refund on your ticket purchase!
AIA San Francisco and the Center for Architecture + Design commissioned celebrated local artist Jennifer Clifford to create artwork embodying the Festival's theme and spirit of imagination and discovery across the design industries.
About the Artist
Jennifer Clifford was an interior designer for 10 years before deciding to pursue a full time art career. She has always been drawn to texture, the juxtaposition of pattern and bold color. In college, she developed a passion for collage art. Today, her work is a reflection of that passion, melded with the vibrant textiles and wallpapers she loved and used while practicing interior design. You can find Jenny and her work at art fairs and events around the Bay Area and her wholesale line of art prints are sold in stores throughout San Francisco including Terminals 2 and 3 at the San Francisco International Airport. In collaboration with Rickshaw Bagworks, Jennifer has a complete collection of her art featured on their locally-made tote bags that can be found online (www.jenniferclifford.net) and in various shops throughout the city.
Artist's Statement
The general concept behind the image created for the 14th Architecture + the City festival poster, is an attempt to reveal the many hidden layers of San Francisco. San Francisco is filled with many people and walks of life who each have their own perspective of the city, while other parts of the city remain unseen from the casual observer - the secret city. The upward movement of the image created follows a path, "the secret stairs", which serves as the gateway to connect the hidden details of San Francisco (found in the festival program), to the present urban community, to empower a more conscious and sustainable future.