Description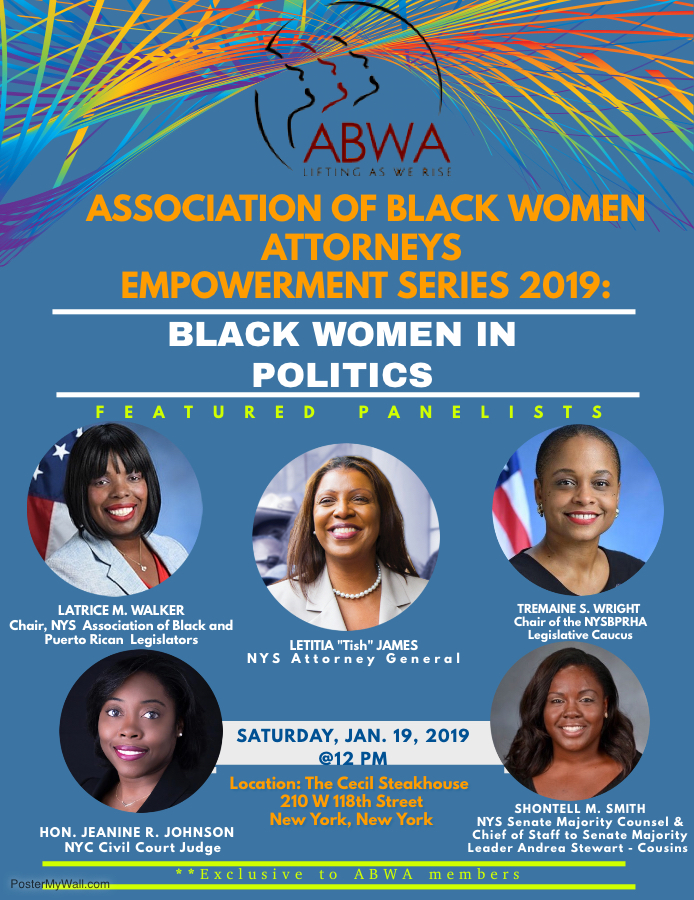 ABWA Empowerment Series 2019 presents: Black Women and the Political Landscape: Black Women Uniting in a Fractured Political Era.

ABWA members, join us for the first installment of ABWA's boisterous 2019 Empowerment Series featuring: Letitia "Tish" James, the first black woman elected to NYS Attorney General, Latrice Monique Walker, the revered 2014 New York State Assemblywoman, Jeanine R. Johnson, the highly regarded and recently elected NYC Civil Court Judge for the 10th District, Tremaine S. Wright, the distinguished New York State Assemblywoman and Chair of the Black, Puerto Rican, Hispanic and Asian (NYSBPRHA) Legislative Caucus, Regional Representative for WILL/WAND, and Subcommittee of Foster Care Chair, and Shontell Smith, the acclaimed former Director of Counsel and Finance for the New York State Democratic Conference, Senate Democratic Majority Counsel and Chief of Staff to Democratic Majority Leader
Andrea Stewart - Cousins.

Join us for brunch and a candid and passionate discussion about the current state of women in politics, policies and agendas directly impacting black women, what ignited our esteemed panelists to pursue a role in politics and how black women have in the past and can presently aid in repairing this fractured political landscape.

We look forward to seeing you all.

ABWA Empowerment series is a membership benefit. Not a member? You can fix that at abwagroup@gmail.com.