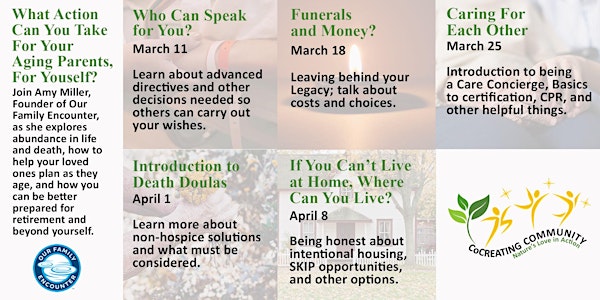 Multiple dates
Abundance in Life and Death - How to Help Your Loved Ones and Yourself Plan
Living an abundant life involves planning as we age. Amy Miller uses a practical and compassionate approach to discuss these tough topics.
Date and time
March 11 · 3:30pm - April 8 · 5:30pm CST
Location
CoCreating Community 5011 S 31st Avenue Minneapolis, MN 55417
About this event
Amy Miller, Founder of Our Family Encounter, offers honest conversations about planning as you and your loved ones age. She'll address how to plan for having an advocate to carry out wishes if hospitalized, leaving behind your legacy--including costs and choices, intentional aging and how to care for your elders, and an introduction to the concept of Aging Concierges, understanding the function of death doulas and non-hospice solutions, and housing including intentional living, SKIP opportunities, and more.
March 11 - Who Can Speak for You? Learn about advanced directives and other decisions needed to carry out your wishes and those of your loved ones.
March 18 - Funerals and Money? Leaving behind your legacy; talking about costs and choices.
March 25 - Caring For Each Other. Introduction to being a Care Concierge, basics to certification, CPR, and other helpful things.
April 1 - Introduction to Death Doulas. Learn more about non-hospice solutions and what must be considered.
April 8 - If You Can't Live at Home, Where Can You Live? Being honest about intentional housing, SKIP opportunities, and other options.
Amy's book, Last Life Lesson: A Guide for Aging Adults and their Families, is designed as an aging plan and guide to organized documentation for one's executor or truestee. She is also a contributing author of a second book, Aging in Place Conversations: What Industry Experts Have to Say, published by the National Aging in Place Council.
To learn more about Amy Miller and Our Family Encounter, visit her website @ https://ourfamilyencounter.com/.
Frequently asked questions
Is registration required?
Do I have to attend every class or can I come to certain ones?
Where is CoCreating Community located?
Where do I enter CoCreating Community?
What kind of parking is available?
About the organizer
Ready to co-create self-governing, parallel systems aligned with nature? Let's build the world we envision to: claim agency over our own lives, rediscover the truest expression of our selves, and share our unique gifts for the benefit of the entire community. CoCreating Community is a self-governing community model of inter-generational, collaborative, learning environments aligned with nature and hosts events focused on community building, health and wellness, learning for all ages, food security, parallel economies, and play for all ages.