Description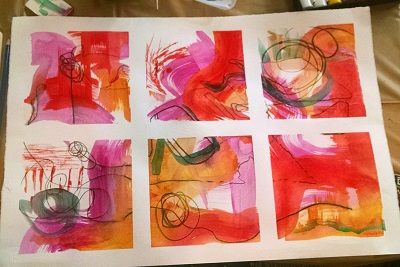 Christine Sauer, Abstract Still Life study, acrylic & graphite on paper
ABSTRACT PAINTING ADVENTURE with Artist Christine Sauer
Get ready for a fun, engaging, no-fail painting experience! Discover new directions for creating intuitive, abstract paintings with Fluid and High Flow acrylic paints in this ONE -DAY workshop. If you are just beginning your painting journey or if you are more experienced and want to explore new ideas, this workshop is for you! We'll do some painting warm-ups and then work from simple still-life set-ups to start things off. Participants will explore color, texture, line and mark making for expressive effect. Abstract painting explorations will continue with innovative combinations of acrylic paints, gels, and pastes.
The focus will be on exploration and enjoyment of the painting process. Fresh ideas will open up possibilities that will expand your personal artistic vocabulary. Participants will create works of different sizes on paper and canvas. Some acrylic paints, gels, and pastes, as well as paper, brushes and other supplies will be provided. Here is the MATERIALS LIST. David Art Center will give you 20% off on all materials purchased for the workshop. Show them your registration at checkout for the discount.
ALL LEVELS WELCOME. Some painting experience helpful.
Bring a notebook if you want to take notes. Several days after the workshop I will email an outline of the workshop plus workshop photos.
LUNCH is ½ hour so please bring a bag lunch and beverage.
CLASS POLICIES
Payment secures your spot in the workshop.
No unpaid guests or visitors allowed.
You'll receive an email reminder several days before the workshop with updates and other info.
FAQs
What's the refund policy?
You may cancel 30 days prior to the workshop, Friday, August 25, for a full refund. No refund given after that time. A substitute may take your place in the event you can't make the workshop. To request a refund email csauerarts@yahoo.com or use the Contact the Organizer button on the event page. Refund requests will be responded to within 5 business days.
If the instructor needs to cancel the workshop for illness or other emergency you will be refunded the full amount. Workshop may be cancelled due to low enrollment 1-2 weeks prior to start date. In that case full refund will also be issued.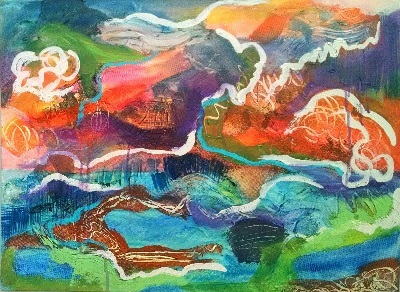 Christine Sauer "Above and Below", 18x24" acrylic on canvas