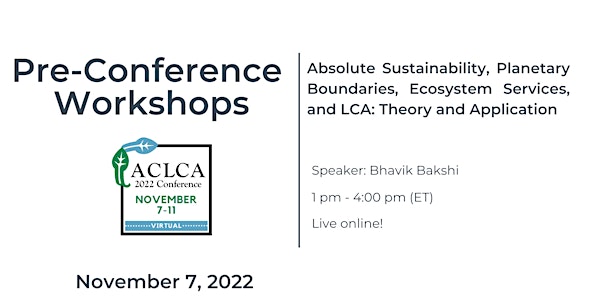 Absolute Sustainability, Planetary Boundaries, Ecosystem Services, & LCA
Learn the concepts of ecosystem goods & services, relative & absolute environmental sustainability, & how to incorporate into LCA
Refund Policy
Contact the organizer to request a refund.
Eventbrite's fee is nonrefundable.
About this event
This course will introduce the concepts of ecosystem goods and services, relative and absolute environmental sustainability, and ways of incorporating these concepts in LCA.
After motivating the need for these methods, we will describe the mathematical framework that expands the framework of LCA to include the role of ecosystems in life cycle assessment and engineering design. This multiscale framework encourages establishment of Techno-Ecological Synergies in LCA (TES-LCA). It integrates biophysical models and data with information about planetary boundaries and life cycle inventory.
Illustrative examples of various degrees of complexity will help in understanding the theory and practical benefits of the framework. Applications to case studies such as biofuels, plastics, and solar energy will be used to compare conventional LCA with TES-LCA and relative sustainability metrics with absolute sustainability metrics. Examples will also focus on calculation of regional sustainability metrics.
In the three hour version of this course, we will describe the development of software to perform TES-LCA. A prototype will be available so that participants can gain hands-on experience with the software tool.
There will be time for discussion and Q&A. The session will be taped and will be available on-demand for attendees.
This course and all Pre-Conference Workshops are available as part of the ACLCA 2022 Conference here. If you are NOT interested in purchasing all the Pre-Confernce Workshop or do not plan on attending ACLCA 2022 Conference you can buy tickets through Eventbrite.
Details on ACLCA 2022 Conference, inclduing all Pre-Conference Workshops and ACLCA 2022 Conference presentations and activities can be found here.