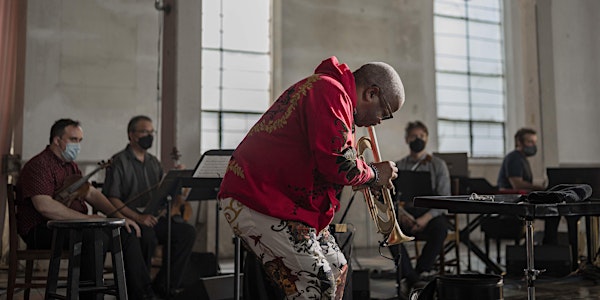 Absence: Terence Blanchard feat. The E-Collective & Turtle Island Quartet
Event Information
Location
Mechanics Hall
321 Main Street
Worcester, MA 01608
Six-time Grammy-winning jazz trumpeter and composer Terence Blanchard in "Absence" with The E-Collective and Turtle Island Quartet
About this event
In Absence, 2018 USA Fellow, Oscar nominee, and six-time GRAMMY®-winning trumpeter & composer Terence Blanchard celebrates both the brilliance of jazz master Wayne Shorter's legacy and the inspiration he has given Blanchard, influencing his ever-expanding amalgam of music and storytelling.
Wayne Shorter's evolution as an artist is vast & unending. Performing with and composing for Art Blakey's Jazz Messengers and Miles Davis Second Great Quintet naturally led to the formation of his own legendary groups—first Weather Report, then his musically unparalleled quartet. With Shorter's career now focused solely on composing, his musical greatness has set the table for his protégé to carry his music forward to the next generation. For this monumental task, Blanchard unites his internationally acclaimed band The E-Collective, featuring young musical pioneers Charles Altura on guitar, Fabian Almazan on piano and synthesizers, Oscar Seaton on drums, and David "DJ" Ginyard on bass, with the double-GRAMMY®-winning Turtle Island Quartet.
The repertoire will include arrangements of Shorter's original work, as well as new compositions from Blanchard, utilizing a string quartet that is uniquely equipped for the full range of color and expression of the Blanchard sonic & stylistic sphere. Absence, celebrating the music of Wayne Shorter, will be released by Blue Note in late August.
This event is held in conjunction with the Presidential Inauguration of Vincent Rougeau, 33rd president of the College of the Holy Cross.
HEALTH & SAFETY
We are taking every possible precaution for the safety of all.
Upon arrival, patrons must show PHOTO ID and PROOF OF FULL VACCINATION, or present a negative COVID-19 PCR test taken within 72 hours of the performance.
CHILDREN under the age of 12 do not need to provide proof of vaccination or proof of a negative COVID-19 test for entry, but as with all patrons, they will be required to wear masks while attending any Holy Cross event.
MASKS ARE REQUIRED indoors for all patrons and staff, regardless of vaccination status.
For additional details, visit us at www.holycross.edu/atb/visit.
Date and time
Location
Mechanics Hall
321 Main Street
Worcester, MA 01608