Abs for lunch is a 20 minute abs class.
About this event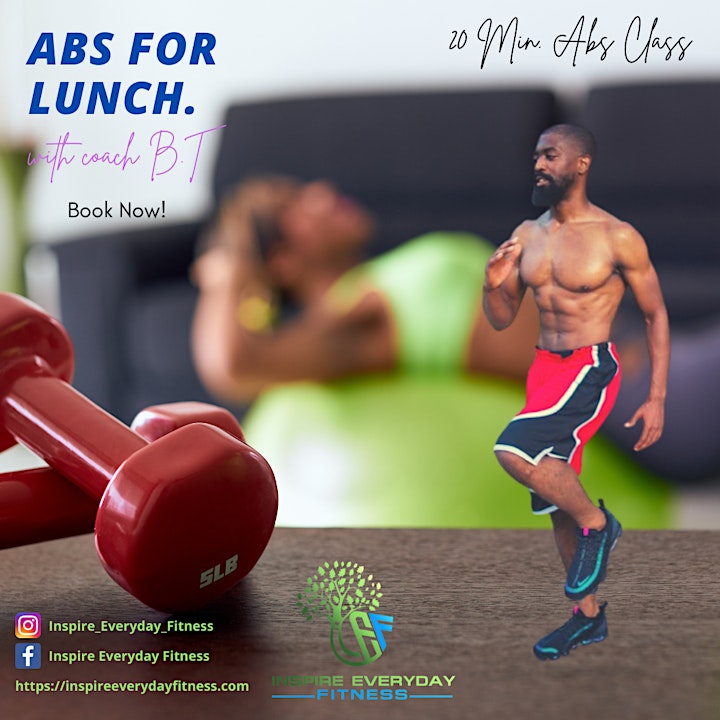 Abs for lunch is a 20 minute abs class designed to help you to get the ripped abs that you want. Consistency is key when it comes to creating abs and that goes beyond just working out to your rest, diet, and more. If you are serious about getting well defined abs Coach B.T. will help you to get there.
This class is for multiple fitness levels, from beginners to advanced. Coach B.T. will help you to modify ab exercises to your current fitness level.
Here are a few things that you'll want to have for class. (If you don't have it all now don't let that stop you. You'll be able to make it through the class with a simple modification.)
- Stability Ball
- Resistance (Booty) Band
- Light Dumbbell Weights
- Yoga Mat
CLASS REQUIREMENTS
(1) Zoom will open 15 minutes before class starts, and attendants MUST BE PRESENT at least 5 MINUTES BEFORE class starts. IF YOU ARRIVE AFTER 5 MINUTES BEFORE CLASS YOU WILL NOT BE ALLOWED IN.
(2) Completed WAIVERS are REQUIRED for participating in any of our classes and can be found when checking out during your Eventbrite registration.
(3) All non-Members MUST have their ZOOM VIDEO TURNED ON for the duration of the workout class. If zoom video is turned off you will be removed from the zoom class.
(4) Inappropriate behavior during workouts will not be tolerated. Anyone conducting inappropriate behavior as deemed so by the instructor/host will be removed from the zoom workout.
These morning workouts and more are included in our virtual membership packages that can be found on our website at https://inspireeverydayfitness.com.