About this Event
Abraham Brody
Singer, composer, and multi-instrumentalist Abraham Brody is no stranger to journeys of self discovery. After his classical music studies, his travels took him to remote locations including Siberia's Lake Baikal, the Caucasus mountains, the forests of Lithuania, as well as 8 months living in otherworldly Icelandic landscapes. In the process, Brody honed a unique musical voice and genre-defying style. A 2014 collaboration in Basel, Switzerland with renowned performance artist Marina Abramovic further stoked Brody's quest not only to push musical boundaries but also to transcend the usual relationship between performer and audience.
The result is "Crossings," a rich tapestry of sounds and instrumentation that, in Brody's words,"uses the mythology and framework of traditional archetypes to describe our contemporary society and relationships." The project features vocals, violin and keyboard by Brody, accompanied by a talented ensemble of strings, percussion, and electronics.
Says Brody, "Our modern society is marked by speed, instant gratification, and transience. If I can achieve one thing as a performer, it would be to provide a space with my music to bring people back into themselves, to reflect on their relationships and their inner experiences."
"Crossings" grew out of a year-long residency Brody held in 2017-2018 at National Sawdust in Williamsburg.
Through the residency, Brody developed his unique sound, serving up a variety of dark, avant-garde chamber pop akin to ANOHNI (Antony and the Johnsons), Olafur Arnalds, and Zola Jesus.
Brody debuted at the Kennedy Center in D.C. in April 2018 and has performed at the Barbican Centre in London, the Public Theater NYC, Southbank Centre London, Reykjavik Arts Festival, Village Underground London at London Jazz Festival, Czech Philharmonic Hall, Sziget Festival Budapest, and others. His work has been praised in October 2017 as 'thrilling' by The New Yorker, and he was lauded a 'Top Artist of 2017' by WNYC New Sounds, as well as called 'virtuosic' by The Independent UK.
Lenore:
The coming together of Rebecca Marie Miller & Joy Pearson as Portland, Oregon's Lenore., is serendipitous, to say the least. After individually hitting rock bottom — Pearson following a divorce & Miller after a period of destitution in LA — the pair separately turned to songwriting in the search for a still point in their turning worlds.
After years of lending their abilities to other projects, they finally found themselves spinning on the same axis when a chance meeting sparked an immediate connection. A drunken night ensued & before they'd even scoped each other's material, they'd committed.
Since that fateful evening, Lenore. can boast having performed at legendary PNW venues including the Doug Fir, Mississippi Studios, Aladdin Theater & Revolution Hall in Portland; as well as the Sunset Tavern, Triple Door & Tractor Tavern in Seattle. They've opened for Eric Bachmann, Laura Gibson, Blitzen Trapper, Gomez, The Mynabirds & they've performed alongside Peter Buck (R.E.M.), as well as Chris Funk & Jenny Conlee of The Decemberists. In August 2019 they were invited to perform at Traveler's Rest, a festival curated and run by The Decemberists with whom they shared billing, in addition to Mavis Staples, Death Cab For Cutie, Jeff Tweedy & Tune-Yards, to name a few.
Since forming Lenore., Miller & Pearson have gained full-time collaborators in seasoned Portland musicians Edward Cameron (classical guitar) & Jessie Dettwiler (cello), who have contributed significantly to the evolution of Lenore.'s sound — A dreamy melancholic blend of harmony-driven folk with an ever-present sense of hope. More recently, Lenore. welcomed Austin Christ (bass & electric guitar) to their musical family & they are often joined by Daniel Hunt (drums).
Lenore. released their debut self-titled album produced by John Askew on 9/15/2017 — it's available everywhere you find your music. The band is going back into the studio this December to begin recording their sophomore album. Look for updates regarding new music in the coming year..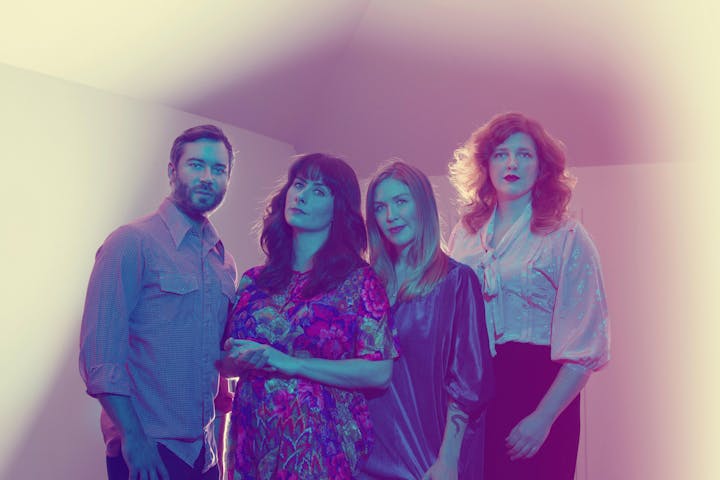 Performers
Date and Time
Location
Refund Policy