This BASH will feature Job Interviews for ABQ Mayor & admission to the Nuclear Museum exhibits. Time: (5-7 pm) Place: 601 Eubank SE
About this event
Want to be a part of the hiring committee for Albuquerque Mayor? Join us for a Candidate Job Interview BASH (Business and Social Hour).
Candidates will not be given questions in advance, will be limited in time on their responses, can only talk about themselves and must answer the question asked. No debate, no one talking over anyone - only one candidate will be in the room at a time. Get your tickets NOW; more details below.
When: July 15, 2021 - 5:00 - 7:00 pm (NOTE: NEW TIMES)
What: Job interviews for the position of Albuquerque Mayor and important updates on business and community issues.
Confirmed: Current Bernalillo County Sheriff & candidate Manny Gonzales
Confirmed: Current ABQ Mayor, and candidate Tim Keller
Where: National Museum of Nuclear Science & History
601 Eubank Blvd SE, Albuquerque, NM 87123
NMBC will also provide an update on its statewide work in support of sound business policy and elected accountability. Great food provided by Tomasita's Restaurant. Space is limited and early registration is encouraged . We also encourage you to invite others to this event who might want more information on upcoming elections and important issues impacting the quality of life in New Mexico.
Food (provided by Tomasita's) and beverages
Social time/networking
We have missed you and look forward to seeing you on July 15 - 5:00 - 7:00 pm.
Special thanks to our event sponsors:
Greater Albuquerque Association of Realtors (GAAR) and Commercial Association of Realtors of NM (CARNM)
New Mexico Restaurant Association
New Mexico Stockman Magazine
Greetings Digital Print and Mail
Aragon Law Firm
Tomasita's Restaurant
(Contact NMBC for sponsorship opportunities: nmbiz@nmbizcoalition.org or
(505) 836-4223.)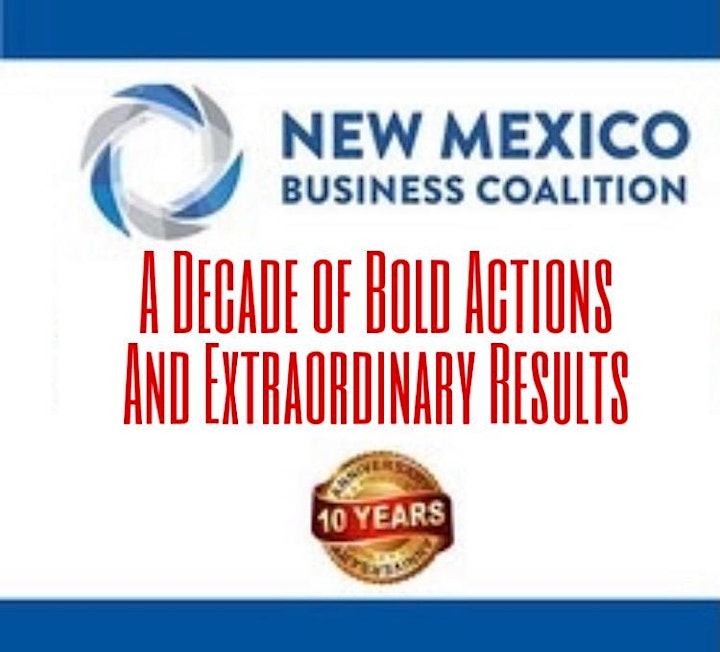 Organizer of ABQ Mayoral Job Interviews BASH (Business and Social Hour)
Established in 2009, New Mexico Business Coalition (NMBC) is a nonpartisan voice for business owners, employees and individuals in New Mexico. Created and staffed by native New Mexicans, we believe our state can do much better than current national ratings reflect. An advocate for all businesses and individuals, NMBC also takes on the role as the state affiliate for the National Association of Manufacturers. 

Join us - together we CAN change the way New Mexico does business!