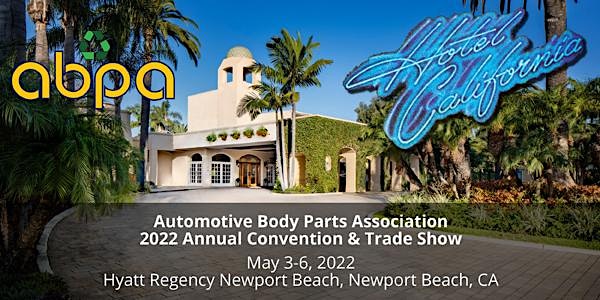 ABPA 2022 Annual Convention - Newport Beach, CA
The Automotive Body Parts Association (ABPA) is having its 2022 Annual Spring Convention in beautiful Newport Beach, CA!
When and where
Location
Hyatt Regency Newport Beach 1107 Jamboree Rd Newport Beach, CA 92660
Refund Policy
Refunds up to 30 days before event
About this event
The Automotive Body Parts Association (ABPA) is pleased to announce that it has chosen the Hyatt Regency Newport Beach as the location for the annual ABPA Convention to be held from May 3 - May 6, 2022. After numerous site visits by the ABPA Convention Committee members, the Hyatt Regency was chosen for its ideal location, modern meeting space, and tremendous value for our attendees.
The ABPA Convention is the place to be to meet and network with the major players in our industry.  In attendance will parts distributors, manufacturers, vendors and electronic information providers.  Also in attendance this year will be representatives from the MSO's and the insurance companies.  This is an event not to be missed!
The Hyatt Regency is located in exclusive Newport Beach, CA with multiple options for dining, golf and entertainment.  The ABPA has secured a special rate of $199 per night which offers a tremendous value for attendees.  Included in the $10 daily resort fee is unlimited business internet access in guest rooms, unlimited fitness center access, golf at Back Bay Golf Course, unlimited business center use, in-room bottled water (2 per day), complimentary bike rental, beach kit rental, outdoor games including water features at Oasis Pool, & bottomless kids souvenir cup. 
To book a room at the Hyatt Regency and to receive the special ABPA rate, use the link below:
https://www.hyatt.com/en-US/group-booking/NEWPO/G-AB22
SPECIAL EVENTS:
ANNUAL ABPA GOLF EVENT 5/4/22
Attention all ABPA Golfers!  The Annual ABPA Golf Event is being held Wednesday, May 4, 2022 at the beautiful Strawberry Farms Golf Course located in nearby Irvine!  Strawberry Farms Golf Course combines the rural beauty and tranquility of the surrounding area with the challenge of true championship golf. As the premier golf course in Southern California, Strawberry Farms is the preferred course among corporate groups and golf enthusiasts alike.
To register for golf, select the golf add-on ticket during the registration.  For $95 you get green fees, transportation to/from the course, cart, breakfast and lunch.  What a deal!  Rental clubs are available for $75 each.
NABC RECYCLED RIDES VEHICLE GIVEAWAY (5/4/22)
The ABPA will once again work with the National Auto Body Council (NABC) in assisting a local family in need of reliable transportation. This will be the fourth year we have held this event during the ABPA Convention and it is not to be missed! We encourage all ABPA attendees to participate in this great charitable event and to wish the family well during the delivery of their vehicle as the keys are handed over.
ABPA DINNER CRUISE ON THE YACHT, "ENDLESS DREAMS" 5/5/22
ABPA Attendees will enjoy an evening of great food, cocktails, and music aboard the 140 - foot yacht, "Endless Dreams"! This three - hour cruise around Newport Beach Harbor is not to be missed. Included in your ABPA registration package!
SCHEDULE OF EVENTS
Tuesday 5/3/22
5-8PM Registration Opens (Pacific Foyer)
6-9PM Welcoming Reception (Pacific Room)
Wednesday 5/4/22
7:00AM Golfers depart (Lobby)
3-5PM Exhibitors Tabletop Setup (Plaza I/II Ballroom)
5PM Registration re-opens (Plaza Arbor Foyer)
4-5:30PM Special Cocktail Reception sponsored by KSI Auto Parts! (Oasis Court)
6PM NABC Recycled Rides vehicle giveaway! (Valet parking lot in front of hotel) 
6:30 -7PM Cocktail Reception (Plaza I/II Ballroom)
7-9PM Tradeshow and Reception Dinner (Plaza I/II Ballroom)
Thursday 5/5/22
7:30AM Registration re-opens (Plaza Arbor Foyer)
7:30-9AM Breakfast Buffet (Plaza I/II Ballroom)
9AM-12PM Business Sessions w/ keynote speakers (Plaza I/II)
9:00-9:10 - Chris Northup, ABPA Chairman - Anti-Trust statement and Welcoming Comments
9:10-9:30 - Ed Salamy, ABPA Executive Director - State of the Association Address
9:30-10:30 - Tim O'Day, President & CEO of Boyd Group Services Inc - In this session, Mr. O'Day will be having a Q&A discussion with ABPA Chairman Chris Northup to review the current business landscape of the Boyd Group which oversees Gerber Collision, one of the major MSO chains in the US and Canada. Topics to be reviewed include:
-The challenges of modern day parts procurement and supply chain issues, the effect on cycle time and WHIP
-the importance of competition in the repair parts space
-how will the use of alternative parts change in the future for MSO and DRP centers
10:30 - 10:50 - Justin Rzepka, Executive Director CAR Coalition - Justin will give a legislative and regulatory update on the automotive right to repair debate taking place at the federal level in Washington.
10:50 - 11:00 - Brandon Eckenrode, CREF - Attendees will hear from Brandon not only on the latest CREF initiatives around supporting high school/college collision programs and students nationwide but also exciting new projects that will spotlight the industry to K-12 school counselors and a car rebuild fundraiser that will fund a national PSA campaign which will showcase the industry on TV, radio, and online!
11:00 - 11:45 - Greg Horn, PartsTrader - Keynote: Collision Industry Trends: Greg will discuss the latest news and trends impacting the collision repair industry including an update on parts delivery trends.
11:45 - 12:00 - Joseph Tsai, ABPA Vice President - Introduction to ABPA Board candidates and Board elections.
12-1PM  Awards Lunch (Plaza I/II Ballroom) 
1-4PM Afternoon business session (Plaza I/II)
1:00 - 2:00 - CAPA/Intertek - Update on the CAPA Program from Clark Plucinkski , Chairman of CAPA.
Following Clark, CAPA-Intertek staff will take the stage and play a game of CAPA-RDY (quiz game) - an interactive session to test your knowledge of CAPA-Intertek.
2:00 - 3:00 - Jimmy Spears, Tractable AI - Tractable's AI and computer vision. An overview and demonstration of computer vision for damage detection and selection of parts replacement.
3:00 - 4:00 - Gerry Poirier, Farmers Insurance & NABC - Gerry will update attendees on the parts procurement program at Farmers as well the current issue of part shortages and how it affects insurers. Also an update on the National Auto Body Council (NABC) will be provided.
6 PM Board buses for the evening dinner cruise (Parking lot outside hotel)
7-10PM Dinner Cruise - ABPA Attendees will enjoy an evening of great food, cocktails, and music aboard the 140 foot yacht, "Endless Dreams"! This three hour cruise around Newport Beach Harbor is not to be missed. Included in your ABPA registration package!
Friday 5/6/22
7:30-8:30AM Breakfast (Plaza I/II Ballroom)
9:00AM - 12:00PM - Speaker Session II
9:00 - 10:00 Elon Pollack, Stein Shostak Pollack & O'Hara - Keynote: Mr. Pollack will discuss a variety of port issues that are affecting ABPA members including detentions and delays, value issues, ITC complaints and how to offset duties.
10:00 - 11:00 Kevin Wolford, Automotive Manufacturers Equipment Compliance Agency (AMECA) -Attendees will receive an overview of certification, what it is, why companies should want it, and why they should want to purchase certified products. A review of the hierarchy of standards bodies, the different types of certification, and an overview of what you want in your certification body will also be provided.