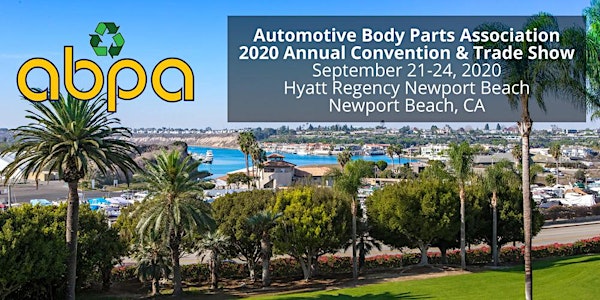 ABPA 2020 Annual Convention - Newport Beach, CA
When and where
Location
Hyatt Regency Newport Beach 1107 Jamboree Rd Newport Beach, CA 92660
Refund Policy
Refunds up to 30 days before event
Description
The Automotive Body Parts Association (ABPA) is pleased to announce that it has chosen the Hyatt Regency Newport Beach as the location for the annual ABPA Convention to be held from September 21 -24, 2020. After numerous site visits by the ABPA Convention Committee members, the Hyatt Regency was chosen for its ideal location, modern meeting space, and tremendous value for our attendees.
The ABPA Convention is the place to be to meet and network with the major players in our industry. In attendance will parts distributors, manufacturers, vendors and electronic information providers. Also in attendance this year will be representatives from 6 out of the top 11 insurance companies. This is an event not to be missed!
The Hyatt Regency is located in exclusive Newport Beach, CA with multiple options for dining, golf and entertainment. The ABPA has secured a special rate of $199 per night which offers a tremendous value for attendees. Included in the $10 daily resort fee is unlimited business internet access in guest rooms, unlimited fitness center access, golf at Back Bay Golf Course, unlimited business center use, in-room bottled water (2 per day), complimentary bike rental, beach kit rental, outdoor games including water features at Oasis Pool, & bottomless kids souvenir cup.
To book a room at the Hyatt Regency and to receive the special ABPA rate, use the link below:
https://www.hyatt.com/en-US/group-booking/NEWPO/G-CRAB
SPECIAL EVENTS:
ANNUAL ABPA GOLF EVENT 9/22/20
Attention all ABPA Golfers! The Annual ABPA Golf Event is being held Tuesday, 9/22/20 at the beautiful Strawberry Farms Golf Course located in nearby Irvine! Strawberry Farms Golf Course combines the rural beauty and tranquility of the surrounding area with the challenge of true championship golf. As the premier golf course in Southern California, Strawberry Farms is the preferred course among corporate groups and golf enthusiasts alike.
To register for golf, select the golf add-on ticket during the registration. For $70 you get green fees, transportation to/from the course, cart, breakfast and lunch. What a deal! Rental clubs are available for $75 each.

PORT OF LONG BEACH HARBOR TOUR 9/24/20

The ABPA is proud to offer this free event for our attendees! Do not fly home early on Thursday! Buses for the Port depart the Hyatt Regency at 8:30AM for an anticipated arrival to the Port of Long Beach at 9:30AM. Anticipated arrival back to the hotel by 12:30PM. Complimentary non-alcoholic beverages will be provided on the boat. Aboard the 90-minute narrated excursion, you will get close to operations at the second-busiest Port in the nation. See towering cranes, the most advanced and green terminal in the world, new infrastructure projects such as the Gerald Desmond Bridge Replacement, and possibly even catch a glimpse of local marine life. You will also learn about the variety of groundbreaking green programs the Port has implemented to reduce the environmental impact of operations. Seating is limited on a first come, first serve basis. To register for this complimentary event, choose the Harbor Tour ticket during check out.

Monday 9/21/20
5-8PM Registration Opens (Pacific Foyer)
6-9PM Welcoming Reception (Pacific Room)
Tuesday 9/22/20
7:00AM Golfers depart (Lobby)
12-5PM Exhibitors Tabletop Setup (Plaza I/II Ballroom)
6PM Registration re-opens (Plaza Arbor Foyer)
6 -7PM Cocktail Reception (Plaza I/II Ballroom)
7-9PM Tradeshow and Reception Dinner (Plaza I/II Ballroom)
Wednesday 9/23/20
7:30AM Registration re-opens (Plaza Arbor Foyer)
7:30-9AM Breakfast Buffet (Plaza I/II Ballroom)
9AM-5PM Business Sessions w/ keynote speakers (Plaza I/II Ballroom)
9:00 - 9:15 Chris Northup, ABPA Chairman - Anti-Trust Statement and Opening Comments
9:15 - 9:30 Ed Salamy, ABPA Executive Director - State of the Association
9:30 - 10:30 Rosemary Coates/ Imran Vakil, Nexio PC - Counterfeit Goods & the Effect on the Global Supply Chain
10:30 – 11:00 Greg Horn, PartsTrader- Collision Industry Trends
11:00 - 11:45 Paul Fiore, Auto Care Association – Your Car, Your Data. An Update on Auto Care's Vehicle Data Initiative
11:45-12:00 Joseph Tsai, ABPA Vice President - Introduction to ABPA Board candidates
12-1PM Awards Lunch (Plaza Ballroom)
1:00 – 2:00 CAPA/ Intertek – Intertek and CAPA personnel will give a detailed update on their certification program and latest initiatives.
2:00 – 2:30 Mark Shin & Sean Kennedy, Partslink Numbering System – Mark & Sean will give a detailed update on the newly available Partslink ACES format as well as a general program update w/ Q&A.
2:30-3:00 Justin Rzepka, CAR Coalition – Justin will introduce the Consumer Access to Repair (CAR) Coalition and the importance of this organization for ABPA members
3:00 – 4:00 Dan Fernandes, APU Solutions
5:30 - 6PM NABC Vehicle Giveaway (Parking lot outside of meeting space)
6-7PM Cocktail Reception (Amphitheater)
8-10PM Dinner (Amphitheater)
Thursday 9/24/20
7:30-8:30AM Breakfast (Plaza I/II Ballroom)
8:30AM to approximately 12:30PM ABPA attendees who have registered for the optional Port of Long Beach Tour board the buses for an anticipated arrival to the Port of Long Beach at 9:30AM. We will board the vessel "Spirit" for a 1.5 hour guided water of the Port of Long Beach. The tour will be given by employees of the Port. Anticipated arrival back to the hotel by 12:30PM. Complimentary non-alcoholic beverages will be provided on the boat.