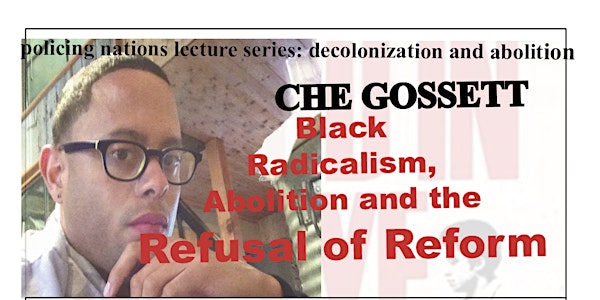 Abolition, Black Radicalism and the Refusal of Reform: Che Gossett
Abolition, Black Radicalism and the Refusal of Reform: Che Gossett
About this event
"Abolitionist living is anti-fascist living." – Che Gossett
Che Gossett is a Black non binary femme writer and critical theorist specializing in queer/trans studies, aesthetic theory, abolitionist thought and black study. They are currently a Racial Justice Fellow at the Center for Critical Thought at Columbia Law School. They received their doctorate in Women's and Gender Studies from Rutgers University, New Brunswick in May 2021. They received a BA in African American Studies from Morehouse College, an MAT in Social Studies from Brown University, an MA in History from the University of Pennsylvania and were a 2019-2020 Helena Rubenstein Fellow in the Whitney Independent Study Program. Their writing has been published in Trap Door: Trans Cultural Production and the Politics of Visibility (MIT Press 2018), Death and Other Penalties: Continental Philosophers on Prisons and Capital Punishment (Fordham UP 2015), Transgender Studies Reader (Routledge Press 2014) as well as online publications such as the Los Angeles Review of Books, Truthout and Frieze.
Part 2 of the Policing Nations Lecture Series:
policing nations lecture series: decolonization and abolition is a two-part event series that explores the connections between Indigenous and Black liberation, decolonization, and abolition of the carceral state – extending the work of the AMST 401 Policing Nations into a series of public conversations. These events are sponsored by the Mellon Just Futures Initiative and the American Studies Program at Williams College.