ABL-SF & NAAAP Summer BBQ and Cooking Contest
Description

BBQ & COOKING CONTEST:

The Asian Business League (ABL-SF) and the National Association of Asian American Professionals (NAAAP-SF Bay Area) will be joining forces and celebrating the summer with a Summer BBQ and Cooking Contest in August!
We have issued a challenge to several other Asian professional groups to see which team will be crowned "BBQ Grill Master" this year!

Come join us and mingle with professionals from around the Bay Area while enjoying delicious food and drinks. Water and lemonade will be provided. You can bring your favorite beer or wine if you like (no hard liquor allowed).

There will be a cooking contest (where everyone gets to be a judge!) (rules & entry fee per team), games, and networking as well as standard bbq fare.
PARKING:
Look for the parking lot on Crisanto Avenue near the picnic areas and the basketball and volleyball courts. ABL-SF and NAAAP-SF Bay Area will be at the Group BBQ Area, indicated on the map below.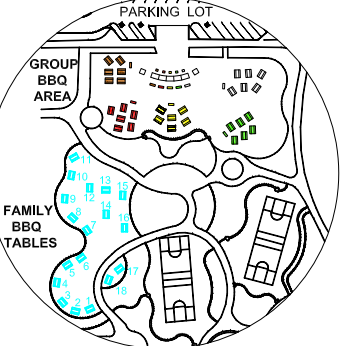 NEW MEMBERS GO FREE:
We are offering a membership special for those interested in joining our organizations
- with the purchase of new 1-year membership, you may attend this event for free!
If you sign up as a new member via the following links, you don't need to buy a BBQ ticket!
www.naaapsf.org/join to join NAAAP San Francisco Bay Area ($60) or,
www.ablsf.org/our-members.html to join the Asian Business League - San Francisco ($40)
SCHEDULE:

10 am to 12 noon Cooking Contest
11 am to 3:30 pm Networking, food, and games
12 noon to 2 pm Food
FAMILY FRIENDLY:
Kids under 12 years old attend for FREE! (hot dogs only!) There will be lots of picnic tables and we are close to the basketball and volleyball courts as well as plenty of grass for running around or throwing a frisbee. There are even tennis courts on the other side of the park.
BBQ COOKING CONTEST:

Teams will compete for prizes and bragging rights by cooking their special recipes for all the attendees to try. The attendees will be the judges for the competition.

People interested in forming teams to compete should contact ABL-SF or NAAAP to find out more details and the rules of the contest.
Current teams competing are: ABL-SF, NAAAP, RAMA, YFPA
One more team spot available!