| | |
| --- | --- |
| Abilene Region. Sign Up Below! Tentative Game Dates April 22-24. Questions? Call Deb (512) 650-0159 | |
Event Details
Abilene Area Alumni Football Games
Clyde Stadium (Finalized)
Saturday, May 21nd
7:30 pm

Clyde vs Jim Ned
11 am

Munday vs. Knox City/ Haskell @ Munday


Luders-Avoca vs Novice
--------------------------------------------------------------------------------------------------
Saturday April 23rd
Stamford Bulldog Stadium (Finalized)

7:30 pm

Aspermont Hornet Stadium (Finalized)

2:00 pm

Saturday, April 23rd
Sweetwater Mustang Bowl (Finalized)

Snyder vs Sweetwater
4:00 pm

E-mail Team Coordinator Deb Boyd with your comments!
Your team's 
Facebook pages above
Former high school football players:  Put on the pads and play one more full contact football game. Yes, this is for real!  Open to all alumni.  Ages late teens, 20's, 30's, 40's, & up!  You practice without pads.  We supply all football equipment a few hours before the game.  High school rules, referees, 12 min quarters, etc.  
Cost to Play
*$75 Early Bird - Before TBD
$95  Regular - After TBD
*Team may get cancelled (and your money fully refunded) if less than 20 guys are paid by this date.
 To Play:
1.  Reserve your roster spot now.  Pre-register above:  Enter "1" and click orange "Register" button".  Name, school, year, and phone # will appear below.
2.  Tell everyone you know about the game have them sign up at: Here at http://abilene2011.eventbrite.com/ (bookmark it!)
3.  Attend Team Meeting: Abilene Area Alumni Team Meeting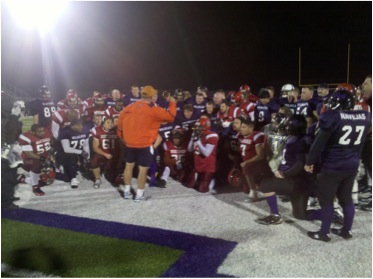 2010 Elgin vs Manor Alumni Football Game
Only One Big Event Yearly:
Alumni Football USA organizes the entire event. This positive & exciting community event has many former players eager and proud to REPRESENT THEIR SCHOOL one more time. High School Rules.
Make calls to build your team!   
Right now we are building rosters for many schools. To build your team call the guys from your high school and invite them to play! Alumni Football USA has done hundreds of games and calling fellow players is how the teams are built.
Pre-registering above is the first step to getting on the roster.  At the Team Meeting we will talk about everything from captains to coaches to practice times, insurance, presale tickets, equipment, game time, and answer any questions. 
Send your buddies to www.AlumniFootballUSA.com to register

This is a serious, spectacular, one-time-per-year football game with community players representing their high schools! The players are more mature, bigger, stronger, thicker, wiser, and maybe a step slower, but they still hit, tackle, score and the fans love them!
FAQ's:  
ROSTERS
1.  Also, we'll email individual team rosters with contact info on Mondays - or until your roster is full.  We'll also handout rosters to captains at the Team Meeting & at the first couple practices.
2.  Captains are expected to call players and form calling groups (about half of players do not check or receive emails)
3.  Each team captain should maintain their own team roster.
4.  What makes a full roster?  40 to 50.  Typically 40 to 45, but we can expand roster to 50 IF one team has 450 and the other has 40 or more.  If this happens, we'll extend quarters to 15 min so everyone gets enough playing time.   (20 to 24 for 6 man)
5.  What's the minimum team size to form a team?  Typically 25.  (18 for 6 man)
6.  When's the deadline to form a team?  That completely depends.  We'll work with you as much as possible.
7.  How are rosters filled?  Guys who pre-register and PAY by the team meeting make the roster.  If spots are still available, the first guys to pay make the roster.
COACHING
1. Two to three leaders usually rise up to lead the team.  Sometimes players coach themselves.  Sometimes they'll get a current or former high school coach.  At a minimum, you'll need someone to organize things (primary contact) & someone to organize offense, defense, and special teams (coordinators).
2.  Primary contacts and coordinators should be positive motivators!
3.  What if I want to be a team captain and do a great job-what do I need to know?  Great question!  First, maintain your good positive attitude.  The team will thrive on your energy.  Attitude is everything.  Second, call all players and make them feel welcome.  Do not rely on email.  Third, talk to everyone and get a sense of who would do a good job coordinating offense and defense.  Fourth, make sure everyone knows when & where the next practice is.  Lastly, make sure there's always someone at practice who can "run things."
 TEAM MEETING
1.  Do I have to go to the Team Meeting?  You should make every effort to attend.  The $75 is due at or before the meeting.  Guys on the WAITLIST will take your spot if 36 or more guys pay at or before the Team Meeting.
2.  What if I cannot attend the Team Meeting, but I know someone who is going?  Give your money to someone who will be there or pay above using "Pre-Team Meeting Payment Option."
3.  Can I go to a different Team Meeting if there is a closer location? Yes, but your money is still due by the date of your "assigned" Team Meeting.
WAITING LIST
1.  Do I have a chance of playing if I'm on the WAITLIST?  YES!  Often times guys don't pay by the Team Meeting, so you can take their spot if they don't make the deadline.  Make sure you pay by the Team Meeting!  The vast majority of players who pay by the Team Meeting get a chance to play - one way or the other. Also, 5 roster spots will open up if size expanded from 40 to 45 players.
2.  What is process of adding guys from the WAITLIST to the roster when roster spots open up?  Before the Team Meeting, we don't make any changes to the roster-even if guys drop out.  At the Team Meeting, we often draw randomly from the WAITLIST players who've paid.  Sometimes, we may draw only from certain positions, if a team is short on linemen for example.  After the Team Meeting, the team decides the fairest way to handle this situation.
3.  What if I'm on the WAITLIST, but cannot attend the Team Meeting?  That's fine.  Either give your money to someone who will be at the meeting or pay online above.  As long as you pay by the Team Meeting, you will be given the same opportunity to play as guys on the WAITLIST who have paid and are at the meeting.
PRACTICE
1.  We'll schedule 5 "formal" practices, but most teams also schedule "informal" practices as well.
2.  What are "formal" practices?  "Formal" practices are the five practices that we post on the website so that a rep from Alumni Football USA can come by if needed.  We usually attend the first two or three practices to see how things are going.
3.  What if I live out of town or I simply do not have the time to practice?  Can I still play?  Yes!  If your team has 35 or 40 guys who paid, just don't expect to get as much playing time as them, but you'll still be able to play.  If your team has less than 25 guys who paid, then your team may just need guys to play!  You'll be hurting your team more if you do not play.  The purpose of Alumni Football is to give guys the opportunity to play in one more football game.  Make it clear to guys that they should not feel guilty about showing up for the game even if they haven't practiced.  Just call the team captain and discuss your situation.
4.  Do we practice without pads?  Yes.  You get your pads the day of the game.  First, cost to play would be much higher if we gave you pads beforehand.  Second, the total number of injuries would be much higher if players practiced with pads simply because they would spend more time hitting (and imagine how much it would suck to get hurt a week before the game - when guys have been dreaming about this their whole life).  Third, the concept of no hitting during practice is not new.  The winningest coach in Division III football, John Gagliardi http://en.wikipedia.org/wiki/John_Gagliardi at St. John's, does not allow hitting at practice.
EQUIPMENT
1.  We provide you with all the football pads/gear you'll need (except for mouthpiece & jock) a few hours before your game. Please arrive 2-3 hours before your game. All gear is cleaned and fresh.
2.  What about jerseys?  We have jerseys in about 10 different color variations. We will try to match up your school colors as best as possible.  Most teams use our jerseys.  Some teams order jerseys on their own and some will borrow from the school.
SAFETY
1.  What about safety?  This is play at your own risk.  We do not recommend playing any sport without medical insurance. It is easy to sprain an ankle or strain a shoulder. Alumni Football USA has not had any serious injuries, but many people have gotten hurt playing the aggressive game of football. Serious head, neck, and spinal injuries are always possibilities. Some people have even died from playing football. Most people should get checked out by their doctor before playing any rigorous sport.  If you have not been physically active for awhile you should condition/train and be especially careful.  Playing in these football games is very exciting and it is your responsibility to check with your doctor and make sure that your heart is healthy enough to handle the strain.  Again, we suggest getting checked out by your doctor.
INSURANCE
1.  Do you supply insurance? We do provide the required liability insurance for the schools and their facility. We do not provide health insurance, and we do not recommend that you play if you do not have your own health insurance. You are more than welcome to coach or help out the team in other ways. 
PAYMENT
1.  Money is due at or before the Team Meeting.
2.  IF roster spots are available after the Team Meeting, you'll be able to pay above online or at practice.
REFUNDS
1.  We understand that unexpected things occur that keep guys from playing.  First, we ask that you have someone "take your place" and pay you the Player Fee ($75 to $100) directly.  That's fine with us.  However, if you do not have someone to take your place, your money will be refunded minus a $25 administration fee.
2.  Do I get a refund if my team does not have enough guys to play?  Absolutely.  In this case, we give a full refund and do not charge the $25 admin fee.
3.  What does the Player Fee cover? If you do not pay, you do not play. We put on quality events for the players, their families, the fans, and all opponents. We provide 10-20 workers at each event, 4-5 quality refs per game, quality gear, professional service/communication, web sites, phone calls, email, great fields/lights/locations, Game DVD's for purchase, YouTube highlights for each game, advertisement, facility insurance, fundraising for schools, and more... We have agents working full time to provide these services. 
GAMES
1.  What is the overall level of play?  Every game is different, but almost all games are serious, competitive, and hard hitting.
2.  What is the date and time of my game?  We'll post here as soon as we know (usually within a week after the Team Meeting).  For a typical Alumni Football weekend, two games are played on Friday, four games on Saturday and two games on Sunday. 
3.  Can friends or family come down on the field?  No, only players and coaches please. Others will be asked to watch from the stands. Some of these players fly out of bounds like a Mac Truck with no driver.
4.  Are we guaranteed to play the team we're currently matched up against?  No, sometimes teams do not develop - if that were to happen, we'll find a good team for you to play.
5.  What are the rules?  We play according to High School Rules with 3 exceptions:
     I.  Only 4 rushers from 3 or 4 point stances and only 4 players in 3 or 4 point stances. Seven players must be in a 2 point stance. Presnap 5 yard penalty from LOS. After a hand off, LB's can go.  When the QB rolls out past the tackle anyone can go.  Send 11 OK on punts (Shotgun on 2nd down is not punt formation!)
     II.  No crack back block from wideouts... Blocking from outside is OK with 2 hand lead and both feet planted. No head or shoulder lead. These guys have to go to work on Monday.
     III. Celebrations after TD's are okay!
Tim Bishop
Texas Regional Director
Alumni Football USA
5000 Mission Oaks Blvd #12
Austin, TX 78735
(512) 771-5561
alumnigames@gmail.com

Have questions about Abilene Region. Sign Up Below! Tentative Game Dates April 22-24. Questions? Call Deb (512) 650-0159?
Contact the organizer
Attendee List
Sort by:

Date

|

First Name

|

Last Name