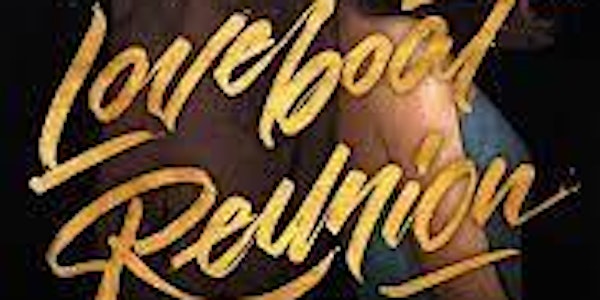 Abigail Hing Wen
Join us to celebrate the launch of Loveboat Reunion, Abigail Hing Wen's 's highly anticipated companion novel to Loveboat, Taipei
Refund Policy
Contact the organizer to request a refund.
About this event
We encourage you to join with a book or donation to support the production of this event and make it possible for us to continue bringing you great programs for families.
We're excited to welcome Abigail Hing Wen back to Kepler's to celebrate the launch of Loveboat Reunion, a companion novel to her New York Times bestselling debut, Loveboat, Taipei, which is currently being adapted for film. Loveboat Reunion takes readers back to Taipei through the eyes of fan favorites Sophie and Xavier—on an unforgettable journey of glittering revelry and self-discovery.
According to Kirkus Reviews Loveboat Reunion is "Like a mooncake—sweet, savory, and altogether satisfying." and Marissa Meyer (The Lunar Chronicles) says it's "An inspiring look at the strength of family and the importance of art, and how both can influence how we see ourselves and the world around us. Plus, it's just wonderfully romantic!"
Sophie Ha and Xavier Yeh have what some would call a tumultuous past. Hearts were broken, revenge was plotted—but at least they're friends now. They left the drama behind them back in Taipei. Now they're focusing on what really matters. Sophie has sworn off boys and is determined to be the best student Dartmouth's ever had. Xavier just wants to stay under his overbearing father's radar, collect his trust fund when he turns eighteen, and concentrate on what makes him happy. But the world doesn't seem to want Sophie and Xavier to succeed. Sophie's college professor thinks her first major project is "too feminine." Xavier's father gives him an ultimatum: finish high school or be cut off from his inheritance. Then Sophie and Xavier find themselves on a wild, nonstop Loveboat reunion, hatching a joint plan to take control of their futures. Can they succeed together . . . or are they destined to combust?
Abigail Hing Wen is the New York Times bestselling author of Loveboat, Taipei and holds a BA from Harvard, a JD from Columbia Law School, an MFA from the Vermont School of Fine Arts.
Abigail will be chatting with Deb Liu , the President and CEO of Ancestry, former senior executive at Facebook and author of the forthcoming book, Take Back Your Power: 10 New Rules for Women at Work
Come celebrate with us. We could not be more excited.
Please note: unfortunately due to a scheduling conflict, Chelsea Zhang is no longer available to be part of this discussion
Registration will close one hour before the event; please reserve your spot early to guarantee access, as registrations are limited.**