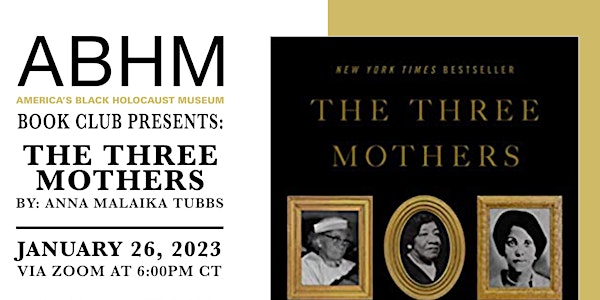 ABHM Book Club: The Three Mothers by Anna Malaika Tubbs
Please join us as we discuss the next ABHM Book Club pick, "The Three Mothers" by Anna Malaika Tubbs (2021)
About this event
America's Black Holocaust Museum's founder, Dr. James Cameron, was an avid reader and inspiring writer and educator. To this day, he is the only known survivor of a lynching to write and publish a memoir about such an experience. In his honor, we created this book club in November of 2020 to bring together a community of all backgrounds to learn about and discuss our collective past, modern manifestations of racism, and how we create racial repair, reconciliation, and healing for a better the future.
This month's book selection is "The Three Mothers: How the Mothers of Martin Luther King, Jr., Malcolm X, and James Baldwin Shaped a Nation" by Anna Malaika Tubbs (2021), which we will discuss on January 26th at 6 PM CT via Zoom.
The ABHM Book Club is free and open to all who are able to attend, although the books will need to be purchased by each participant. If you are having trouble finding a copy, please email admin@abhmuseum.org.
Thank you and hope to see you there!
The ABHM Team