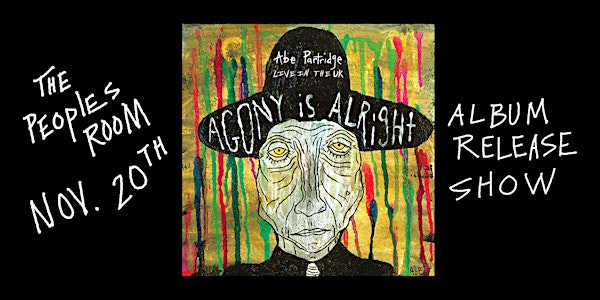 Abe Partridge - Live in the UK : Agony is Alright - Album release show
Join us for an evening with Abe Partridge as we celebrate his album release - Live In The UK: Agony Is Alright.
When and where
Location
The Peoples Room of Mobile 78 St Francis St Mobile, AL 36602
Refund Policy
Contact the organizer to request a refund.
Eventbrite's fee is nonrefundable.
About this event
Abe Partridge will release Live In The UK: Agony Is Alright on November 19, 2021, on CD and all major digital platforms. The vinyl release date is TBA contingent on production. The live recordings culminated from his 6-week tour of the UK and Ireland in October 2019 in support of heralded UK-based multi-instrumentalist, David Ford (Easy World). The songs were recorded by Iain White and curated, mixed, and mastered by Ford, who also contributes keyboards on track 6, "Colors."  Many of the songs on the recording are previously unreleased.  The CD as well packaged merchandise deals will be available for pre-order on October 14, 2021.
The tracklisting for Live In The UK is as follows:
1-Out of Alabama (Bush Hall, London)
2-No Teacher (Bush Hall, London)
3-Undisclosed Location in SW Killing Floor Blue (Bush Hall, London)
4-Preaching The Blues (Bush Hall, London)
5-Abe Partridge's 403rd Freakout (Bush Hall, London)
6-Colors (featuring David Ford) (Bush Hall, London)
7-Black Flag T-Shirt Lament (Greystones, Sheffield)
8-Get Thee Behind Me, Hippie (Ropetackle, Shoreham-By-The-Sea)
9-Our Babies Will Never Grow Up To Be Astronauts (Greystones, Sheffield)
10-White Trash Lipstick (Trades Club, Hebden Bridge)
Partridge received national and international recognition in early 2018 when he released his first official full-length release, Cotton Fields and Blood For Days, to rave reviews and substantial airplay on Americana radio. It landed Partridge a lengthy feature in The Bitter Southerner and the album was chosen to be one of their "Top 30 albums of 2018."  Ranging from the earthy to the surreal, from the spiritual light to the depths of depression, Partridge draws listeners in with a combination of southern gothic storytelling, dark humor, and gripping intensity.
Partridge was on tour in the Netherlands and Belgium in November of 2018 when he met and bonded with David Ford, who says, "By the time you've witnessed ten thousand men take to the stage with an acoustic guitar to sing about their feelings, you can easily get to the impression that whether magnificent or mediocre they're all to some degree just recycling the schtick of Bob Dylan, James Taylor or any number of whiskey-sodden bluesmen. Then one rainy night in the Netherlands I saw Abe Partridge take to the stage with an acoustic guitar and it felt like the first time anybody ever thought to try it. He didn't just sing his songs, he set fire to them. It was brutal and tender and smart and angry and funny and brilliantly, uniquely authentic. I saw it as a magnificent reminder that great songs, delivered with honest intensity were what first made me want to do any of this in the first place."
When Partridge is not writing or touring, he is creating his folk art paintings, which now hang in art galleries around the Southeast and in the private collections of Tyler Childers, Mike Wolfe (American Pickers), and Rick Hirsch (Wet Willie). He painted the cover art for Charlie Parr's, Last Of The Better Days Ahead (Smithsonian Folkways). His monthly subscription-based art club has sustained him (and his wife and 3 children) during the Covid-19 pandemic.
American Songwriter Magazine said, "Abe Partridge has established himself as one of the most respected songwriters and visual folk artists in the southeast."
Partridge has recently resumed touring, including a recent "Artist Spotlight" at the legendary Bluebird Café and a showcase for his art and music at the 2021 FinsterFest.
Partridge is currently putting the finishing touches on a new studio album projected to be released in early 2022.
For more information: www.abepartridge.com
Press release by: Michelle Roche Media Relations, Athens, GA