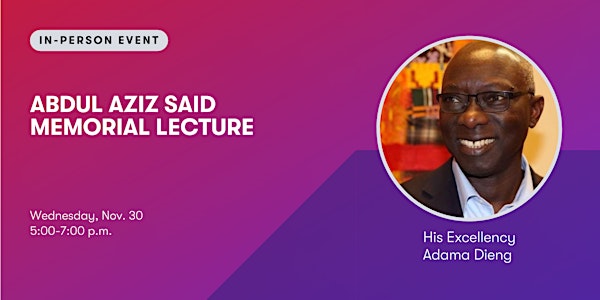 Abdul Aziz Said Memorial Lecture
Adama Dieng, the former UN Special Adviser on the Prevention of Genocide, will give the first Abdul Aziz Said Memorial Lecture at SIS.
When and where
Location
American University, School of International Service, Founders Room 4400 Massachusetts Avenue NW Washington, DC 20016
About this event
The School of International Service at American University invites you to the inaugural Abdul Aziz Said Memorial Lecture. The lecture honors the memory of Professor Abdul Aziz Said, the founding director of SIS's International Peace and Conflict Resolution master's program and the inaugural appointee to the Mohammed S. Farsi Chair of Islamic Peace at American University. Professor Said's legacy of peace scholarship, activism, and mentorship spanned nearly six decades and covered critical issues such as non-violence, inclusivity, human rights, religion, and the quest for sustainable peace particularly in the global south.
Our featured guest is His Excellency Adama Dieng, the former UN special adviser on the prevention of genocide and the former registrar of the International Criminal Tribunal in Rwanda. His lecture is titled, Advancing Peace and Justice in Uncertain Times: Promises and Challenges. A reception precedes the lecture, and a moderated Q&A follows the presentation.
Biography
Adama Dieng is a Senegalese jurist and former United Nations Under-Secretary-general and Special Adviser of the Secretary-General on the Prevention of genocide (2012-2020). He also served as Registrar of the UN-ICTR (2001 to 2012). Currently he is a member of the UN Internal Justice Council and Special Adviser to the Prosecutor of the International Criminal Court, Special Adviser of the Higher Committee of Human Fraternity and the Muslim Council of Elders. He is also an Honorary Chairman of the Washington-based World Justice Project and the current Honorary President of the International Association for the Defense of Religious Freedom. Before joining the United Nations, Mr. Dieng was the Secretary General of the Geneva-based International Commission of Jurists (1990-2000). He was appointed as the UN Independent Expert for Haiti (1995-2000) and served in 1993 as Envoy of the UN Secretary General to Malawi. He was the driving force behind the establishment of the African Court on Human and Peoples' Rights and produced the draft of the African Convention to fight Corruption. He is a founding member of the Board of Directors of the International Institute for Democracy and Electoral Assistance as well as former President of the Martin Ennals Foundation.