Multiple Dates
Abdominal Pain, Anxiety, and How to Help Your Teen During COVID-19
Anxiety, stress, weight loss, weight gain, abdominal pain, and GI issues during COVID-19 are challenges that many households are facing.
About this event
COVID-19 and online school have created extra stress and anxiety for teens, especially for those with pain. Both anxiety and stress can be triggers for pain that can lead to weight loss, weight gain, abdominal pain, and gastrointestinal issues. Teens who have pain with eating may even begin to develop disrupted eating patterns as an attempt to escape these symptoms. Stress-related disrupted eating patterns can lead to weight loss or weight gain. The mind-gut connection is a powerful one… but we know how it works!
Creative Healing for Youth in Pain (CHYP) is hosting an ONLINE community event for parents about teen eating, abdominal pain, and food avoidance during COVID-19. This 3-part webinar series is designed to flow together (packaged together for $25), however you may also select specific ones to join ($10 per event). Each presentation will begin at 10 am (PST) and last approximately one hour on the designated day. Participants can guide the conversation through our interactive Q+A during the course of the event (by using the chat function of Zoom). You will be emailed a recorded copy of the presentation after the event.
Financial Assistance is available upon request! Please email admin@mychyp.org for more details.
March 10th - David Ziring, MD, Associate Director of the Cedars-Sinai Pediatric Inflammatory Bowel Disease Program - Associate Professor of Clinical Pediatrics, David Geffen School of Medicine at UCLA, UCLA Department of Pediatrics, Division of Gastroenterology, Cedars-Sinai Health Science Center - Contributor to Pain in Children and Young Adults: The Journey Back to Normal
March 12th - Samantha Levy, PhD, Clinical Psychologist working with children, teens, parents, and whole families experiencing chronic pain - Integrative Team Member of Whole Child LA Pain Clinic - Clinical Advisory Board Member of Creative Healing for Youth in Pain (CHYP)
March 16th - Lonnie Zeltzer, MD, Distinguished Research Professor of Pediatrics, Anesthesiology, Psychiatry and Biobehavioral Sciences at the David Geffen School of Medicine at UCLA - Director of the UCLA Pediatric Pain Research Program - Co-Director of the Whole Child LA Pain Clinic - President of Creative Healing for Youth in Pain - Author of Pain in Children and Young Adults: The Journey Back to Normal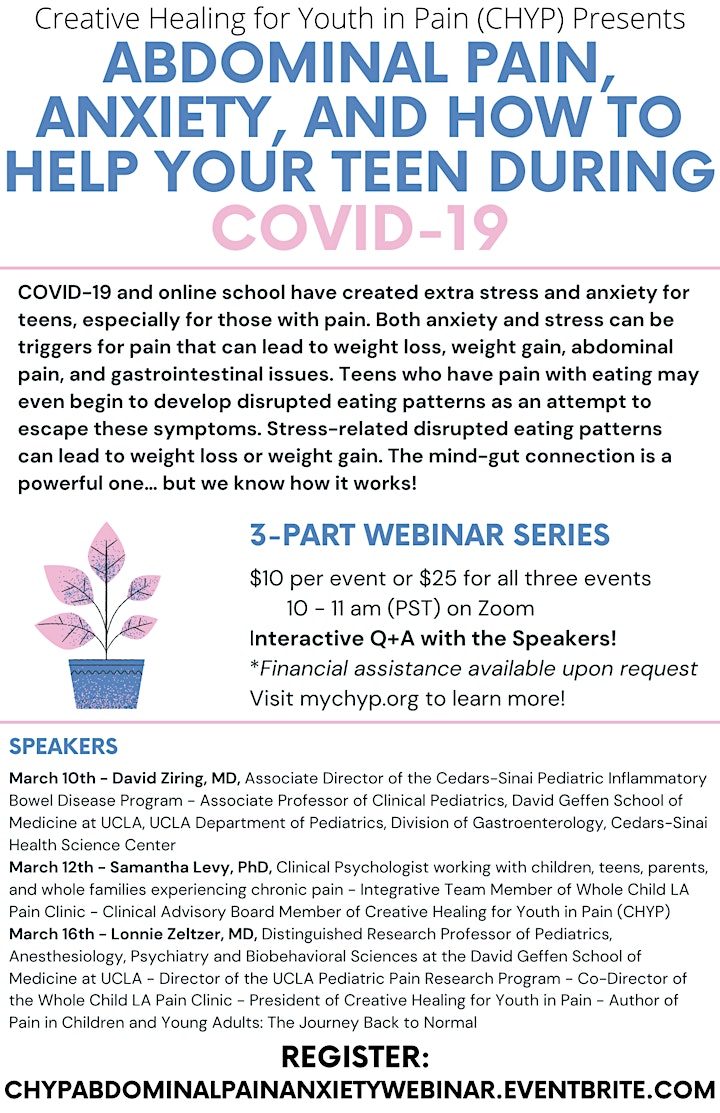 Organizer of Abdominal Pain, Anxiety, and How to Help Your Teen During COVID-19